TOY
DIRECTORY member Since 2006

Hape International
About Hape International
Product most recently added to TOYDIRECTORY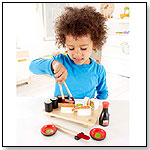 ---
Product added on: 1/4/2013
---
Hape International Inc., (Hape pronounced "hah-pay"), founded by Peter Handstein, was established in in Switzerland 26 years ago. Hape is able to produce the highest standards of quality through stringent control systems and a world class production facility. Hape brands including Hape®, Hape Collection, Quadrilla and Beleduc are sold through specialty retail, museum gift stores, school supply stores and select catalog and internet accounts in over 50 countries. They have won numerous awards from prestigious independent toy testing groups for toy design, quality and safety.
Hape Toys is one of the world's largest producers of toys made from sustainable materials. Hape toys are both creatively designed and eco-friendly. Neither culture, nor language, nor gender inhibits the intuitive process of play. All of the products meet, and more often, exceed the strictest international standards for quality and safety. But behind the innovative designs and meticulous quality lies the even stronger ethos of Hape.
From the beginning of the design process, through production and delivery, to the final unwrapping of the consumer packaging, Hape toys are a collaboration of global thinking and responsible ecology.
In addition to using particular materials and methods, Hape seeks out people who bring a new sensibility to the process. A collaboration of international and local employees creates a global corporate culture with a particular understanding and respect for the world in which we live. Sustainability, education, innovation and fun. Hape Toys represents the next generation of play.
In 2012 Hape announced the launch of a "modern classics" line under the Hape brand named the Hape Collection.
The160-count range (which includes 33 new items) was previously branded Educo. As Hape Collection, it is structured into ten product categories with a distinct theme including:
Happy Baby
- Thoughtfully-developed infant toys that stimulate babies' senses, encourage self discovery, and reward movement.
Early Melodies
- Simple instruments to encourage all kids to create their own music.
Push & Pull
- Take-along toys that always make walking more fun.
Totally Amazing
- Hand-powered mazes that encourage fine motor skills, creative problem solving, and early critical thinking.
Early Explorer
- First toys for toddlers encourage coordination, dexterity, imagination, and simple problem solving.
Happy Puzzle
- Puzzles of all sizes and shapes to encourage age-appropriate critical thinking, hand/eye coordination, and dexterity.
Happy Family
- Lifestyle toys to encourage pretend play and story telling using dolls, dollhouses, and familiar furniture.
Playfully Delicious
- Safe and simple toys that revolve around food and cooking, to promote role-play and encourage healthy eating.
Playscapes
– role playing toys that allow children to explore a brand new world, encouraging imaginative and creative play.
Sand & Sun
- Fun-in-the-sun toys that encourage new ways to play to outdoors.
You can also find Hape International listed in the following categories:
General Toys
Wooden Toys
Educational
---
If you would like to request wholesale pricing, please include the following information with your request:
Your name
Your company name
Mailing address
E-mail address and phone number
Mention TOYDIRECTORY.com