About KIZ
Product most recently added to TOYDIRECTORY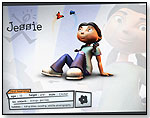 ---
Product added on: 4/14/2010
---
Kiz Toys' innovative new products bring toys to life by integrating the growing technologies of virtual world interaction and digital games with traditional consumer-based toys. This integration allows consumers to experience Kiz Toys products in three completely unique but interconnected environments. Quality of gameplay and virtual interaction, ease of use, long-term product diversity and fully developed characters and story lines separate Kiz Toys from anything else on the market.
Kiz Toys' initial product lines, KizMoto and KizPal, are traditional toy vehicles and action figures that connect consumers to the KizPlanet Virtual World. Here kids can personalize their toy's avatar, explore the vast digital landscape, interact with other kids who are also freely roaming the environment and play exciting 3D adventure and racing games.
Along with innovation, Kiz Toys was founded on safety and education. Our patent-pending online security network, KizSafe, allows children to access the Internet anonymously, without the threat of child predators and questionable content. And, our virtual ecosystem presents interactive educational opportunities that are seamlessly integrated into each of our unique products.
You can also find KIZ listed in the following categories:
---
If you would like to request wholesale pricing, please include the following information with your request:
Your name
Your company name
Mailing address
E-mail address and phone number
Mention TOYDIRECTORY.com
---
AD