Toy Directory Sponsor
---
GREAT AMERICAN FUN CORP
Great American Fun Corp primarily manufactures/wholesales products in the following categories:
To see a list of other manufacturers and wholesalers who carry similar products, click on a link above.
1107 BROADWAY NEW YORK, NY 10010
Tel: 212-366-9564
Fax: 614-771-1599
Toll Free: 800-358-2969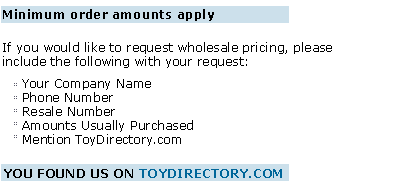 Toy Directory
For advertising information contact ToyDirectory.com:
Tel: (213) 627-7989, Fax: (213) 624-3925, E-mail: mail@toydirectory.com

Please bookmark this site. New members, content, and features are added weekly.


© Copyright 1998 ToyDirectory.com, a subsidiary of Wholesale Only International. All rights reserved. All logos, brand, and product names listed are trademarks and property of their respective holders.
Manufacture, Manufacturer, Wholesale, Wholesaler, Toy, Toy Suppliers, Toy Wholesalers, Toy Manufacturers, Toy Sales, Toy Directory, Hobby Directory, Directory, Wholesale Directory, Business to Business, Hobby Goods, Hobby Directory