Article Tools:






New & Notable Toys: Arts & Crafts
Check out these new and noteworthy toys.
Kinetic Sand by WABA FUN LLC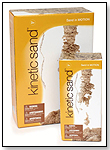 This play sand is made up of regular sand and a special non-toxic compound that makes it sticky - but only to itself. This means that kids can use it just like wet sand, while grownups don't have to worry about it making a big mess. The sand is also waterproof, so kids can make water features in their sand castle without having to worry about the castle washing away. 4/30/2013 (Price: $14.95) [Add to my Inquiry Basket][?]



Etch-N-Press™ Cards and Prints by THE ORB FACTORY LIMITED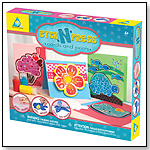 Etch-N-Press lets you make creative greeting cards, pretty posters and awesome artwork. Use the etching tool to create cool deigns on foam shapes. Add paint to the roller and roll it over the foam template. Press the foam template, paint side down, onto a piece of paper to leave a mirror image of your design. 4/29/2013 (Price: $14.99; Age: 4 and up) [Add to my Inquiry Basket][?]



Make Gummy Treats™ by ALEX-PANLINE USA INC.


Gummy treats you can mix up at home in no time! Just add water to the mix in the mold and make over 30 yummy, gummy treats and lollies in star, bear, cupcake and other sweet shapes. Includes 3 flavors of gummy powder, 7 molds, pipette, 4 lollipop sticks, spoon, and easy to follow instructions. Yummy gummy fun! The perfect party treat or anytime playtime fun. 2/8/2013 (Price: $13.20; Age: 7 and up) [Add to my Inquiry Basket][?]



Lauri Lacing and Tracing Sea Life 8/Pk by PATCH PRODUCTS INC.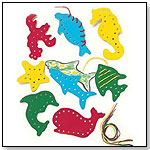 8 Lauri sea creatures for swimmingly good fun. Includes the much loved manatee and seahorse (7" long), and 8 laces with easy to use 1" tips. Can also be used as stencils.
— As of 1/17/2013 this product had 4.4 out of 5 stars from 7 reviews on Amazon.com. 1/18/2013 (Price: $9.99)



Spirograph Deluxe Design Set by KLUTZ

Since it was first introduced in 1965, Spirograph has made it possible for aspiring artists of all ages to create beautifully intricate designs, originally developed as a drafting tool, by a mechanical engineer named Denys Fisher, the distinctive wheels and rings of the Spirograph cleverly combine, the principles of art and mathematics in a way that has inspired and delighted generations. Now you too can create your own cool designs and awesome pictures with the help of this fun and classic Spirograph drawing accessory. Put your paper in place and then choose again and again from 19 different gears to mix and match patterns and create a totally awesome image. Use the design guide to try out tried and true designs or get creative and create cool and colorful graphics of your own. Drawing accessory includes tray with built-in storage and includes 19 gears, 2 rings, 1 rack, 3-Ounce of Spiro-Putty, 3 retractable ball point pens, a 14 page guide book, 20 sheets of design paper and a carry along storage case with a built in work surface. 1/11/2013 (Price: $24.99; Age: 8 to 15)



Wee Can Too Veggie Dough by WEE CAN TOO


Sculpting dough for all ages, colored with fruit and vegetable powders only and wheat/gluten free. Made with no preservatives and all natural and organic ingredients. Parents can feel good about their baby/toddler exploring the textures and stacking, playing and rolling our Veggie Dough. Launch date: January 2013. 1/8/2013 (Price: $30.00; Age: 1 and up)



X-treme Sticker Maker by CREATIVITY FOR KIDS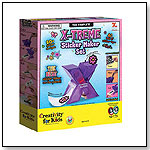 This high quality machine is versatile and super easy to use. It includes 40' of sticker tape, 80+ sticker designs - including velvet, metallic and glitter, color-in markers and sticker book. Kids can even turn their artwork and photos into stickers.
— In a December 2012 survey about bestselling toys, Joe Berardoni, owner of Pun's Toys in Bryn Mawr, Pa., told TDmonthly, "This past holiday season we had great success with the X-treme Sticker Maker from Creativity for Kids. We sold several dozen from late Nov. till we ran out in early Dec." 1/7/2013 (Price: $29.99; Age: 6 to 69) [Add to my Inquiry Basket][?]



Sun & Moon Sketchbook by eeBoo corp.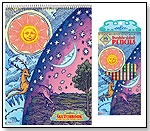 Illustration adapted from old wood cut. Glow in the dark cover. 60 pages; Spiral bound. 1/4/2013 (Price: $9.99; Age: 3 and up) [Add to my Inquiry Basket][?]



Woolpets Puppies by WOOLPETS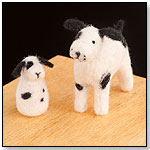 Includes Black and White Corriedale wool, two new felting needles, beads for eyes, a skewer and detailed photo instructions. Kit makes at least two puppies approximately 2in. to 4in. tall. 1/4/2013 (Price: $19.99) [Add to my Inquiry Basket][?]



Paint By Number Fairy Garden by FABER-CASTELL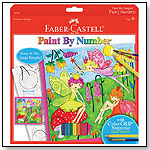 Paint By Numbers appeal to kids who are interested in art and want to create a "masterpiece". These guided art activities with whimsical graphics and premium quality components create an exceptional experience. Set includes 8 Faber-Castell Color Grip Watercolor EcoPencils, real artist canvas (9" square), Numbered Color Guide, paintbrush, foam mounting board, and mounting tape. 1/4/2013 (Price: $9.99) [Add to my Inquiry Basket][?]



Tapeffiti Tape Art Tote Set by FASHION ANGELS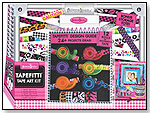 Tapeffiti Tape Art Tote Set is a fashion craft kit. Decorate the tote bag with 6 mini tape dispensers with different colors and patterns. Also has 6 replacement rolls and a style design guide with more than 2 dozen other project ideas, including tape bracelets, picture frames, pens or pencils, and pen/pencil containers. (Comes in Barbie licensed version, too). Also sold separately are 4 or 6 roll collection of Tapeffiti tapes in various designs, patterns, and colors. Color and pattern tapes for decorating is one of the hottest personal style trends for teens and tweens. Included are a full size tote bag, 6 mini tape dispensers with assorted colors and patterns.
Awards: 2012 Dr.Toy Best 20 for $20 12/14/2012 (Price: $13.99; Age: 8 to 12) [Add to my Inquiry Basket][?]



Glitter Art by SMARTLAB TOYS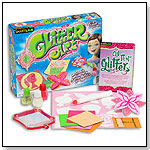 Use the custom-designed, innovative Low-Mess Glitterizer to create glimmery, shimmery art projects including ornaments, portraits, flowers, and snowflakes. 12/14/2012 (Price: $12.99; Age: 7 and up) [Add to my Inquiry Basket][?]



Color Explosion Glow Board by CRAYOLA LLC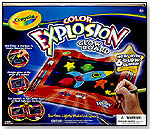 The Crayola Color Explosion Glow Board lets kids create cool designs with glowing marker inks. Using it couldn't be easier - simply draw, flip the switch and watch the creations glow. The board comes with 2 transparent drawing surfaces that slide inside the board, one on top of the other. With the 2 boards, kids can create awesome background images and simple animated scenes. Press the 2 switches to easily light up the front or back image. A 4-position slide switch allows kids to activate the lights in different configurations for lots of display options. 12/14/2012 (Price: $22.99; Age: 6 to 8)



Clayzee™ Fossils Rock! by ALIQUANTUM INTERNATIONAL INC


ClayZee™ Fossils Rock! kit creates cool "Dinosaur Fossils" so kids can start building their prehistoric gallery. Using the molds and tools from the kit makes creativity easy and offers kids hours of fun. Once the project has dried, simply paint and decorate into any desired effect. When "Dinosaur Fossil" masterpieces are completed, put out on display. 12/14/2012 [Add to my Inquiry Basket][?]



Threadz by PLASMART INC.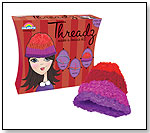 Weaving and knitting like you've never seen before. Choose from three kits: Beanie, Scarf, and Purse. Weave and wear in just 2 hours. Latest yarns, in the coolest colors. Ages 6-9: I might need some help. Ages 10-12: I can do it myself. 11/30/2012 (Price: $24.99; Age: 6 and up) [Add to my Inquiry Basket][?]



Crayola(R) Draw N Store Wood Easel by GROW'N UP LTD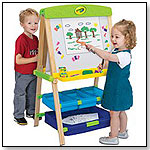 Draw N Store Wood Easel provides 4-in-1 features: Magnetic/Dry-Erase & Chalkboard and paper dispenser for painting. Spacious 2-levels fabric storage underneath for art accessories. Easy foldway design for compact storage. Includes: 1 Eraser, 77 Magnetic Letters & Numbers, 12 pcs Crayola Color Chalk, 10 x Paper Stencil, 1 x 30ft Paper Roll Starter. Launch date: September 2012. 11/16/2012 (Price: $59.87; Age: 3 and up) [Add to my Inquiry Basket][?]



Metropolis Train Set by URBAN CANVAS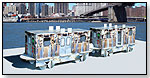 The Urban Canvas Metropolis Train Set is a craft toy constructed of heavyweight recycled cardboard and is completely reversible. Children can play with, decorate, and display the train set. One side of the train displays an image of a city train station. Fold it inside out and it becomes a brand new train with a blank canvas for children to decorate. Die cut windows and sliding doors complete the train adding another level of fun. Launch date: September 2012. 11/16/2012 (Price: $29.00; Age: 3 to 6) [Add to my Inquiry Basket][?]



GloGlo Inkoos by THE BRIDGE DIRECT INC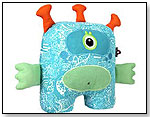 GloGlo Inkoos bring kids designs to life - even in the dark. As with all inkoos, kids can draw and decorate on them with the included washable markers. But when the lights go out, their cool glow-in-the-dark patterns are revealed. Then kids can draw even more glowing designs with the special light pen. Each GloGlo inkoos includes 3 clip-on, washable markers plus the GloGlo light pen. Choose from 3 styles. Machine washable. 11/5/2012 (Price: $29.99) [Add to my Inquiry Basket][?]



Rainbow Loom - Twistz Bandz by CHOON'S DESIGN LLC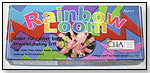 Package includes: Rainbow Loom(TM), Mini Rainbow Loom(TM), hook, a bag of c-clips, instruction manual and 600+ mix rubber bands (colors may vary). Makes up to 24 rubber band bracelets. 10/25/2012 (Price: $14.99; Age: 8 and up) [Add to my Inquiry Basket][?]



Krazy Karakuri Origami Kit by TUTTLE PUBLISHING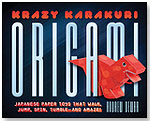 This kit contains 8 types of origami toys and 16 karakuri models. The origami toys and games include models such as the determined Robot Wrestlers, which you can pit against one another in a battle to the death. The karakuri models are constructed using pop-out paper that are easily assembled and include performing toys that tumble, balance and jump, as well as pieces like the comical Waddling Penguin and 6 additional models that walk down a gentle incline. 10/23/2012 (Price: $16.95) [Add to my Inquiry Basket][?]



Build 3-D Wonders of the World by PAPERLANDMARKS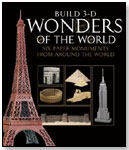 Throughout history, many famous landmarks have been deemed "Wonders of the World," from ancient sites to modern-day feats of architecture. Inside this kit users will find ready-to-fold templates to create 6 stunning, highly detailed, 3-D paper models of some of the most famous structures of anciet and modern times. Includes a 56-page project book and pre-punched and scored project sheets to make 6 models. Launch date: August 29, 2012. Launch date: October 2012. 10/23/2012 (Price: $14.95; Age: 8 and up) [Add to my Inquiry Basket][?]



Runway Models Scratch & Sketch™ Sticker Kit by PETER PAUPER PRESS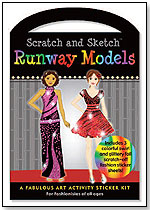 Girls can rock the runway with their own amazing fashion show. Simply scratch off the black coating to create their own trendy sticker designs in glittering foil or swirly colors. Then apply the stickers to the paper doll models included. Show off the designs by positioning models in front of the backdrop. Launch date: December 2012. 10/10/2012 (Price: $5.99; Age: 5 and up) [Add to my Inquiry Basket][?]



Catalog Request Form