Article Tools:






New & Notable Toys: Construction
Check out these new and noteworthy toys.
Creature Blocks by CITIBLOCS LLC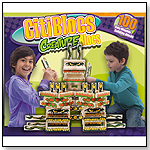 Fangs and Tentacles and Eyeballs Oh My! Create your own Creature Feature with these playfully designed blocks. Let your imagination run wild with blocks featuring wings, eyeballs, teeth and more. 100 pc set available Summer 2013. 4/30/2013 [Add to my Inquiry Basket][?]



Artec Block Bucket 220 (vivid) by ARTEC EDUCATIONAL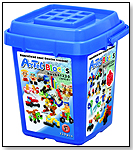 Foster your children's imagination and creative expression with our revolutionary new block design! A cube with square holes on each face, and a single, connecting stud located off-center. Unlike traditional building blocks which can only be stacked, an Artec Block can be connected in all directions. Horizontal, vertical, and even diagonal connections are possible for unparalleled ease and freedom. The possibilities are endless in the structures, animals, and shapes you can make! 4/30/2013 (Price: $41.99; Age: 3 and up) [Add to my Inquiry Basket][?]



Modular Dream Palace Construction Kit by MODULAR TOYS USA

The Modular™ Dream Palace Construction Kit takes a unique approach, allowing true three-dimensional architecture to be constructed. The game develops abstract thinking, three dimensional perception, and creativity. Compatible with other "Modular™ Toy Construction kits". Watch and participate with your children while they're thinking, planning, and building in all three dimensions. Age 5 and up. 4/19/2013 (Price: $69.99; Age: 5 and up) [Add to my Inquiry Basket][?]



Soft Blocks by SOFT BLOCKS LLC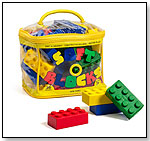 Soft Blocks are soft, interlocking blocks that are safe for kids to use. It doesn't hurt to step on them, and kids won't pinch their fingers or have trouble pulling the blocks apart.

2/21/2013



Fairy Tales Blocks by PLANTOYS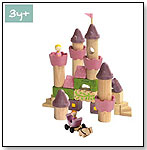 Create your own version of happily ever after with this fairly tale block set. (Includes a prince). Made of PlanWood, a sustainable material created from recycled sawdust. 2/21/2013 (Age: 3 and up)



Engenius by BLUE ORANGE GAMES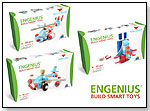 Blue Orange Games is releasing their first line of toys called Engenius, a collection of three wooden construction sets. With interchangeable parts, kids can design and build their own toy. The pieces are easy to screw, push and bolt together into dozens of models. Everything stays in place for hours of play until they're ready to disassemble and build again. Available in Airplane, Helicopter and Spaceship sets. Blue Orange plants two trees for each tree used to create their wooden products. 2/20/2013 [Add to my Inquiry Basket][?]



LEGO Friends Stephanie Soccer Practice 41011 by LEGO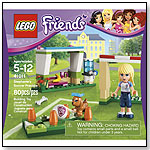 Train with Stephanie for the big soccer game. Dribble the soccer ball through the cone obstacle then practice guarding the goal with the goal-shooting function. Practice hard then take a quick break on the bench and refuel with the water from the cooler and a banana. After some tough training, play fetch with Scarlett. Includes Stephanie mini-doll figure and her dog, Scarlett. 1/18/2013 (Price: $11.99; Age: 5 to 12)



Lauri Tall-Stacker Smart Shapes by PATCH PRODUCTS INC.

What do you get with basic geomentric shapes made of Lauri crepe rubber and 21 tall-stacker Pegs? You get toy that entertains preschoolers for hours in convenient travel case for kids on the go. They'll fill all the holes, sort the pegs by color, and see how high the pegs will stack. With to holes per shape, it's also counting toy that lays good foundation for early math skills. When finished playing, kids will have fun putting the shapes back in the puzzle frame. 1/15/2013 (Price: $14.99; Age: 2 to 5)



Topobots by GEARED FOR IMAGINATION


Hero, Vampire, Rocker and Pirate styles available. Mix and match; the more kids collect, the more possibilities they have. Recycled wood, made in the USA. 1/8/2013 (Price: $9.99) [Add to my Inquiry Basket][?]



Space Chips Glom Dron Builder's Pack by MONKEY BUSINESS SPORTS


Buckminster Fuller was an engineer, systems theorist, author, designer, inventor, futurist and second president of Mensa International, the high IQ society. He is best known for his many architectural designs, the best known of which is the geodesic dome, or "Bucky Ball"-Yeah, yeah, yeah, we know that talking about systems theorists is pretty boring, but without Mr. Fuller we wouldn't have the Space Chips Glom Dron set, so it all kind of evens out, don't you think? The Glom Dron is a set of 540 pentagon chips that can be used to build a Bucky Ball. 1/8/2013 (Price: $99.99; Age: 6 and up) [Add to my Inquiry Basket][?]



Mega Bloks Hot Wheels by MEGA BRANDS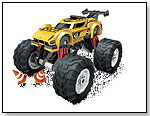 The Mega Bloks® Hot Wheels® collection brings the world's most famous car brand to building toys, featuring speed, action and performance. Boys can build and collect their favorite Hot Wheels vehicles, and even customize their own creations. The product line also includes cool launchers and each set features a collectible Team Hot Wheels micro action figure to further enhance the play. Build, customize & play with Mega Bloks Hot Wheels. Launch date: Fall 2013. 12/20/2012



GoldieBlox and the Spinning Machine by GOLDIEBLOX INC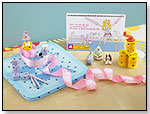 This is the first book & construction toy in the GoldieBlox series. Meet Goldie, her beloved dog, Nacho, Benjamin Cranklin (the cat with an attitude), Katinka (the dolphin ballerina), Phil (the sloth) and Flavio (the bear from Brazil). Help Goldie figure out how to build a belt drive to spin everybody. Includes: (1) storybook, (1) pegboard, (5) wheels, (10) axles, (5) blocks, (1) crank, (1) ribbon, (5) washers. Launch date: April 2013. 12/10/2012 (Price: $29.99; Age: 5 to 9) [Add to my Inquiry Basket][?]



nanoblock U.S.S. Enterprise Aircraft by OHIO ART CO.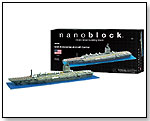 The USS Enterprise is the longest aircraft carrier in the US and the oldest. It has recently taken its final voyage after more than 50 years. With over 900+ assorted size and colored pieces kids can create a 3D image of the USS Enterprise down to the tiniest detail. It is the end of an era for the US Navy, making it the perfect gift for any Navy buff or construction enthusiast. With a finished size of 3.25" x 15.25" d x 3.25" h , it would make a nice addition to any den. 12/5/2012 (Price: $149.99; Age: 8 to 15) [Add to my Inquiry Basket][?]



Master Kit by HANZ INNOVATION

Our most popular kit by far. Build hundreds of amazing things. Includes 20 Brains, 40 Beams and 8 Wheels. 12/3/2012 [Add to my Inquiry Basket][?]



Warrior Pack by BRICKWARRIORS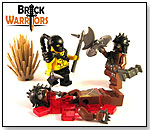 Each BrickWarriors Warrior Pack includes between 7 and 9 premium minifigure accessories, ranging from swords and medieval armor all the way to sci-fi guns and space armor. The accessories all fit perfectly onto LEGO® and other building-toy minifigures. The packs are sold in cases of 20 and the cases double as a retail POP display. Launch date: October 2012. 11/16/2012 (Price: $10.00; Age: 14 and up) [Add to my Inquiry Basket][?]



Educational Builders Set by TEGU INC.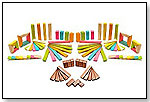 Designed for both the classroom and the playroom, this magnetic wooden block set includes 106 blocks in 8 shapes: 12 cubes, 8 large columns, 16 mega planks, 26 long planks, 8 medium columns, 8 small trapezoids, 8 large trapezoids, and 20 short planks. During Tegu's design process, we observe students in their natural environments and create educational tools that encourage active, inquisitive, and resourceful minds at all grade levels. Powered by magnets, Tegu Blocks offer puzzle-like constructive possibilities that challenge students to develop and problem solve their way to gravity-defying breakthroughs—improving hand-eye coordination and fine motor skills in the process. Launch date: February 2013. 11/16/2012 (Price: $265.00; Age: 0 and up)



Creator 3 by ZOMETOOL, INC.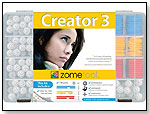 This kit allows users to increase the size, complexity and richness of their models. The number of interesting things one can build increases exponentially when one has more parts. This kit is perfect for those who have already caught the Zometool bug or families and groups who want to build together. Total parts: 738.
— As of 11/15/2012 this product had 4.7 out of 5 stars from 9 reviews on Amazon.com. Pros: A great educational tool; can be used to teach geometry, or just for fun. Cons: Rods have to be pushed really hard into the balls in order for the creations not to fall apart. 11/15/2012 (Price: $149.99; Age: 6 and up) [Add to my Inquiry Basket][?]



SmartMax Set - BASIC 25 by SMART TOYS AND GAMES INC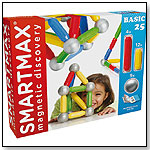 SmartMax Set - BASIC 25 allows children ages three and up to experience the wonders of magnetism and the fascinating world of construction in a safe way. Towers, bridges, and houses are just a few building options that take advantage of the large pieces to engage even the youngest builder.
Awards: 2013 TDmonthly Seal of Approval 11/14/2012 (Price: $49.99; Age: 3 and up) [Add to my Inquiry Basket][?]



Magneatos Better Builder 30 pc Set with Storage Case by GUIDECRAFT INC.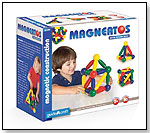 Discover the all new Magneatos Better Builder Series. With super strong magnetic force, unique rod and ball configurations and myriad design possibilities, Magneatos Better Builders are a wonderfully inventive way to help children discover principles of science, construction, and engineering while developing their creativity skills. Includes handy storage bin and deluxe 22-page Activity Guide which explores magnet science and provides sample building models for all ages. Magnets are safely and securely embedded in the over sized rods. Metal balls ensure a quick and strong connection. Tested to ages 18 months plus. For ages 2+.
Awards: Oppeheim Platinum Best Toy Award Winner 11/9/2012 (Price: $49.95; Age: 2 and up) [Add to my Inquiry Basket][?]



Xyloba Mezzo by ETA TOYS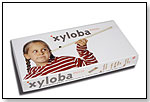 With Xyloba mezzo kids can create a great variety of melodic marble runs, using the 8 interchangeable sound modules to produce complex melodies. Made in Switzerland. 10/30/2012 (Price: $139.00; Age: 5 and up) [Add to my Inquiry Basket][?]



GoodWood Deconstruction Blocks, Mulch M by AROUNDSQUARE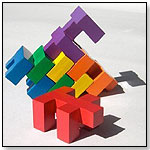 This set consists of 6 blocks Goodwood deconstruction blocks are a new system of innovative wooden blocks, designed to invite real creative play. The beautiful, precisely crafted blocks are intentionally packaged without instructions or other prescriptive guidelines, in order to cultivate open-ended exploration. Unlike most modern toys, this puts the child in complete control of the child-toy relationship, and encourages them to come up with their own ways to play. The different shapes allow for building outwards in every dimension, and the creation of structures which are both architecturally and geometrically interesting, as well as visually pleasing. They are suitable as a construction toy for children, and increasingly popular as a desk toy for design-minded adults as well. The ever-growing goodwood system currently includes seven original designs. Each set is designed to be fun and interesting on its own, and to provide new features when combined with the other sets as well. All sets come with pieces in six vibrant colors (water-based acrylic paint), made from forest-friendly rubber wood, and CPSIA tested. Care has been taken to ensure that the product reflects responsible social and environmental decision-making, and the developer's website provides a mechanism for purchasing discounted sets for donation into orphanages and kindergartens in the developing world. 10/22/2012 (Price: $23.99; Age: 3 and up) [Add to my Inquiry Basket][?]



String Railway by FOXMIND GAMES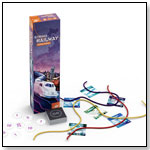 Using colorful strings as tracks, players will aim to outwit their opponents by taking control of the playing area by strategically placing stations throughout, collect points and build the most profitable railway network to win the game. Launch date: 2012. 10/18/2012 (Price: $29.95; Age: 8 and up) [Add to my Inquiry Basket][?]



Space Adventure Mini - Magus & Space Eagle by MAGNOTE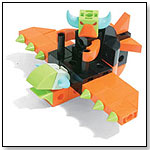 Space Adventure Mini includes over 45 block pieces to create one space vehicle and one Cube Figure. The same blocks can also be reused to transform the space vehicle into another robot or vehicle. Launch date: April 2012. 10/16/2012 (Price: $15.95; Age: 5 and up) [Add to my Inquiry Basket][?]



Mod Zombie Stix by BRICKSTIX LLC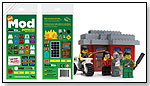 Bring the dead to life with ZOMBIE Mods. Mod are removable and repositionable stickers designed to fit plastic bricks like LEGO® and MEGA BLOKS®. They go on easy and can be removed just as quick. No sticky mess...Mods won't leave ick on your brick. Create a zombie apocalypse, WWII missions, a Medieval castle and more. Includes 44 removable/repositionable stickers. Made in the USA.
Awards: 2012 Creative Child Magazine Product of the Year Award 10/4/2012 (Price: $5.99; Age: 6 and up) [Add to my Inquiry Basket][?]



Playmobil Magic Castle - Princess Fantasy Castle by PLAYMOBIL INC.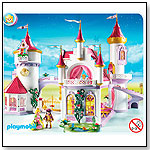 This castle features a grand staircase and a lot of rooms. The tower has a secret hiding place, and inside the castle there is a revolving dance floor. Includes a jewelry box, tiara, bracelet and ring for the child. Dimensions: 29.5"x 28"x 26" (L x W x H). 9/17/2012 (Price: $149.99; Age: 3 and up) [Add to my Inquiry Basket][?]



Tinkertoy® Transit Bldg Set by K'NEX BRANDS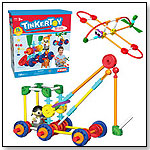 The Tinkertoy® Transit Building Set is designed to encourage young builders to play and learn. Builders ages 3+ can create a train, garage, bridge and more or accelerate their imagination with other ideas. The colorful guide provides a variety of ideas for all building skill levels. The Tinkertoy® Transit set includes 150 durable, plastic pieces including spools, straight rods, bendable rods, wheels, eyes, two buildable figures and more. Comes in a durable box with lid for easy storage and portability. 9/17/2012 (Price: $43.99; Age: 3 and up) [Add to my Inquiry Basket][?]



Smarcks Smart Blocks by SMART BLOCKS INC

This new set of Smarcks Smart Blocks has 70 standard building blocks and four new smarter talking blocks. Each new Smart Block uses a higher capacity microprocessor and is equivalent to three of the original; so four blocks in this new set is equivalent to having 12 of the original. The new blocks have been programmed with a new progressive learning function to enable children, as they get older, to play differently as the blocks are programmed to react differently. Very young children can press the buttons in the blocks or stack them one block at a time. This is a discovery stage as they sing, play nursery rhymes, play sound effects, laugh, and talk about color and good manners. As children develop fine motor skills they begin to stack two blocks at a time. Play moves to a higher level as they sing nursery rhymes, like Old MacDonald, with 7 different animals and learn spelling, counting, math, and puzzle solving providing years of entertainment and learning.
Awards: 2012 Dr. Toy 100 Best Toys 9/11/2012 (Price: $64.95; Age: 1 to 6) [Add to my Inquiry Basket][?]



Catalog Request Form