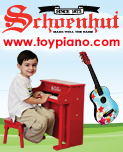 Article Tools:






August Holiday Preview: 18 Gift Ideas for Specialty Retailers
It's a lot of work to track down the elusive "perfect gift," but TDmonthly Magazine is making the search a little easier by asking manufacturers of all different kinds of toys and games about their anticipated holiday hits.

Check out the products they mentioned below and decide whether you think any of them could be the "perfect gift" for your customers or the kids in your life!

Stocking Stuffers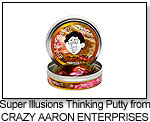 Super Illusions Thinking Putty from CRAZY AARON ENTERPRISES is a fun pocket-sized novelty gift for kids of all ages. "The three new Super Illusions are unbelievably vibrant colors that shift depending on how the light hits them...Not only is it safe, non-toxic, and non-gooey, but it will snap, tear, bounce, and even shatter," Valeria Carrasco, PR rep from Crazy Aaron Enterprises, told TDmonthly.

It will be a merry holiday season for kids who receive Merry Mega Buttons in their stocking. These super big button candies come in flavors like Candy Cane, Sugar Cookie, and Hot Chocolate, putting a jolly new spin on a traditional favorite.

Give younger kids the time of their life with a fun watch from SOLO TIME LTD. "We have in stock more than several hundred designs," a rep from the company told TDmonthly.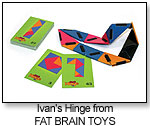 For older kids, consider a small logic puzzle or other stimulating game, like Ivan's Hinge from FAT BRAIN TOYS. "Players knit together a solution in their mind...then play it out by folding, looping, turning, and bending. All wrong? Untwist, unweave, unwind – and have a go again," Marketing Rep Kathy Lorkovic told us.

For the newest members of the family Appeteethers, teethers that come in "Chompin' Chicken Wing" and "Baby-Q Rib" styles, make for a soothing treat. Best of all? "Appeteethers are great for soothing a baby's sore gums, but parents absolutely think they are hysterical! There is no other teething toy designed to accomplish both tasks," Lori Bredemeier, owner/CEO of LITTLE TOADER, explained.

Family Games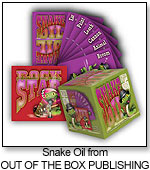 Snake Oil, which was fully launched this summer, is a great gift for the whole family. "It's very easy to learn and a huge hit with teenagers," Leah Sugar, VP of marketing at OUT OF THE BOX PUBLISHING, told TDmonthly Magazine.

What to get tech-savvy tweens? "Before the iPad was first released we saw a large number of children using the iPods and iPhones for games that they played by themselves - with limited family interaction. We had the idea, wouldn't it be nice if we could get the iPhone game appeal for kids around a board game?" This question lead EXIM Games to create xPirate, a family board game that integrates Apple's i-devices (iPhone, iPad, and iPod touch) with traditional board game play. It takes the fun of tech devices but makes them social, helping to bring the whole family together, according Tony Sisson, spokesperson for the company.


Pajaggle is a puzzle/board game that is fun and challenging for kids and adults. "There's nothing quite like the Pajaggle Board Game. It's not one-dimensional—there are lots of ways to play. It's made in America. It was made to engage any and all age groups," William Witt, chairman of PAJAGGLE INC, shared with TDmonthly.

Another great new game for the whole family is Off Your Rocker from STRATUS GAMES LLC. "As a group, the players choose a quirky problem they will portray and one player, the psychiatrist, must ask random questions to try to figure out what it is. The players must respond according to their quirk without being overly obvious, which offers a unique challenge for the psychiatrist and the feeling of an inside joke for the patients," ensuring family fun, Chris James from Stratus Games told TDmonthly.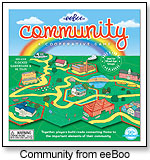 Community from eeBoo is a cooperative game that gives kids the opportunity to think about what truly makes a home, a theme that is very appropriate during the winter holidays. "I just want to say that personally I love this game. I've played it and I think my spatial abilities improved over just one game! The board is also entrancing and it's the sort of thing I would have lost hours to as a kid," shared Rosie Pohlmann from eeBoo.

Outdoors

Give kids the gift of outdoor fun with Sky Ball sports. "Sky Ball can bounce up to 75ft in the air, and we have incorporated that aspect into our Junior Sports line. The items are great for kids as they get them active, and it gives them confidence. With the Sky Ball kids can hit and kick the ball much further than with a traditional ball," explained Carissa Spencer Enright from MAUI TOYS INC.

For children who prefer bicycles to balls, Chalktrail from FAT BRAIN TOYS is a gift that will get them outdoors in no time. Kids simply attach the chalk-wielding device to the back of their bikes, and as they ride around the street and sidewalk are decorated with colorful trails. Gift it to more than one kid, and they can create colorful designs together.

Dolls and Plush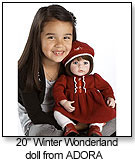 Girls seeking a wintertime companion will find comfort and fun with ADORA's 20" Winter Wonderland doll. She wears a cozy red ribbed knit dress and hat with white trim, making her the perfect compliment to traditional holiday decor.

After a long day of unwrapping presents, girls can put their new friend to bed in the Rock-a-bye Cradle from HAPE. This cradle, from Hape's new Happy Doll Furniture line, is made of FSC certified wood and accented with white and pink non-toxic paint.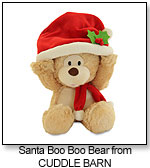 Santa Boo Boo Bear from CUDDLE BARN is another holiday-themed pal. He plays peek-a-boo with his floppy hat while singing 'I Saw Mommy Kissing Santa Claus.' "Santa Boo Boo Bear gets everyone ready for the holiday season with his sweet song," Anamaria Davila, account executive at Cuddle Barn, shared.

Boys

Get video game fanatics away from the TV with the Mario Kart Wii: Mario & Bowser Ice Race Set from K'NEX BRANDS. "The Mario Kart Wii building sets allow the video game to be brought to life — away from the game console. The characters fit into all the vehicles so kids can put any character into any vehicle, a freedom unavailable in the video game. Kids build and power the obstacles, encouraging even more interaction," Kate Loffio from K'Nex told TDmonthly.

Girls


Customizable fashion items are great gifts for tween girls, giving them an outlet for self-expression and the development of personal style. For instance, "MOGO purses have rivets to customize with MOGO charms," Katie Elliot from MOGO told TDmonthly. The MOGO charms come in dozens of styles, featuring everything from cupcakes to cats to alphabet letters.

Encourage creativity from a young age with My First Creative Collage™ Princess from THE ORB FACTORY. "It's sometimes difficult to find crafts for pre-school aged children that go beyond gluing one piece of paper to another. But My First Creative Collage™ explores textures and patterns, and yields perfect results every time," Stephanie Carver from The Orb Factory told TDmonthly.


Learn more about these product below, and don't forget to check out our May, June, and July Holiday Preview articles to learn about even more potential holiday hits.
Super big, each button is larger than 1/2". 72 buttons per sheet (144 per pack). Kosher and peanut free. Comes in holiday flavors like Candy Cane, Merry Berry, Sugar Cookie, and Hot Chocolate. 30 units per carton.
.
.
Appeteethers are fun, safe, patented teethers that are unlike any others on the market. They come in silly shapes including Chompin' Chicken Wing and a Baby-Q Rib, and are non-toxic, BPA-free, PVC-free, lead-free, and phthalate-free. They are made of silicone and have great texturing to help massage sore gums. Kids love chewing away on these, and parents get a kick out of watching them. Exceeds Consumer Product Safety Compliance Standards. Non-Toxic, BPA-Free, PVC-Free, Lead-Free, Phthalate-Free. Launch date: December 2010.
.
.
.
.
.
.
The Maui Jr Sky Ball Golf ball can travel up to 300 feet. It's the farthest hitting Sports Training Golf Set in the world. The Maui Toys Sky Ball Jr Golf Set is the best Junior Sports Training golf set that money can buy. It develops hand eye confidence for junior athletes by simulating the experience of long drives, just like a pro. And because it's made for junior athletes, Sky Ball Jr Golf sets come in bright Orange, Red, and Blue. Launch date: January 2012.
.
Sky Ball Soccer puts hyper charged into soccer. It makes a kid feel like a pro. They can kick Sky Ball®Soccer 100 meters (or about 100 yards), the length of a soccer field. This means kids can kick Sky Ball Soccer from goal to goal with one strike. In addition, when they bounce Sky Ball Soccer it can bounce up to 75 feet. The hyper action alone brings a new twist to the game. The combination of the highly guarded secret Sky Ball material, as well as the air and helium pressurization make Sky Ball Soccer perform like no other junior ball. Sky Ball Soccer can be used in all weather conditions. It won't ever get water logged or affected by ice cold weather. Launch date: January 2012.
.
Healthy riding colors the world beautiful. Creativity for sidewalks, parking lots, and streets. Hook Chalktrail® to a bike, then get riding. Draw figure eights, wavy meandering paths, perfect circles, fascinating designs by retracing the same route again and again in succession. It's freshly invigorating, beautiful play. Works with all bike sizes and training wheels. Includes highly durable Chalktrail® connector Easy on, easy off - no tools or parents required. Comes with one piece non-toxic, washable chalk. Launch date: August 2012.
.
Santa Boo Boo Bear is the newest and cutest Holiday hit this season at Cuddle Barn. This adorable Teddy Bear plays peek a boo with his big floppy Christmas hat while singing "I Saw Mommy Kissing Santa Claus". Using only the best quality materials for our products; all our Cuddle Barn friends a have crisp, clear sound and are made with soft to the touch plush fabric that makes all children want to cuddle up with our Cuddle Barn pals. Launch date: June 2012.
.
Kids can bring Mario Kart Wii to life as they race Mario and Bowser through a series of ice-themed obstacles. The set includes the parts to build Mario and Bowser, 2 Standard Karts with super-fast battery-powered motors, 2 moving obstacles: Penguins & Shy-Guy Snowboarders PLUS 2 collectible items from the game: a golden mushroom and a spiked blue shell. Also includes 16 pieces of buildable, interconnectable track that creates a closed loop - combine this set with other sets from the Mario Kart Wii Series to build even bigger tracks. Building set includes 182 parts. Launch date: May 2012.
.
A take anywhere cross body cutie featuring a long adjustable strap and stylish key chain charm. Available in 2 colors: Soft Silver and Neon Pink. Each Stella holds up to 5 charms for super stylin' customization (Charms sold separately). Size: 6.5" x 5.5". Launch date: September 2012.
.
Create 3 pretty Princess collages. Peel, stick and reveal beautiful pictures perfect to hang and display. Young children create their designs by matching colors and textures in three simple steps. Launch date: March 2012.
.
Learn all about dinosaurs while creating 3 colorful collages. Peel, stick and reveal beautiful pictures perfect to hang and display. Young children create their designs by matching colors and textures in three simple steps. Launch date: March 2012.
.
Rock "dolly" to sleep in this sturdy cradle. Rock-a-bye Cradle is from the Happy Doll Furniture range of the Hape Collection. Measuring 18.90"L x 12.20"W x 10.04"H, Rock-a-bye Cradle is age graded for children 4 Years +. The toy is beautifully crafted of FSC certified wood from sustainable forests and colored with safe water based paint. Launch date: July 2012.
.
Catalog Request Form

Advertisement: