Toy Directory Sponsor
---
S & W CRAFTS MANUFACTURING
S & W Crafts Manufacturing primarily manufactures/wholesales products in the following categories:
Arts & Crafts
Gifts
Hobby Goods
Vehicles-Small Toy
Wooden Toys
PO BOX 5501 PASADENA, CA 91117
Tel: 818-793-2443
Fax: 818-793-5216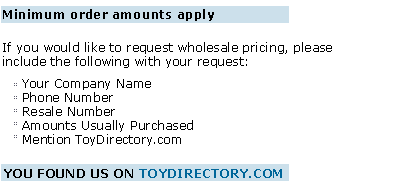 Toy Directory
For advertising information contact ToyDirectory.com:
Tel: (213) 627-7989, Fax: (213) 624-3925, E-mail: mail@toydirectory.com

Please bookmark this site. New members, content, and features are added weekly.


© Copyright 1998 ToyDirectory.com, a subsidiary of Wholesale Only International. All rights reserved. All logos, brand, and product names listed are trademarks and property of their respective holders.
Manufacture, Manufacturer, Wholesale, Wholesaler, Toy, Toy Suppliers, Toy Wholesalers, Toy Manufacturers, Toy Sales, Toy Directory, Hobby Directory, Directory, Wholesale Directory, Business to Business, Hobby Goods, Hobby Directory