The Doll Case Company
About The Doll Case Company
Product most recently added to TOYDIRECTORY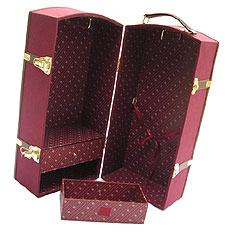 ---
Product added on: 1/6/2009
---
The Doll Case Company has been designing our quality doll carriers since 1998. We have grown over the years, adding new designs and fabrics. Our Doll Duffels® were designed for lighter travel. The debut was at the International Toy Fair in New York City in 2006. It was a new concept to carry and store dolls with a price tag that made it a great gift item! Our business has grown dramatically over the past years - from a small Web site offering only offering our styles to becoming one of the leading online retailers for top-rated doll trunks and carriers and other doll items according to availability from trusted manufacturers.

The Doll Case Company is the place where you can find everything you need for safe travel and storage for you favorite dolls and their accessories! From hangers, to trunks, to our patented Doll Duffel®, we have the products to create a personalized complete doll storage system!

Our doll carriers are available at our website (www.dollcase.com) and specialty stores.
Doll Trunks We have 12 different styles of doll trunks
Doll Clothes Hangers We have 8 colors of Acrylic Doll hangers that can hold pants
Doll Duffels Doll Duffels in 8 colors including genuine leather.
~Buying a doll trunk is an investment that we at The Doll Case Company want you to have for a lifetime~
You can also find The Doll Case Company listed in the following categories:
---
If you would like to request wholesale pricing, please include the following information with your request:
Your name
Your company name
Mailing address
E-mail address and phone number
Mention TOYDIRECTORY.com
---
AD