Construction Toys Stack Up
By Kevin Skaggs
April 1, 2003

Whether it's the realistic details of toy dump trucks or the interlocking pieces of life-sized building blocks, today's construction toys keep little workers busy measuring, stacking and moving.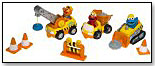 Fisher-Price's Construction Playset
Kids from one year to 5 years old will enjoy the noises of the dump truck and the "ding ding" of the gas pump at Fisher-Price's Happy Crane Construction Site ($19.99) as well as the Construction Playset ($10.99), where kids can attach trucks together, load them up and move them out.

Mercedes Benz Cement Mixer
Kids from 3 to 7 will appreciate the realistic detailing and the movable parts of Bruder Toys America's award-winning toys, including the 22.5 inches-long Mercedes Benz Cement Mixer ($46.99) and the 24 inches-long Mercedes Benz Green Garbage Truck ($59.99). Children ages 3 and up will also stay active with the rubber tires and moving parts of Bruder's Orange Road Service Vehicle ($59.99).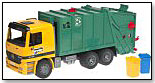 Mercedes Benz Green Garbage Truck
"Our toys are unique in their detailing and their functions," said Beate Caso, President of Bruder's U.S. Division. "First of all, they're realistic, and they work like the trucks themselves, and aren't just fantasy trucks. For example, with the cement mixer, you can really fill in sand in the mixer, working the same way as a real cement mixer. And with our orange road service vehicle, it has blinking arrows in the back that you can switch on. The philosophy of Bruder is to not have a toy that you can just push, but have it be something you can really play with and do things with." (Cont.)

Writer's Bio: Kevin Skaggs is a San Francisco-based writer whose work has appeared in Wired and Harvard Review.
---

Want to see a showcase of toys? Click Here...

Send comments about this article to: comms@toydirectory.com

Return to ToyDirectory Monthly front page


Top Licensed Toys Sellers: 2002's Hottest Properties and Where They Made the Biggest Splash

Interview: Read an Interview with Lucasfilm's President of Licensing, Howard Roffman

Trains Product Spotlight: The Fast Track for Model Train Technology

Trains Industry Overview: Model Kits for the Computer Generation

Construction Toys : Building New Markets

Product Summary: Construction Toys Stack Up

Cool Company: When Worlds Collide Neurosmith Tunes into Learning

Real Retailer: Model Expo

ToyDirectory Mom: Even Tough Guys Like Toys