A License to Sell: New and Old Properties Drove Big Sales in 2002
By Kevin Skaggs
April 1, 2003



2002 was a good year for licensed toys, including dolls, even as overall sales of traditional toys were flat. Fueled by popular movies and a wave of nostalgia, the majority of the best selling toys introduced in 2002 were licensed products, with several Star Wars items ranking in the top 10, according to market information company The NPD Group.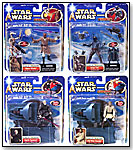 Star Wars Episode II Deluxe Figure Asst.
With the release of Star Wars Episode II, Hasbro Inc. had the top sellers of the year: Star Wars Episode II Asst. 1 ($5.66), Star Wars II Electric Lightsabers ($20.29), Star Wars Asst. 2 ($5.67) and Star Wars Episode II Deluxe Figure Asst. ($9.99). Lego also cashed in with its top selling Basic Star Wars Jedi Starfighter ($19.92).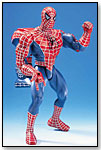 Battle Action Spiderman
"Star Wars is an excellent example of a license which appeals to both the younger and older collectors. We can expect to see more adult collectors sharing nostalgic trends with their children and adding a few prime pieces to their own collections," said Reyne Rice, Director of The NPD Group. "An interesting twist in the [licensing] market place is everything that is old is new again."
Other movies that inspired top selling products in 2002 were Spider-Man (Its huge success propelled Spider-Man products by Toy Biz into a top sellers spot.), as well as Scooby Doo. "2002 proved to be an incredible year for us," said Alan Fine, President and CEO of the Toy Biz division of Marvel. He added that Toy Biz has seen continued demand for Spider-Man products into 2003.
Writer's Bio: Kevin Skaggs is a San Francisco-based writer whose work has appeared in Wired and Harvard Review.

Want to see a showcase of toys? Click Here...

Send comments about this article to: comms@toydirectory.com

Return to ToyDirectory Monthly front page


Top Licensed Toys Sellers: 2002's Hottest Properties and Where They Made the Biggest Splash

Interview: Read an Interview with Lucasfilm's President of Licensing, Howard Roffman

Trains Product Spotlight: The Fast Track for Model Train Technology

Trains Industry Overview: Model Kits for the Computer Generation

Construction Toys : Building New Markets

Product Summary: Construction Toys Stack Up

Cool Company: When Worlds Collide Neurosmith Tunes into Learning

Real Retailer: Model Expo

ToyDirectory Mom: Even Tough Guys Like Toys