"Real Retailer" is a monthly feature where we discuss industry strategies, trends, happenings, or just about anything relevant with toy and hobby retailers across the country. If you have something interesting to say and would like to be featured here, by all means tell us! Please contact press@toydirectory.com

Real Retailer
By Mark N. Lardas
April 1, 2003
Store Name: Model Expo
Store Location: Hollywood, FL
Store Web Address: http://www.modelexpoinc.com
Store Owner: Marc Mosko

While the rest of the model industry may be contracting, Model Expo in Hollywood, Florida is defying the trend. Marc Mosko, owner of the business, takes some time to discuss what it takes to assemble a model-making powerhouse.
ToyDirectory (TD): How long have you been in business?
Marc Mosko (MM): Since 1974. I was living in Rome, Italy. I wanted to get into mail order. I made a deal with some Italian manufactures of wooden ship model kits, and advertised the kits in America. Soon people were sending money—not just checks, but cash.
Model Expo in Hollywood FL
TD: What type of products do you sell?
MM: Wooden ships and related supplies are half our business. Plastic kits and trains make up the rest. We are the largest seller of ship kits in the world, with the world's largest selection.
TD: Who is your typical customer?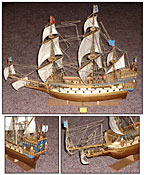 Ship Model
MM: For ships, someone near retirement—the type that plans enjoyment far out. They stock up, buying tools and supplies. They may have a closet full of models to build when they retire. This market is not growing. That is why we are building market share in other categories with younger demographics.
TD: How do you keep your customers coming back?
MM: Low prices, a large selection in stock, and customer service. We replace parts free for any kit purchased from us. If the dog chews up a mast—the customer gets stuck; he won't finish the kit. We send the part, free. It keeps him happy; he finishes the boat and buys another. We keep a full-time parts manager, and spend $100,000 per year on parts. It pays for itself in loyalty.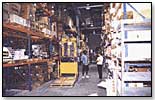 Inside the Warehouse
TD: How do you decide which items to stock?
MM: We look for opportunities. Manufacturers know we will take 1000 of each kit. We take everything as a closeout recipient. We go to amanufacturer, and keep their plant busy for a month, buying everything they can make during a slack period. Summer is slow for them. We let them keep
their team together.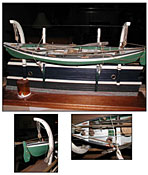 Whaleboats
TD: How do you let the public know who you are and what you carry?
MM: Model Expo is a marketing company first, a hobby business second. We advertise primarily with catalogs and our web site. We find catalogs and flyers more effective than magazine advertising. We mail 1,000,000 pieces of advertising every year.
TD: Has your Internet presence helped your business?
MM: Sixty percent of our sales now come via our Web page. We need half the telephone staff, and have a smaller phone bill. Our customers are happier--no busy signals. Weekend sales are now 25% of total sales. Customers get real-time information, too. Our online catalog is connected to our inventory mainframe. Customers can see if something is in stock, and what is left.



Writer's Bio: When Mark Lardas says something isn't rocket science, he knows - he has been one. His career spans space and e-commerce. His down-to-earth interests include models and writing. He combines both in articles for modeling magazines and as Boy's Life's Hobby Master.

Want to see a showcase of toys? Click Here...

Send comments about this article to: comms@toydirectory.com

Return to ToyDirectory Monthly front page


Top Licensed Toys Sellers: 2002's Hottest Properties and Where They Made the Biggest Splash

Interview: Read an Interview with Lucasfilm's President of Licensing, Howard Roffman

Trains Product Spotlight: The Fast Track for Model Train Technology

Trains Industry Overview: Model Kits for the Computer Generation

Construction Toys : Building New Markets

Product Summary: Construction Toys Stack Up

Cool Company: When Worlds Collide Neurosmith Tunes into Learning

Real Retailer: Model Expo

ToyDirectory Mom: Even Tough Guys Like Toys