Model Kits for the Computer Generation
By Paul A. Paterson
April 1, 2003

Model manufacturers are working through challenging times, but enthusiasts of assembly kits believe there are signs that the future will be bright.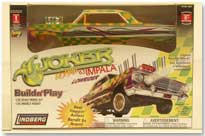 Lindberg's® Build N' Play™ model kit line
Matt Thrasher, spokesman for Craft House International, manufacturer of the Lindberg line of models, said many factors have hurt the industry.
"None of the major retailers take model kits anymore," Thrasher said. "Ten years ago you'd go into one of those retailers and you'd see 12 feet of models. Today, you're lucky to see four feet."
Thrasher believes the decision to cut back on model inventory is heavily influenced by a fundamental change in the traditional model builders -- children.
"With the computers and all the other things available to them [kids], it's difficult to get them to sit down for three or four hours to put together a model," Thrasher said. "Kids don't have the time or patience. Your average model builder today is a male between the age of 25 and 55," he said.
But while today's kids may find joysticks more appealing than model glue, Dick Wessel, President of Cincinnati Auto Replicas, believes the current state of the industry may just be one point in a longer cycle.

"It seems with video games and stuff there's a lot more going on than just models," he said, but also noted the selection and quality of models has improved. "There are lots of snap kits and easy-builders with the whole reason to get kids back into it. What they have now far exceeds what we had when I started."
Innovations in material and a rating system detailing the complexity of the model now offers consumers better choices than ever. Thrasher has devised a series of low-rider models that, after assembled, offer a remote control play function.
Wessler said he believes aging hobbyists are already sowing the seeds of the next generation of modelers.

Want to see a showcase of toys? Click Here...

Send comments about this article to: comms@toydirectory.com

Return to ToyDirectory Monthly front page


Top Licensed Toys Sellers: 2002's Hottest Properties and Where They Made the Biggest Splash

Interview: Read an Interview with Lucasfilm's President of Licensing, Howard Roffman

Trains Product Spotlight: The Fast Track for Model Train Technology

Trains Industry Overview: Model Kits for the Computer Generation

Construction Toys : Building New Markets

Product Summary: Construction Toys Stack Up

Cool Company: When Worlds Collide Neurosmith Tunes into Learning

Real Retailer: Model Expo

ToyDirectory Mom: Even Tough Guys Like Toys