Article Archive: Creative Activities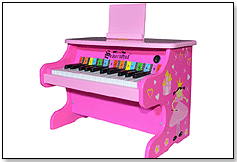 Schoenhut Is Electrifying!

Schoenhut Piano Company could easily rest on its well-earned laurels; since 1872 it's been producing high-quality toy pianos that last for generations. But Len and Renee Trinca, owners since 1996, know that being great isn't enough...

6/1/2014
Why Schoenhut® Piano Company Teamed Up With Raggs

At the most recent annual American International Toy Fair in New York City, Schoenhut Piano Company announced that a recent partnership with Raggs had resulted in the creation of a unique new product line, Twinkle Tunes Pianos with Songbooks...

5/1/2014

Top-10 Most-Wanted Arts & Crafts Toys

TDmonthly Magazine interviewed retailers in a January 2014 survey and learned that the Rainbow Loom was still leader of the pack in the arts & crafts category...

2/1/2014

PlaSmart Inc. Signed as Exclusive North American Distributor for DoodleArt

PlaSmart Inc., a global toy company specializing in fun, innovative and engaging toys that bring families together, has been signed as the exclusive North American distributor for mass and specialty retailers for the well-known colour-it-yourself poster kit brand The Original DoodleArt...

8/1/2012

Q & A With Mia Galison, President of eeBoo Corp.

Mia Galison, President & Creative Director of eeBoo Corporation, launched her first product while mothering three infants and working a full time publishing job, taking on freelance work at night to raise the capital for her first products...

5/1/2012

Q & A With Steven Kay, President of The Orb Factory

Steven Kay, President of The Orb Factory Limited, created his first product to raise money so he could visit his long-distance girlfriend. Rising from those humble beginnings, The Orb Factory now produces award-winning products that are sold in more than 50 countries worldwide...

5/1/2012

Top-10 Most-Wanted Wooden Toys

In early 2011, TDmonthly Magazine's regional correspondents spoke with 12 specialty toy retailers from around the country about their best-selling wooden products...

3/1/2011

Top-10 Most-Wanted Arts & Crafts

TDmonthly Magazine interviewed 14 specialty retailers who carried Arts & Crafts products in their store about some of the best-selling Arts & Crafts items that go through their doors...

2/1/2011

How to Make Money Without Really Trying

What would you say if someone invented an inexpensive, braintwisting puzzle that came in a multitude of designs that appeal to players from 4 to 104...

12/1/2010

Top-10 Most-Wanted Gifts for Girls

From Klutz manicure kits to Orb Factory Sticky Mosaic sets, girls simply cannot get enough of creative toys, a TDmonthly Magazine survey of 40 retailers revealed in June 2010...

8/1/2010

Kids Play House With KidKraft and Melissa & Doug

Children's furnishings and playhouses can enrich a play environment, but cost and size prohibit many specialty stores from carrying them, 21 of 43 retailers indicated in a recent TDmonthly Magazine survey...

7/1/2010
Craft Retailers Get Unexpected Reprieve

Craft retailers in the United States have been struggling pretty much all decade. Declining demand for craft products has meant that for some retailers to survive, others had to go to the wall...

6/1/2010
Crafts Put Hands to Work on Video

Creativity for Kids puts art into dessert, while the Orb Factory wows with new bangle bracelets. Watch these and other creative crafts...

6/1/2010
Summary of Online Toy Reviews

TDmonthly Magazine's Review Scout scours the Web weekly for reviews of new and hot products so you don't have to spend your time searching. Check this space for briefs on reviews and ratings from across the nation and even the globe...

5/1/2010

TDmonthly's Top-10 Toys from Toy Fair 2010

Toy Fair unfailingly has an overwhelming selection of new toys and games every year, which is one reason TDmonthly Magazine brought you daily updates on our favorite toys and specialty retailers' recommended items...

3/1/2010

TIA President Predicts Surge of Creativity in Toys

The fourth quarter of 2009 took the toy industry by surprise as customers swept clean the shelves of toy stores across the nation. The lead-paint and safety scares of 2007 had mostly faded from memory, and even recession fears began to recede...

3/1/2010

Top-10 Most-Wanted Arts & Crafts Toys

In January, TDmonthly Magazine interviewed 47 specialty retailers around the country (plus one in Canada) to find out the latest trends in arts and crafts for kids...

2/1/2010

TDmonthly's Psychologist Mom

TDmonthly Magazine's Psychologist Mom recently got her tween- and teenaged sons excited about doing their chores, played a strategic pattern game for hours, and enjoyed some historical reenactments with educational paper dolls...

1/1/2010

An App a Day Keeps Boredom Away

Any one of us has probably seen the following scene unfold: Someone is in line at the coffee shop, or bored in a waiting room, so out pops the iPhone...

12/1/2009

My Best Sellers: Golden Apple Learning Store

Originally founded as a teacher supply store, the Golden Apple Learning Store in Pleasanton, Calif., has developed over three decades into a toy store that also caters strongly to educators...

10/1/2009
Followup: Toy Space at Wal-Mart

Wal-Mart Stores Inc. recently denied "new plans to reduce allocated shelf space for toys companywide" as a statement of response to a TDmonthly Magazine article, "Wal-Mart Cuts Toys and Crafts in Clean-Up Campaign," written by TDmonthly contributor Lutz Muller...

5/1/2009
In This Issue

You've nearly made it through the first quarter of a year burdened by recession and challenged by the implementation of new safety standards … so keep trekking!...

3/1/2009

TDmonthly's Psychologist Mom

TDmonthly Magazine's Psychologist Mom recently found a tree full of creative play possibilities, practiced logic with colorful cubes, brushed up on spelling, and Bingo'd her way to a nutritious lifestyle...

3/1/2009

Top-10 Most-Wanted Arts and Crafts

In late fall 2008, TDmonthly Magazine polled 44 specialty retailers on their sales of arts and crafts items. In this staple category, sales underscored the wild popularity of Orb Factory's Sticky Mosaics...

2/1/2009

Retailer Spotlight: Creative Kids Toy Shop

Although Melodie Ingwersen has childhood memories of playing "toy store" with her sisters, she didn't aspire to be a toy-store owner, she told TDmonthly Magazine...

5/1/2008

TDmonthly's Top-10 Most-Wanted Arts & Crafts

TDmonthly spoke with 62 retailers about their success with arts and crafts products. While the amount of each particular product sold varied, one thing was consistent:...

2/1/2008

Noodle Head Keeps Kids Creating

Brothers Eric and Chris Ryan were tired of the unimaginative plastic toys on the market. They decided to put their noodles together to come up with a unique concept for a toy company. So was born Noodle Head Inc., a company dedicated to making toys that inspire creativity and encourage kids to get out and play...

4/1/2005

TDmonthly's Top 10 Most Wanted Bead Kits

Beading has spread like wildfire and the beading supply industry is at its peak. The popularity of beading has led to a veritable explosion in beading kits, giving the market a multitude of quality options...

4/1/2005
Newspaper, Glue and Memories

After my daughter's birthday party this year we lugged home gift bags stuffed with the latest dolls, videos and electronic games. The next day the pestering began...

2/1/2005

TDmonthly's Top 10 Most Wanted Girls Arts and Crafts

According to Stevanne Auerbach, Ph.D./Dr. Toy "Children learn best through play." Whether they are playing a game, drawing, reading, running or building they are learning by experiencing the world around them. Some manufacturers are even working to incorporate the ever-changing world by adding electronic interaction and digital activities to arts and crafts projects...

12/1/2004
Magnets

Lee Publications (Gift Guide) Going on vacation with your kids? Need a quiet time activity? With Magnetic "Mini" Paper Doll Cowgirls by Lee Publications, your child will have fun dressing up these cowgirl dolls in different outfits and accessories. And when cleaning up, the clothes fit neatly back into...

10/1/2004
Stickers

Top That! Publishing PLC The new exciting series, Sticker Timeline by Top That! Publishing PLC , educate children about dinosaurs, moving machines, and explorers and their discoveries. On one side, there is a colorfully illustrated timeline of events, and on the back , there is more educational information on...

9/1/2004
ACTIVITY KITS

Huntar Company, Inc. Let There Be Light! The Electricity Kit is designed to take the child on an adventure to understanding how electricity/electrical current affects and relates to our basic surroundings, for example, light from a bulb, breeze from a fan and sound from a speaker. Included is a how-to-guide...

8/1/2004
The Peace Rug Stops Fights…Really!

School yard fights, unruly bullies and verbal taunts. Each year, these age-old problems are dealt with by "traditional" methods...

5/1/2004
Spooky Marble Fun

From the creative minds at Mega Marbles comes the ultimate in low-tech fun...

3/1/2004

Molding Kits Create a Lasting Impression

You wouldn't think that a company run by a brother and sister team from a home-office in American Fork, Utah would be invited to hobnob with celebrities in Hollywood...

2/1/2004
Since 02/01/05 people have visited this page.

Advertisement: