Article Archive: Pretend Play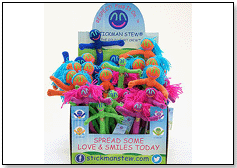 STICKMAN STEW® Sticks It to Bullies (But Kindly!)

Bullies, your time has passed! Vampires and other beasts, you may be immortal, but you're irrelevant now. There's a new wave of compassion sweeping the toy industry, and it's being led by a three-dimensional and quite compassionate stick figure...

7/1/2014

Q&A With Mary Beth Minton, CEO of Zylie the Bear

Mary Beth Minton had one child who loved dolls, and another who preferred to dress up her teddy bears as dolls. After searching for, and not finding, a bear designed to be dressed up and played with as a doll, Mary Beth and her son Matt set out to create their own...

1/1/2013

Pretend Play

Check out these recently added mass market and specialty pretend play toys!...

2/1/2012
Pretend Play

See these recently added specialty and mass-market Pretend Play toys...

9/1/2011
Toy Fair Coverage 2011

Visit our Blog for Exclusive Daily Videos and Pictures of the Hottest Toys of Toy Fair...

3/1/2011

Top-10 Toys at Toy Fair 2011

Out of the thousands of toys presented by more than 1,000 exhibitors at the American International Toy Fair in New York, several hotly anticipated toys have emerged into the media spotlight...

3/1/2011

Top-10 Girls Toys at Toy Fair 2011

Over 1,000 exhibitors showed their products at the American International Toy Fair in New York this week- these toys for girls were the standouts...

3/1/2011

Top-10 Boy Toys at Toy Fair 2011

One of the most prevalent trends this year at the American International Toy Fair in New York was the huge amount of movie-tie ins. This seemed to be especially true of the most talked about boys' toys...

3/1/2011

Kids Play House With KidKraft and Melissa & Doug

Children's furnishings and playhouses can enrich a play environment, but cost and size prohibit many specialty stores from carrying them, 21 of 43 retailers indicated in a recent TDmonthly Magazine survey...

7/1/2010

Top-10 Most-Wanted Kids' Costumes and Apparel

In a recent TDmonthly Magazine survey of 37 specialty retailers in the United States, storeowners touted the detail and durability of favorite dress-up lines Creative Education of Canada and Little Adventures...

4/1/2010

2010: Year of the Dinosaur?

Faithful readers of TDmonthly Magazine will be cheered to know that Michael Maddi of Puppetoys, one of the toymakers whose debut we chronicled at Toy Fair 2008, is finally watching his glove-puppet dinosaurs stomp out into the marketplace faster than he can ship them...

12/1/2009

TDmonthly's September Staff Picks

Little kids can don a high-quality cape to become a big hero, toss a golden coin to solve sibling conflict, or paint their nails with polish that's as "natural as mud."...

9/1/2009

Video Review: Watch Kids Build a House

The four Flamenco brothers spent a Sunday afternoon constructing a playhouse with the Zinkotek building system. Aided by their foreperson, Aunt Elba, the boys astounded themselves...

5/1/2009
Holiday Preview - Apparel, Costumes & Accessories

There's always room for play in a child's wardrobe, right? With princess gowns, fairy wings, pirate gear and adorable little socks for infants, there should be no shortage of opportunities for fashion flair and creative play this Christmas...

5/1/2009

Top-10 Most-Wanted Costumes and Apparel

In February 2009, TDmonthly Magazine spoke with 52 specialty retailers around the country about their sales of dress up, costumes and children's apparel...

4/1/2009
PlayTown Mats™ Map the Way to Fun

When Sam R. Harkreader was told his line of PlayTown Mats™ couldn't be made in the United States, he saw a challenge. As he works to keep his cost margins down, he told TDmonthly Magazine, he's "almost ready to jump up and down and claim victory."...

4/1/2009
In This Issue

You've nearly made it through the first quarter of a year burdened by recession and challenged by the implementation of new safety standards … so keep trekking!...

3/1/2009

Top-10 Most-Wanted Halloween Items

About 30 percent of 52 specialty retailers who spoke with TDmonthly Magazine in fall 2008 said they don't carry specific stock for Halloween in their stores...

1/1/2009

TDmonthly's Top-10 Wow Toys

As retailers gear up for the holiday season, they're stocking their shelves with items that are sure to wow their customers. Among 58 retailers who spoke with TDmonthly Magazine, 16 mentioned play kitchens as their ultimate consumer attention-grabber...

12/1/2007
Make Halloween Hip

While children are searching for witches and ghosts in the uniquely interactive Spooky Night book from InnovativeKids, Positive Spin Press has given a new face to the eerie holiday:...

1/1/2007

Are Educational Toys Educational?

Just how effective are educational toys? Some argue that children learn more during pretend-play time than with structured educational products...

11/1/2005
Get This Boy a Hat

My search for "dress-up" hats for my son has led me, rather reluctantly, to the Internet. Sadly, 2 year olds can´t get enthusiastic about choosing a new hat from photos the size of postage stamps on a computer screen...

10/1/2005
Picky Eaters? No Problem!

As pretend play food products become more unique than ever before, picky eaters may be a thing of the past - at least during play time...

3/1/2005
The Dramatic Power of Pretend Play Activities & Accessories

Activities and accessories for dramatic play provide an essential, empowering experience for growing children. Through open-ended creative play, children develop symbolic thinking, try out adult roles, explore various points of view, improve their language skills and practice crucial social skills. Pretend play props have long-lasting play value as "bridge" toys—usable...

1/1/2005
Costumes

A Wish Come True Make your little ballerina shine during a recital when she wears the Sparkle Princess Dress by A Wish Come True. This beautiful costume is made of aqua velour with sequin lace over a satin front bodice and marabou trim. It comes with an iridescent, glitter...

10/1/2004
PRETEND PLAY

ETA Cuisenaire The Pretend & Play® Calculator Cash Register is a fun-filled way to teach children how to handle money! Introduce children to this real-world skill with a jumbo-sized cash register that has a cash drawer big enough to hold the life-sized money that comes with it. The total...

8/1/2004
PRETEND PLAY

Beka, Inc. Beka Inc. offers 24" wide by 47" high theatres that are perfect for creating imaginative play. These theatres can be quickly transformed to stores, post offices, libraries and various other stages. Large art surfaces allow even more room for creativity as they can be custom decorated to correspond...

7/1/2004
PRETEND PLAY

Company Knows What Kids Want What Kids Want (ToyDirectory) has launched a series of toys that span all key categories for both boys and girls. New products include Disney Sidewalk Toys, featuring a selection of jump ropes, yo-yos and paddle balls featuring famous Disney characters; and Princess Hopscotch Foam Play...

3/1/2004
Since 02/01/05 people have visited this page.

Advertisement: