Halloween Definitely Happy for Retailers
By Paul A. Paterson
February 1, 2003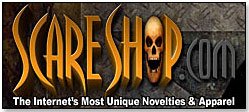 Scare Shop
It seems everybody likes dressing up, and that has turned Halloween from a small, localized celebration for kids into a retail season second only to Christmas in sales. In 2002, families spent almost $7 billion, or $44 per family. According to figures published on the CandyUSA website, the retail impact on candy sales alone is almost $2 billion, exceeding even Valentine's Day and Easter.
"Baby boomers kind of rediscovered the holiday through their children," explained Scott Krugman, spokesman for The National Retail Federation."There was a while where Halloween fell out of favor because it wasn't safe. There were candy scares and other things. We've moved beyond that. It's not just for kids; it's for adults too."

Extreme Halloween
That adult involvement includes the trend toward adult-sized costumes, something Shari Maxwell, Owner of ExtremeHalloween, Inc., an online costume and accessory shop, has seen firsthand and expects to continue.
"The adults now remember what it was like to dress up as a kid, how much fun it was, and there aren't the societal restrictions now that there might have been," Maxwell suggested. "It's definitely a really large part [of the increase in retail]. If the adults are into it, they'll want their kids to look good and have fun, so they'll go out and buy a good costume."
Doug Graham, Co-owner of Scareshop.com, an online costume supplier, and Brainstorm Studios, a graphic design house specializing in promotions for haunted houses, thinks the trend in everything from costumes to holiday decorations to activities has taken on a more family atmosphere.
"Halloween is slowly changing to more of a family event where families go out to a haunted house, pick a pumpkin and it turns into a few hours of entertainment," Graham said, noting decoration trends seem to be changing in the wake of the September 11th attacks. "Everything is swinging back to a more traditional Halloween. Everyone was pushing the envelope to be scarier or gorier than the next guy. Now, everything is swinging back and being a little tamer." (Cont.)
---