"Cool Companies" is a monthly feature where we recount the odd beginnings, interesting permutations, or otherwise unique and noteworthy circumstances of a toy or hobby manufacturer. If you think you know of a Cool Company that you'd like to see featured here, please contact comments@toydirectory.com.



The Buzz On Fuzz: Folkmanis Always Puts On A Great Show
By Karen Mendez Smith
February 1, 2003



It's showtime!
The action begins the moment you see an award-winning Folkmanis puppet or marionette. So soft, so appealing, so squishable — most kids (okay, adults, too!) just have to hug them before they dive right into fantasy play. From finger puppets to glove puppets, animated plush hand/arm puppets of every shape and size, character and storytelling puppets and a new line BabyFolkmanis books and toys, Folkmanis always finds a fresh take on this imaginative art.



Folkmanis' Jellyfish
Hands above the rest
For over twenty-five years, the Folkmanis family has defined high-end imaginative plush puppet play. What's the secret to their success? "In part this is due to the design sense of owners Judy and Atis Folkmanis who originally created and hand-produced the entire line, and still have daily input," said Elaine Kollias, Marketing Director. "Another key is our terrific team of designers. They're simply the best around." New puppets are released each January and June. "We simply care about putting the most animation with the most play value in each one," she tells us. "Then we multiply that by ten."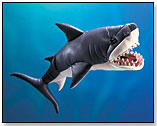 Great White Shark
Products with legs . . . and teeth!
Thought-provoking animations also set their products apart. "A great example is the new Great White Shark that has two rows of custom-molded teeth, movable eyes and a hole in its mouth for swallowing," Elaine said. "It's very true-to-life, as are all of our animal puppets. But our number one seller this year is definitely going to be the Great Horned Owl. With a newly-designed mechanism that turns his head and blinks his eyes, he's just awesome."


Folkmanis' Cardinal
Net gains
The Internet has been a real bonus to Folkmanis. "Businesses linked to us online have really grown," said Elaine. "It is really making a difference in sales for smaller companies." With over 50 online links available through the colorful website at www.folkmanis.com , an online catalog and lots of information make it a truly worthwhile web destination for retailers, collectors and fans.

A hands-on approach
In some ways, Folkmanis' success can be attributed to what they don't do. "We don't do licensing, we don't do trends and we don't change directions quickly," Elaine said. "We've stayed true to our original mission." From a cottage industry in the '60's to a multi-million a year private corporation, Folkmanis has managed to keep their company a family concern.


Writer's Bio: Karen Mendez Smith has been involved in children's media for over twenty years as a literary agent, writer, and creator of animated television and film. Co-founder of Satori Organics and M/Path Press, she is a parent to eight children and five incredible grandchildren (and counting).