Bull Or Bear? New Board Game Brings Wall Street to You
By Jeremy Loudenback
February 1, 2003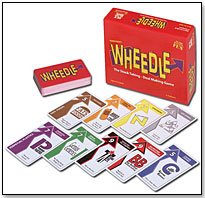 Wheedle Board Game
The fickle winds of finance may reflect a slumping stock market, but investors can still get their thrills without losing their shorts, thanks to a new board game from Out of the Box Publishing. Wheedle, a fantasy whirl through Wall Street, mimics the frenzy of floor trading at a stock exchange, with up to six players exchanging ownership stock cards and collecting these cards to obtain a majority ownership and victory.

Players tally points by collecting a majority of stocks through trades with other players or by picking up stock cards from the board. And much like real life, owning the majority of stock in a company is no sure guarantee of success. At the conclusion of the game, the company of the lone stock card remaining on the board is declared bankrupt, and players scramble until the last card played to discover which enterprise will go belly up.

Wheedle is the latest offering from inventor Reiner Knizia, who has worked with Out of the Box on several different games. Out of the Box's Matt Mariani says Knizia's latest game lets players get a feel for the high stakes of high finance.

"You never want to get stuck with the last card, which we call the Enron card," said Matt Mariani, "You never know when your company will go bankrupt."

Wheedle is for four to six players, ages 9 and up. Wheedle can be found in specialty toy and gift retail stores.