Grrl Power: Groovy Girls Keep it Real
By Jodi M. Webb
February 1, 2003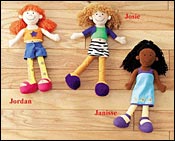 Groovy Girls Dolls - Jordan, Josie, Janisse
Groovy Girls is a unique doll that's cozy enough to cuddle and fashionable enough to be the envy of every Groovy Girl enthusiast from ages 4 to 74. The 13" cloth dolls sport removable outfits that range from glam evening gowns complete with feather boa, to stylish sweaters and bell-bottoms, to karate outfits with an assortment of belts. These multi-cultural dolls come in a variety of skin tones and hairstyles; every little girl can look from her doll to herself and realize that she's "groovy" too.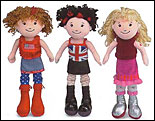 Groovy Girls Dolls
According to Nancy Severson, marketing manager for Manhattan Toys, "The Groovy Girls brand celebrates diversity and validates the fact that girls are important in the world!"

When they were introduced in 1998, the Groovy Girls alone were great imagination boosters for girls, earning them notice from the Toy Industry Association (TIA) and a Hot Picks Toy Award for imaginative play from ASTRA retailers in 2002. Now a whole Groovy World is taking shape, echoing the bright colors and soft cloth shapes of the original Groovy Girls. Groovy Girls can now lounge on Groovy chairs in their own Groovy Loft, while chatting with Groovy Boys on their Groovy laptop!
Groovy Girls Scooter
Along with new clothes, beach accessories and a backpack for carrying Groovy Girls, 2003 will be introducing a line of Groovy Pets including Pogo Dog and Ling Cat. Even animals are stylish in this world, bedecked in fashionable collars and leashes that attach to a Groovy Girl's wrist.