AD:



AD:

WHAT A JOY CREATIONS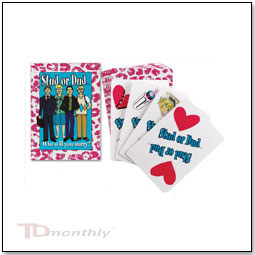 Stud or Dud Card Game

MSRP:

$15.95

Gender:

Girls

Age:

12 and Up

Card game for girls ages 12 and up. May be played with a group or alone. Pick four real life studs to represent our four studs and begin asking all those questions you´ve been wanting to ask......Who is the most romantic? Who likes me the most? Who is the best kisser? After all your questions have been asked, evaluate your life with each stud and find out who you´ll marry! A Stud or a Dud?


AD:



AD
---
Since 10/11/2005 3812 people have visited this page.
Magazine Home
Contact TDmonthly
Toy Gallery
Advertise Here
Editorial Calendar
Media Kit
Look up Manufacturers at ToyDirectory.com®
Search
Subscribe - TDmonthly e-Newsletter
Disclaimer Privacy Policy Career Opportunities Feedback
Use of this site constitutes acceptance of our Terms of Use.
© Copyright 2018 TDmonthly®, a division of ToyDirectory.com®, Inc.