High-Flying Children's Titles for Spring
By Karen Mendez Smith
January 1, 2003

Spring's new crop of kids' books are set to bring some fresh air to cloistered winter confines.
As the cold loosens its grip, animals begin to come out of hibernation. Ready to make a splash is FROGS SING SONGS, a picture book by Yvonne Winer, illus. Tony Oliver (Charlesbridge Press) as does FISHING DAY by Andrea Pinkney, illus. Shane Evans (Hyperion/Jump At the Sun). Also a breath of fresh air is MOTHERS TO TIGERS by George Ella Lyon, illus. Peter Catalonotto (Simon & Schuster/Richard Jackson Books).
Little ones will want to wiggle their bare toes in the earth when reading HOW GROUNDHOG'S GARDEN GREW by Lynne Cherry (Scholastic/Blue Sky) and PLANTING A RAINBOW a new board book edition by Lois Ehlert (Harcourt/Red Wagon), not to mention Lane Smith's THE HAPPY HOCKY FAMILY MOVE TO THE COUNTRY (Viking).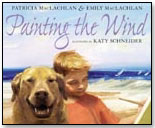 Painting the Wind
Warmer weather is sure to spark the creative spirit in PAINTING THE WIND, a debut picture book by mother-daughter team Patricia and Emily MacLachlan, illus. Katy Schneider, (HarperCollins/Joanna Cotler Books). MORRIS THE ARTIST by Lore Segal, illus. Borris Kulikov (Farrar Strauss Giroux/Frances Foster Books) makes a big impression, as does PICTURES AT AN EXHIBITION (with accompanying CD) by Anna Harwell Celenza, illus. JoAnn Kitchel (Charlesbridge/Talewinds). Completing the scene is PICTURES FOR MISS JOSIE by Sandra Belloa, illus. Benny Andrews (HarperCollins/Greenwillow).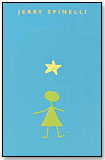 STARGIRL
Better be ready to batter-up with RHINOS PLAY BASEBALL (Clarion) by Julie Mammona. Girls won't be left out with GIRL WONDER by Deborah Hopkinson, illus. Terry Widener (Simon & Schuster/Atheneum/Schwartz) and PLAYER IN PIGTAILS by Shana Corey, illus. Rebecca Gibbon (Scholastic Press). Even mom gets into the game with MAMA PLAYED BASEBALL by David A. Adler, illus. Chris O'Leary (Harcourt/Gulliver Books). Also sure to hit a home run is HIGH HEAT, a novel about the redemptive power of baseball by Carl Dueker (Houghton Mifflin).
Paperbacks are sprouting with Jerry Pinelli's STARGIRL (Random House/Dell/Laurel-Leaf). Young adults will appreciate the hardcover edition of THE SECOND SUMMER OF THE SISTERHOOD, sequel to THE SISTERHOOD OF THE TRAVELING PANTS by Ann Brashares, as well as the reprint in paper (Random/Delacorte Paperback).


---
RELATED LINKS:

Want to see a showcase of Children's Literature products? Click Here...

Return to ToyDirectory Monthly front page: Click Here

Send comments about this article to: comms@toydirectory.com