Harry Potter
Pressure for Potter: J.K. Rowling's Latest Offering Fills Big Expectations
By Andrew Windchantz
July 2003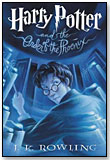 The Order of the Phoenix

Anticipation for the latest installment of the best-selling Harry Potter series, The Order of the Phoenix has been unparalleled in the history of printed literature. With thousands of units pre-sold by mega sellers such as Barnes & Noble, Amazon and Borders Books, the new title was in the number one spot before the first spine was broken. But can Rowling continue to fill the ever-increasing expectations of this monster franchise?

In Order of the Phoenix, Harry becomes the laughing stock of the entire wizard community, finding himself alone and unappreciated with his mentor Dumbledore conspicuously absent. Not until the death toll rises does Harry finally get the answers he has been seeking for nearly 16 years. But the information comes at a high price, costing the life of one of the characters in the struggle against the rising forces of evil.

Now in his adolescence, readers will find that Harry is not quite the likeable young wizard of previous books. Whining and complaining, Harry shows many characteristics of the familiar mopey teen, and the change may turn off some fans.

Though the story is lightened with some sentimental romances, Rowling has presented a darker and more disturbing look into Harry's magical world, with strange and sometimes sadistic scenes that may not be appropriate for readers under age 12.
---
---

Advertisement: