Crayola Centennial A Colorful Celebration
By Shawn Cole
June 2003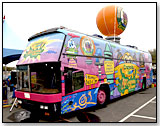 Crayola Art Tour Bus
In 1903 cousins Edwin Binney and C. Harold Smith gave birth to the Crayola brand in Easton, Pennsylvania. Their invention of wax crayons was driven by local schools' need for an affordable way to provide artistic tools to children. The first box of eight Crayolas was available for a nickel. Today, Crayola has become an American pop icon and is one of the most widely recognized brands in the world with well over 120 colors, markers, colored pencils and a growing inventory of toys, craft supplies and even children's furniture.
This year, Binney & Smith is celebrating 100 years of Crayola with several new products, many of which can be seen on the national ART-rageous Adventure Tour. Stopping at 25 cities across America, a wildly colored bus offers hands-on activities for kids of all ages and an opportunity to donate old blue crayons, now called "leftolas," which will be used to help build the world's largest crayon at a birthday bash in Easton this October.
"We are finding that adults are having just as much fun when they visit the ART-rageous Adventure Tour as the kids," says Susan Tucker, a marketing and public relations specialist at Binney & Smith. "They remember growing up with Crayola crayons, and they are wowed by all the new and different Crayola creative tools, as well as new twists on the classics, now available to their children."
To usher in the next hundred years, Crayola has introduced a multitude of anniversary-themed products, which offer a fresh look to several old products and a new-fangled spin on activities for the next generation.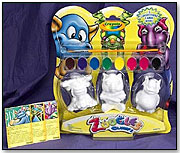 Zoogles
Tiny little paintable creatures called Zoogles, introduced in May, are expected to be a big hit with parents and kids alike. Made from a special material that allows washable paint to soak in immediately, these non-messy monster characters come in sets of three ($10.99) with a paintbrush, eight washable paint colors and a card that introduces each Zoogle and its unique characteristics.
Crayola Crayon Maker
One of the most popular products introduced in the last year is the Crayola Crayon Maker ($24.99), which melts down old, broken leftolas in a low-heat cooking machine and molds them into individually designed crayons. With the purchase of additional molds, kids can create crayons shaped like vehicles or jungle animals as well.



Special Edition 100 Ct. Birthday Box of Crayons

Finally, a Special Edition 100 Ct. Birthday Box of Crayons ($7.99) is available during 2003 only. When results of a "Save the Shade" contest are announced in October, four old colors will be voted out of the box and replaced by four new colors whose names will be decided by a "Name the New Color" contest going on this year. After the anniversary, the box will return to its 96 ct. original configuration.



To view recent industry sales figures for Arts and Crafts, Click Here

---
---