Bikes and Riding Toys Roll on with Style
By Karen Mendez Smith
May 1, 2003
Whether new or retro-inspired, riding toys and bikes are still cherished by kids in the 21st Century.
Burning Rubber

Girls with Betty Boop chic will be unable to resist a classy Pretty in Pink Sedan ($204.95) from American Retro or the Pink Comet Pedal Car from C & N Reproductions ($189.00). And no all-American guy could refuse a Red & Beige 55 Classic ($239.00), also from C& N, with functional steering, detailed graphics and real rubber tires.

Rocketeer Wagons
Way to Go

One of the hottest things we've seen for the toddler set is the Glide Ride line by Burns Novelty and Toy Corporation. With a classic deco design and ball-bearing wheels, their Rocketeer Wagons ($199.00, in red or yellow) let little ones comfortably propel themselves in grand fashion.

Little Red Roadster
Built to Fly
When it comes to classic wagons, trikes and bikes, Radio Flyer has earned their place in the sun. One of our favorite ride-ons for ages 1-4 is the shiny Little Red Roadster ($99.99), a retro-styled vehicle with steel wheels, rubber tires, and a real honking horn. Also making us want to go clickety-clack down the track is Peg Perego's Santa Fe Train Set ($159.99) for ages 2 and up.

Black and Red Power Pumper
Power to the Pumper

Ages 5-11 will get an aerobic workout using the push-pull rowing motion of the Power Pumper's latest products. With a metal transmission and brightly colored plastic body, the Power Pumper ($149.00) is fast, fun and highly maneuverable, and comes in racy color combinations such as lime and purple or black and red.
Green Machine™
Green Means Go!


Debuting at the February 2003 Toy Fair, Huffy's new Green Machine™ ($99.99) is like your childhood Big Wheel on steroids. The Green Machine features a dual-joystick rear wheel steering mechanism, wide "blow-molded" rear wheels, a 20" rubber front tire for traction in fun rear-wheel spin-outs, and a tough (lifetime warranty) steel frame. For ages 5-15.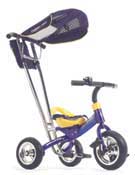 Canopy Trike
Not Your Father's Tricycle

Also from Huffy is the Canopy Trike, a learning trike-cycle with the convenience of a stroller. The trike has a mesh canopy and steering lock to keep Mom in control. The handle has a rider's footrest and a storage bag for snacks or house keys. Pedals, front-wheel design and a three-point safety harness let young riders roam when they're feeling independent. The Canopy Trike was the winner of the 2003 SGMA Sports Edge Sports Product of the Year Award. Suitable for 18 months to 4 years old.


ElectricCruizer SX
Zap Happy

Kids not quite car-ready will get a charge out of ZapWorld.com's ElectricCruizer SX ($499.99)--an electric bicycle that travels for 15 miles at up to 13 mph. Paper routes will never be the same.



Cruising Deluxe
Need a lift? The Cub Cruiser Wagon ($129) is perfect for toting goodies or escorting your pals around the block. Featuring beautiful tear-drop fenders, sturdy steel construction, tumblehome rear deck and a high-gloss paint job, the Cub Cruiser is a classic way to get around the block. The 1930s design will make collectors and riders alike the envy of the neighborhood.

Writer's Bio: Karen Mendez Smith has been involved in children's media for over twenty years as a literary agent, writer, and creator of animated television and film. Co-founder of Satori Organics and M/Path Press, she is a parent to eight children and five incredible grandchildren (and counting).