Custom Plush Spreads Out
By Beth Michaels
May 1, 2003


In response to the hyper-competitive market for plush items, plush toy manufacturers and retailers are reporting increased sales of custom designed plush toys. Custom plush manufacturing has made larger inroads into the plush market as manufacturers respond to retailer demand for more timely products and to fill the sizable collectible demand.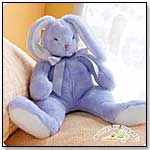 Hallmark's Bunnies By The Bay™

Gordon Tucker, president of DANU USA, explains that this buying trend "has been and will continue to be [on the rise] as retailers look for more and more ways to be competitive in pricing, and most of all, make sure their products are unique and not the same as their competition in the industry."
The DANU Corporation has been in custom or private-label plush manufacturing for 15 years and with the largest design team in the industry, has staked a position as a leader in the development of new plush fabrics according to Tucker. DANU product designs are generated from customer art or from in-house graphic artists, and the company's clientele includes The Disney Stores and Kids "R" Us, as well as Linens & Things and Starbucks Coffee Company.



Yours Truly Beanie Baby

Well-known designer Mary Hamilton created Hallmark's Bunnies By The Bay™ and Mary's Bears™, two custom plush products that have been eagerly embraced by the buying public. Each item is designed exclusively for Hallmark and has earned collectible status from dedicated plush buyers. The Yours Truly Beanie Baby, a Hallmark Gold Crown Club-member exclusive, has been available since late March and is expected to secure the same results.

Hallmark creates unique plush designs for its important seasonal calendar, and items must be attractive to customers and collectors alike, says Hallmark's Rachel Bolton. "Quality and exclusivity are important," says Bolton. "[But] for promotions, the focus is not only on quality, but on its value."

One of Mary Meyer Corporation's most successful custom designs is the Flip Flops line, now being sold in gift stores. David Quimby, Vice President of Sales at the 70-year-old company, explains that his company looks to produce custom designs with its own resources rather than contract other help, and it has paid off handsomely.

"We have our own design department and craft our own toys," Quimby says. "So even though we sell them to our customers, we don't go any place else and buy someone else's stock. We are definitely getting a bigger piece of the [requests for] ad specialty toys."
Writer's Bio: Beth Michaels is a freelance writer living in Barstow, California, and the proud mother of a son, Kai.