Ask the Experts: Science and Nature Toys
By Jodi M. Webb
May 1, 2003

If you want to encourage a child to explore science, you first have to abandon a few traditional ideas you may have about scientific learning. Ask most people what a science toy is, and you'll get the obvious answers: microscopes, magnifying glasses, and prisms.

But Michael Elsohn Ross, a naturalist at Yosemite National Park and author of over a dozen children's books about science and nature, doesn't want parents to overlook toys that don't necessarily scream "science."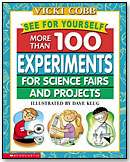 See For Yourself: More Than 100 Experiments for Science Fairs and Projects
"Any toy can end up being used for scientific exploration," says Ross, "whether it be Silly Putty, toy gliders, balloons, mini-cars, or action figures."
Scientists can learn to turn the toy box into a science lab with Vicki Cobb's book See For Yourself: More Than 100 Experiments for Science Fairs and Projects. The chapter "Inspirations from the Toy Store" makes use of metal slinkies, ping-pong balls, toy slime, glow bracelets and more to give fun demonstrations of the laws of science.

Aside from re-thinking science toys, retailers are also reexamining the audience for science toys. Although some people think of science as a "boy thing," Joseph Mistishen, owner of three Nature and Discovery Stores in Pennsylvania, sees girls developing an increasing interest in science toys. "Toys are fun, but working on science—that's really fun," says Mitishen. "You learn through doing."
Sandbox Scientists
Ross, whose book Sandbox Scientists is a guide for scientists from ages two to eight, points out that children are explorers from infancy. Long before their day includes a regular science class, children are questioning and experimenting with their environment. Remember the countless times children drop unwanted strained peas on the kitchen floor? A future Isaac Newton in the making, perhaps. "Children learn more about the science process, rather than a body of facts," explains Ross. "Later, when they are formally introduced to big ideas such as buoyancy or aerodynamics, their early experiments give them real life experience to add validity to the laws of nature."

When shopping for quality science and nature toys, don't allow yourself to be fooled by impressive claims or packaging, Mistishen says. "For example, a line of chemistry sets boasted '500 Experiments You Can Do,'" says author Vicki Cobb. "Unfortunately, the booklet was so badly written that the kid couldn't do the first experiment, let alone the 499 to follow."

Mistishen admits that sometimes products don't live up to their promises, but he often opens a sample to show curious customers. Ross recommends comparison shopping—not just for price, but also for durability since science toys are usually used repeatedly and under less than ideal conditions. "A plastic 2-power magnifying lens may cost a few dollars less than a 5- power Bausch and Lomb lens," says Ross, "but it is easily damaged and its magnifying powers are barely noticeable."

So, like a true scientist, be skeptical and follow your hunches when strolling the science toys aisle.

---