Smart Kids Roll the Dice: OutsetMedia Delivers New Professor Noggin's Games for Spring
By Tim Connolly
May 1, 2003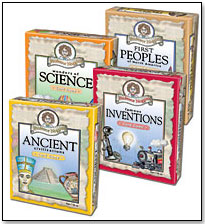 Ancient Civilizations, First Peoples of North America, Wonders of Science, and Famous Inventions
Following up its December 2002 Parent's Choice Seal of Approval, OutsetMedia is debuting four new games in their popular Professor Noggin's Card Games series. The new titles--Ancient Civilizations, First Peoples of North America, Wonders of Science, and Famous Inventions-- will be hitting the shelves the first week of April. Eight previous Noggin's titles covered topics such as dinosaurs, space, birds, insects, and ocean life.
"The Professor Noggin's games touch on subjects that aren't really dealt with a whole lot in the game industry," said Brian Dreilich of OutsetMedia. "We wanted a strong educational component." First Peoples of North America teaches kids various hunting, farming, and art traditions of our continent's native peoples.
Designed for ages seven and up, the Professor Noggin's series utilizes trivia, true/false, and multiple choice questions on 30 vividly illustrated cards to be played by up to eight players. Add some three-numbered dice, and you've got a one-of-a-kind card game. "Each card has three questions ranked by difficulty," said Dreilich. "There's also a 'Noggin's Choice' that allows you to take another player's card [for an advantage]. It's a great game for traveling."

The Professor Noggin's card games retail at $9.99 and are available from the company's website (OutsetMedia.com) and in specialty stores and museums.