Turning Gross Into Gold: Science Toys Discover Fun for All Types of Kids
By Michaele Birney Arneson
May 1, 2003



Most people, whether children or adults, have strong feelings about science: they either love it or go glassy-eyed at the sound of the word. As a child, I eagerly collected tadpoles from our backyard pond, loved to go camping (no tent required) and performed my own unauthorized experiments in chemistry class when the teacher left the room.

My husband, on the other hand, has a strong dislike for anything that slithers, flies or crawls. Our children straddle both camps: three of them love the outdoors and making their own "scientific discoveries," while the other two would prefer more domestic activities at home.

Capsela Weather Station
For many kids, their first questions about science come through experiencing ordinary weather changes. With the Capsela Weather Station by Educational Insights ($19.99, ages 7–12), I can give my kids the opportunity to see how weather works by allowing them to participate and even control the process. Step-by-step assembly instructions and an educational activity guide make it easy for scientifically challenged adults to enjoy the various weather experiments and learn alongside their kids.

Learning about magnetism, bonds and geometry is a snap with the new Supermag, a new and improved version of the popular Geomag ($19.99, ages 3+), featuring "stronger, tapered rods in both one-inch and half-inch lengths." The new system is compatible with the Geomag sets, a toy which has swept seven of the top toy awards in less than a year. Supermag is scheduled to hit store shelves in summer 2003.
Cat Plush
I also take advantage of unique plush toys to educate my children about the animal kingdom. Plush Manufacturers Wild Republic and Wildlife Artists encourage this educational process by including relevant information about animals along with their plush creations.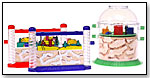 Uncle Milton Ant Farm Village
Whether my indoor children prefer to examine the complex social relationships occurring within their Uncle Milton Ant Farm Village ($19.99, ages 6–9) or my outdoor children create their own laboratory of living bugs using their Creature Keeper by Small World Toys ($9.99, ages 3+), I have the satisfaction of knowing they're learning something they can't get from SpongeBob SquarePants.



Writer's Bio: Michaele Birney Arneson is a freelance writer and editor, specializing in children's topics, education and employment, health science, and environmental issues.