Cool Company
Costuming Success is No Make Believe Story
By Kris Decker
November 2003



When slaying a dragon, the last thing a brave knight needs is a tunic that itches his tummy. But if he acquires his attire from the magical people at Fairy Finery (ToyDirectory) in Golden Valley, Minnesota, tickly textiles will never be an issue. Susan Berns, owner and CEF (Chief Executive Fairy) of the budding wholesale pretend play business, believes that comfort is just as important as cuteness when it comes to dressing up fairies, princesses, kings and other fairytale folk.
"No matter how cute an item is, or how much you paid for it, if it doesn't feel good, they won't wear it more than once," states the Fairy Finery website (fairyfinery.com). It's this approach that distinguishes Fairy Finery from other dress-up-play wholesalers. And that's only part of the story.


Lilac Fairy Wings
Once Upon a Time
It all began five-and-a-half years ago when Berns, a 30-year garment industry veteran, was spending her days sewing play tents and puppet theaters for children. One day, her daughter was given a "very glitzy" dress-up costume by a friend.
"I looked at it and thought I could do better," says Berns. "I could make something sweet and innocent that would still have sparkle and pizzazz. Something comfortable that she could play in, with fabric that was soft next to her skin."
Thus inspired, Berns set off on her business venture by first creating fairy skirts and wings, christening her newborn company "Fairy Finery" in homage to the wee creatures.


Hooded Swirl Cape
"Fairies are fanciful and very 'let's pretend.' A fairy can be very pixie-like and mischievous," Berns says with a laugh.
The costumes found immediate acceptance among both retailers and parents.
Inspiration & Imagination
All Fairy Finery costumes are generic in design, defying the popular manufacturing trend of using licensed cartoon or comic book characters on merchandise for quick recognition and sales.
Berns explains, "Keeping the outfits generic allows a child to bring more of themselves to the play experience. For example, our Hooded Swirl Cape -- a child puts one on and becomes a king, a queen, an opera singer, Little Red Riding Hood or even Robin Hood. It's more open ended."
This seems especially important to parents of boys.
"A lot of parents are searching for an alternative--play things for boys that aren't the alpha-male, blood-shedding superhero that we see so much of these days. Costumes that inspire boys to pretend to be a wizard, a magician, a king -- they really encourage a boy's imaginative abilities," says Berns.

Fairy Spiral Choker and Other Jewelry
Crown Jewel Collection
Offering top-quality workmanship and incorporating superior ribbon, sequins and trim into all their garments and hats is the secret ingredient that makes Fairy Finery unique.
"Plus, we try to offer a 'boutique look'--limited series or editions [of costumes] with sequins and trim that are special -- to avoid that mass-market look," says Berns.


Princess Hat
Their biggest seller, the "Never Droop" Princess Hat (a standard in demand by all junior royalty, it seems), is a perfect example of the quality that goes into each piece.
"No one else makes anything like it. It can sit at the bottom of a toy box for a long time and still come out looking fresh and pretty," says Berns.
Other must-have items include the Flower Tulle Skirt, where "flower petals float inside layers and layers of soft, sheer tulle netting;" magic wands; feather boas; giftware and accessories, including the popular Fairy's Whimsy Bag and the Troll's Treasure Box.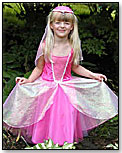 Fairy Princess Dress
To Market, to Market
Fairy Finery merchandise is sold at a number of retailers across the US and Canada, and it can be ordered directly from their website. In addition, Berns peddles her wares at art festivals around Minnesota.
"The fairs help me stay in touch with what people are buying and looking for. They allow for experimentation as well as the joy and luxury of getting to go a little wild."
However, the golden egg of marketing for Fairy Finery appears to be its own customers.
"Word-of-mouth has been phenomenal," states Berns. "Specialty toy stores tend to communicate with each other, and they notice what's doing well. They tell us that we fill a need that they've been searching for."
And so Fairy Finery thrives, happily ever after….
Writer's Bio: Kris Decker endures eternal Minnesota winters by writing freelance articles, essays and features. Her two kids (a rich source of poignant, humorous, and most happily, free material) are the inspiration for much of her work focusing on the topics of kids, parenting, families, individuality and creativity.
---
---