New, Hot & Unusual
Escape into the Future: MechWarrior Premier Edition Big Box
By Julia Ann Charpentier
November 2003





MechWarrior: Dark Age
Released in August 2003, the MechWarrior: Dark Age collectible miniatures game was designed primarily for adult gamers, but computer-savvy children will love its advanced rules and strategy.
Among WizKids' strongest titles, this game is based on a 1980s sci-fi game called BattleTech, which has spawned a host of virtual reality games, computer games, console games, novels and toys all based on the property.
According to Dave Nieker, public relations manager for WizKids, the company offers an organized play program that will draw both players and consumers into stores.
"We offer free prize support to retailers who run MechWarrior tournaments, which include the much sought after limited-edition figures that collectors can only get by playing in tournaments," Nieker says. "It builds a community of players that congregate in the store, where they can also purchase product."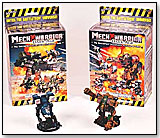 MechWarrior
The Premier Edition Big Box contains two unique level figures Mechs and two complete MechWarrior Starter Boxes with 16 randomly inserted MechWarrior miniatures, including two Mechs, four vehicles and 10 infantry units. Rulebooks, faction dossiers, special equipment cards, two flexible rulers and six dice complete the set. Everything a player needs to get a game going right away.
"There are currently 468 different MechWarrior figures and four different sets available to collect," Nieker said.
The Mechs are like 40-foot giant walking tanks, articulated so they can be aimed at the opponent. The combat dial base on the Mechs even has an added element to track heat during game play, Nieker said. Rules for the game take only minutes to learn, and the game avoids complicated charts, tables and other record keeping.
The Premier Edition Big Box retails for $39.95.
---