Products from ALEX BRANDS
THIS BANNER IS AN AD:
---


View: By latest product added | By earliest product added



Below are some of the products ALEX BRANDS has shared with ToyDirectory and TDmonthly



---
These super cool rearview spy glasses have specially treated lenses that allow kids to stay undercover and see who´s behind them without turning around!
? ?This is the one the little kids really like. They think it?s so great and ?tricky,?? explained Sonny Palmer of Kids ?N? Kids Toys.
? ?It?s low-priced, perfect for birthday parties and stocking stuffers,? said Julie Reilly, of Lincoln Toys, Lincoln, Neb.
? Cody Woods, manager of Spy Exchange and Security Center in Austin, Texas said the Rearview Spy glasses ?are a big seller.?
ToyDirectory Product ID#: 4610
(added 9/14/2005)
Kids can mix, mash, shape, mold and form lots of beautiful crafts out of paper mache. The material dries overnight. The next day it is ready to be decorated with accessories. This large kit comes with one pound of ready-to-mix paper mache material and everything necessary to make flowers, beads, a pencil holder, pencil toppers, finger puppets and more. The creations can then be painted with the included acrylic paints and brush. It won a Creative Child Magazine Toy of the Year Award in the Creative Craft Kits Category.
ToyDirectory Product ID#: 4303
(added 8/24/2005)
MSRP: $18.00
Age Range: 2 to 4
This simple system of brightly colored cars and ramps teaches a higher level of visual-motor integration than most toys used with two-year-olds. It also promotes fine-motor skills and cognitive development as well as sensory stimulation and social/coping skills — all the while introducing the rudimentary concepts of physics.
ToyDirectory Product ID#: 4015
(added 7/25/2005)
MSRP: $5.99
Age Range: 0 and up
Kids can get clean with these super soft terrycloth pets that make noise, too. When you squeeze his tummy, the frog ?ribbits.? Other noisy bath mitt pets include a Cat, Cow, Dog and Pig.
?Launched in 2004, ?They?re selling very well,? said Elin Kabo, director of communications for Alex.
??They?re great for washing young children in the tub,? said Kabo. ?They?re a tub toy as well as a tool for Mom to wash with.?
?They?re a favorite at Toys 2 U in Bloomfield, N.J. and Giggles in Stoughton, Wis.
ToyDirectory Product ID#: 3970
(added 7/15/2005)
MSRP: $6.99
Age Range: 2 and up
Kids who bathe together can have a prehistoric water war with these chubby and colorful little PVC squirters that are easy for little hands to grasp. Each set contains five dinosaurs. Also available are On the Go, Space, Garden and Ocean squirters. All of these toys are phthalate free.
??These are really cute and popular,? said store director Susie Waterstreet, of Treetop Kids in Washington, D.C.
?Squirters are newly packaged for 2005 in a zippered vinyl bag with a mesh bottom.
?The three new styles for 2005 are Farm, Sports and Transportation.
ToyDirectory Product ID#: 3966
(added 7/15/2005)
Rub a Dub Draw in the Tub
TDmonthly rating: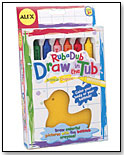 Colorful works of art can be created on someone's tummy, or on the bathtub wall, using this set of six bathtub crayons. A duck-shaped sponge is provided to erase the "canvas" and start anew. "This is one of our top bath items," said Elin Kabo, director of communications for Alex.
—
Cons:
May stain some tubs (especially tile grout). Crayons disintegrate quickly in the water. One user said the crayons were much smaller than indicated on the package, due to being encased in a misleadingly long plastic holder. (Reviews from Amazon.com)
— Ten of 64 retailers named the Bathtub Crayons from Alex as a top-selling bath item, citing monthly unit sales of anywhere from six to 80 per month, in March 2009. Nearly 70 percent of the respondents named the Alex line in general, or a particular product from the range, when discussing best-selling bath toys.
— Eight of 39 retailers named this product a best-selling bath item in March 2010. Nearly 67 percent of retailers cited Alex as their No. 1 manufacturer for bath toys.
— Want this? As of 05/06/2011, this product was available for purchase at
Doodlehopper 4 Kids
.
ToyDirectory Product ID#: 3964
(added 7/15/2005)
MSRP: $7.99
Age Range: 3 and up
Why should kids settle for clear water when they can have royal blue or blood red waves lapping around them? They can choose one of six different crystalline colors or mix and match to find their own. The tints dissolve in warm water to make bathing a more colorful experience.
? ?Tub tints are very popular,? noted Marian Anderson, store manager of Next Generation of Stoughton in Stoughton, Wisc.
?Parents don?t have to worry about these tints staining the tubs, assured Elin Kabo, director of communications for Alex.
?Crystal Tints were launched in 2004 and were on the top-ten list of 6 out of 11 stores.
ToyDirectory Product ID#: 3963
(added 7/15/2005)
MSRP: $12.99
Age Range: 2 and up
Kids can go Michelangelo with these soap-and-water finger-paints that color their waterworlds. Five different colors can be smeared on their bodies and the bathroom tiles. A fish-shaped sponge is included for clean up. Lending a hand is a hand-shaped palette that holds the paints while the kids create.
?More than half of the retailers had Alex finger-paint kits on their top-10 list.
??It?s one of our top-selling items,? said Elin Kabo, director of communications for Alex. ?They?re great to get kids to go into the bathtub.?
?It?s also a top-10 bestseller on Amazon.com, even though it was Alex´s first bath product, originally launched in 1999.
ToyDirectory Product ID#: 3962
(added 7/15/2005)
MSRP: $16.95
Age Range: 7 and up
This kit allows children not only to make their own jewelry but also to design and paint their own beads.
--The Paint Ceramic Beads kit is an Oppenheim Toy Portfolio Platinum Award Winner for 2005.
--This is a top selling Bead and Jewelry Kit on Growing Tree Toys, which recommends this toy for its physical, spatial and interpersonal learning benefits.
--Duplicate pieces make this an ideal project for sharing and friendship bracelets.
ToyDirectory Product ID#: 3238
(added 3/17/2005)

Advertisement: