Products from BIG TRUCK MUSIC LLC
THIS BANNER IS AN AD:
---


View: By latest product added | By earliest product added



Below are some of the products BIG TRUCK MUSIC LLC has shared with ToyDirectory and TDmonthly



---
Wholesale Price: (Log in to view)
MSRP: $15.00
Age Range: 4 to 8
SKU or Item #: 837101191050
Launch Date: July 2006
Gender: Boys And Girls
On Rebecca Frezza's new album, "Tall and Small," listeners will note influences ranging from rock 'n' roll and jazz to Celtic and bluegrass, with a depth of instrumental color that is unusual in a children's album. In addition to two backup vocalists singing harmony and the usual guitar, bass, keyboard and drums, "Tall and Small" features flute, harmonica, pennywhistle, djembe, bongos, cajon, mandolin, ukulele, fiddle, bodhran, clarinet, trombone, trumpet, electric violin and washboard. Kids will enjoy hearing the varied sounds. It won the following 2006 awards: NAPPA Gold Award, Parents' Choice Recommended Award, iParenting Media Award, Children's Music Web Award, and American Library Association Booklist Editors' Choice. Launch date: July 5, 2006.
ToyDirectory Product ID#: 7961
(added 5/23/2006)
Special Kind of Day CD
TDmonthly rating:

(
Read Review
)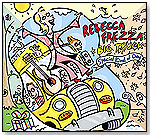 Wholesale Price: (Log in to view)
MSRP: $15.00
Age Range: 4 to 8
SKU or Item #: 79687302933
Launch Date: April 2008
Gender: Boys And Girls
The collection of thirteen original songs covers all the seasons of the year. The record also encourages families to find what's special in every day, whether it be a birthday, a holiday or a Wednesday. "The album is real music for kids who are too old for toddler tunes, but not quite ready for main stream pop music," Rebecca Frezza, of Big Truck Music LLC, told TDmonthly. Launch date: April 8, 2008.
ToyDirectory Product ID#: 18173
(added 3/27/2008)
On "Road Trip," Rebecca Frezza and her band, Big Truck, continue to accomplish their goal of creating children's music that adults can also enjoy.

Road Trip includes two songs that have been featured on NOGGIN's "Jack's Big Music Show".
ToyDirectory Product ID#: 26362
(added 12/10/2009)
13 original children's songs that take you on a toe-tapping trip through a diverse range of musical styles, with terrific tunes, rockin' rhythms and enough energy to make the whole family want to come along for the ride.
ToyDirectory Product ID#: 26364
(added 12/10/2009)
MSRP: $8.99
Launch Date: November 2009
Rebecca Frezza & Big Truck's latest musical endeavor. A jam-packed, rockin', rollin' enhanced EP. Includes six new songs, two re-mixes, a guest appearance by Roscoe Orman, a.k.a. Gordon of Sesame Street, and an animated music video. Launch date: November 10, 2009.
ToyDirectory Product ID#: 26365
(added 12/10/2009)