New, Hot & Unusual
Worth Hunting Down: Sideshow's New Terminator 3 Collectibles
By Della Serene
September 2003



T3 Prop Replica

Following in the footsteps of the first two Terminator movies, Terminator 3: Rise of the Machines has drawn throngs of summer moviegoers. Sideshow Collectibles (ToyDirectory) has crafted two replicas of the Terminator TX and a lithograph of the T1000 to capture the likenesses of America's favorite robot villains.

"The replicas will be crafted directly from the molds used to generate the effects for the film," says Sideshow President Greg Anzalone.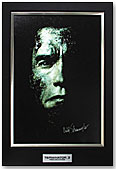 T3 lithograph
The TX Head 1:1 Prop Replica ($499) has a high-quality black-chrome finish, which adds a menacing luster. It includes the head and neck portion of the robot and is mounted on a sleek base with a TX nameplate and the film title, "Rise of the Machines," engraved upon it. The prop stands fifteen inches tall, and lights up with an eerie blue glow, including the strobing, breathing effect seen in the film.
T3 Mini Replicas
A smaller replica of the TX is done on a 1:6 scale, also in a high quality, black-chrome finish. The sculpture includes the head, painted in a transparent blue paint effect to give the illusion that it is glowing, and neck portion of the robot. It is mounted on a sleek base adorned with the T3 logo ($15).
Schwarzenegger's T1000 is the subject of a limited edition lithograph ($399) by photographer Robert Zuckerman that captures the iconic image of Schwarzenegger's robot. The 17" X 25"print is limited to 500 prints.
---
---