Jack and the Giant Building Blocks
By Jodi M. Webb
April 1, 2003


The block is the most basic of toys. A three-dimensional shape made for stacking, building and creating. It has stood the test of time, not only for decades, but also for millennia. The Harry Potter LEGO Building Sets, on everyone's must-have list for the 2002 holiday season, are only the latest in a family of toys stretching back to ancient times.



ImagiBRICKS

Because of the block's simplicity, many parents overlook the developmental opportunities offered by block building. ImagiPLAY, manufacturer of ImagiBRICKS, designs blocks to help children "explore and discover how they can control their environment and manipulate objects within it." Blocks are also "process driven," according to the Bank Street School of Education. In block building, like children's art, the act of creating is more important than the finished product. Blocks help children master many pre-math skills: spatial relationships, concepts of alike and different, and size comparison. Block building also matures children's relationships with others by teaching teamwork, cooperation and respect for others' ideas and creations.

A fun new trend with many manufacturers has been larger-than-life building blocks. Instead of sofa cushions, old blankets and dining room chairs, children can use these oversized blocks to build a playhouse, a tunnel, even a table and chairs.


LEGO Soft Blocks

Although these giant blocks function the same way as their Lilliputian cousins, they boast a few differences. Ray Barker, Chair of Judges for the Educational Resources Awards, lauded the 2000 winner, LEGO Soft Blocks, for helping children to "experiment with their own physical capacity." Because of their size, giant blocks encourage grasping with two hands, standing and lifting overhead. In addition, they also help children master gross motor skills.

To compensate for their size, manufacturers are choosing softer, lighter, and quieter materials. LEGO Soft Blocks, containing traditional-shaped LEGO blocks measuring 3.5" x 3.5" and 7.5" x 3.5", are made of EVA (soft plastic polyEthylenVinylAcetat), while ImagiBRICKS are made of corrugated cardboard, assuring that when the walls come tumbling down, laughter will be the loudest sound.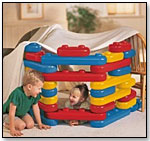 Little Tikes Big Building Blocks

Giant blocks are ideal for outdoor play as well. Despite being made of cardboard, ImagiBRICKS have a water-resistant coating. Interlocking brick sets such as Little Tikes Big Building Blocks and LEGO Soft Blocks are also made of indoor/outdoor waterproof plastics.

The size of bigger building blocks also makes them safe for younger children. ImagiBRICKS come in three sizes. The smallest size is 6" x 3" x 3", and all are age appropriate for 18 months to 6 years. But the impressive structures created by giant blocks can lead to an unexpected bonus: children enjoy these giant builders long after they have outgrown the recommended ages.

"I've heard numerous times of kids as old as 16 playing with the blocks with their younger siblings," said Barbera Aimes of ImagiPLAY.

The long play life of giant blocks makes their price tag reasonable. ImagiBRICKS start with a 24-piece set for $29.95. Little Tikes Big Building Blocks start with a 33-piece set for $59, and LEGO Soft Blocks start with a 32-piece set for $99.

---

Babies & Toddlers: Teething Fangs Anyone? Babies and Toddlers Join the Halloween Party

Want to see a showcase of toys? Click Here...

Send comments about this article to: comms@toydirectory.com

Return to ToyDirectory Monthly front page


Top Licensed Toys Sellers: 2002's Hottest Properties and Where They Made the Biggest Splash

Interview: Read an Interview with Lucasfilm's President of Licensing, Howard Roffman

Trains Product Spotlight: The Fast Track for Model Train Technology

Trains Industry Overview: Model Kits for the Computer Generation

Construction Toys : Building New Markets

Product Summary: Construction Toys Stack Up

Cool Company: When Worlds Collide Neurosmith Tunes into Learning

Real Retailer: Model Expo

ToyDirectory Mom: Even Tough Guys Like Toys