BookBytes Bite Into the Interactive Book Market
BookBytes from Optidisc (ToyShow) are a 12-title set of interactive digital books that contain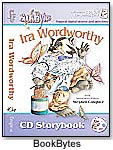 storybooks, activities, puzzles and more. Written by Stephen Cosgrove, author of the popular Serendipity Series, the stories in BookBytes are read just like a book—with pages turning on your computer screen—or, sit back and listen as the author narrates each story. More than another computer game, these stories develop literacy, teamwork and positive values. Each BookByte CD has both audio and CD-ROM tracks.
Each CD includes:
Book Pop - Read or be read to as you flip through the pages of the digital storybook.
Giggle Pop - The adventure continues with six coloring pages and six activities to print and do together.
Puzzle Pop - Use your mouse to put together the jigsaw pieces and complete the puzzle.
Print Pop - Print your own color copy of the book.
Mail Pop - Send an email to the author and he´ll respond!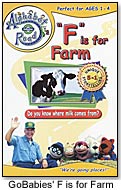 GoBabies Answers the Question "Do you know where milk comes from?" in New Video
The first in the GoBabies Alphabet Road series (ToyDirectory), "F" is for Farm—Do you know where milk comes from? is a Parents´ Choice award-winning video that takes toddlers on a virtual field trip with the "GoBabies" to Farmer Brown´s real dairy farm. The 5-in-1 multi-sensory format--seeing, singing, language, sign language and interactive activities—is both fun and educational, allowing children ages 1-4 to learn farm-related words through repetition.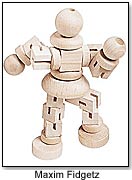 Maxim Debuts Fidgetz
Fidgetz are both puzzles and fiddle-around toys in the shape of small wooden "people" crafted from smooth hardwood blocks strung on heavy-duty nylon elastic cords. The 7-inch Fidgetz Boy has 19 cubes that fold up into an oblong shape. The Fidgetz Girl is made of 25 cubes and spheres. Both are great for long car rides, waiting rooms and restaurants, as well as for teaching manual dexterity and problem solving.
Fast Hands Launches Original Talking Little Lite Checker ™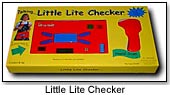 The Original Talking Little Lite Checker ™ is a portable b
attery-operated scanner that lets kids pretend they're working in a real store. Children can scan objects across the Little Lite Checker or use the Hand Scan™. The toy comes with a shoulder strap to let kids take it anywhere. Because no table is required, special needs children in wheelchairs can also enjoy the buzzer sounds and changing lights as they watch the counter add up the objects scanned. Pressing "total" lets kids hear how many objects they have scanned, as well as see the number, making this a great toy to teach counting basics.
Solar Mars Crawler
Recent recipient of a "Seal of Excellence" award from Creative Child Magazine, Seibun's Solar Mars Crawler is powered by either an included Solar Cell or two AA batteries—running on fast rubber treads, which can be removed to let it roll on wheels. Kids can have fun climbing over obstacles as they learn about physics, electricity and solar power. The motor is powerful enough to climb a 39-degree slope, and the Crawler's parts snap together easily for quick assembly.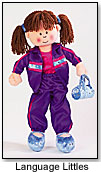 Language Littles adds Alexa, The Greek Gymnast doll & David, The Hebrew Speaking Doll

Language Littles (ToyDirectory) has two new additions for 2004, Alexa, The Greek Gymnast and David, The Hebrew-speaking doll. "Yasou, Hello," says Alexa, who wears a nylon purple warm-up suit and pink leotard with star covered slippers. Alexa recites phrases in English and Greek, teaching kids colors and gymnastic vocabulary in a voice recorded by a native speaking girl. "Shalom!" says David, who teaches the fundamentals of Hebrew, including greetings, names for family members and days of the week. Dressed in a yellow satin yarmulke and a red nylon backpack, David's voice was recorded by a native speaking boy living in New York.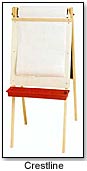 Magnetic Paper Roll Easel and Magnetic Table Top Easel
Crestline's new easels include all the great features of previous models, with the advantage of having a magnetic dry-erase surface. The Magnetic Paper Roll Easel features a top-mounted 18-inch by 100 feet paper roll, double hinges for stability, two trays and steel leg braces. The reverse side is a chalk board. The Magnetic Table Top Easel also has a magnetic dry-erase surface on one side and chalkboard on the other, with a large center tray for keeping track of chalk and alphabet magnets.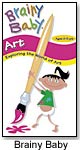 Brainy Baby Debuts Art, Music, and English Videos
The award-winning Brainy Baby Company (ToyDirectory, ToyShow) debuts three new videos for 2004: Art, which teaches the fundamentals of color, texture and mediums through finger painting, sculpture and classic art images, combined with fun music. The Music video teaches rhythm, tempo, harmony and pitch with sing-alongs and colorful animations. English teaches words for colors, numbers, favorite objects, action words and familiar phrases. Of course, there's fun music and a nursery rhyme song, plus a vocabulary review section.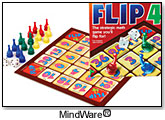 MindWare® Launches Products that Educate and Entertain
MindWare® has a new line of fun and engaging puzzle books that include Logic Links, Math Path Puzzles, Tan-Tastic Tangrams, Multiplication Mosaics and Division Designs. They have also launched a series of unique coloring books, including Designs Coloring Books, Lights Coloring Books, Scapes Coloring Books, Mosaics Coloring Books and Threads Coloring Books. In addition, a line of games, puzzles and mysteries feature Bella's Mystery Decks, Squzzle Puzzles™, The Kanji Game and Flip 4.

Sammy's Place Mats Teach Kids Table Manners
What's a better way to teach kids good table manners than giving them something fun to look at while they're eating? Neo Matter's 7-day table manner place mat set is designed just for kids' eating experience. With bright colors, playful illustrations, bold type and the character Sammy the kitty, the place mats are like a toy for kids ages 2-5.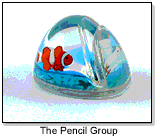 The Pencil Grip, Inc. Gets Ergonomic
The Pencil Grip, Inc. (ToyDirectory), a family-owned business known for its innovative educational toys and supplies, has launched the new Mercur brand Toy Eraser and the Ergonomic Style Prisma eraser. In addition to being a fully functioning eraser, the Mercur eraser also operates as a construction toy. Also launched is the Aqua Page Up, a brand new style of the popular Page Up! paper holders. It contains a liquid filled mini aquarium with six types of tropical fish, sharks and whales available.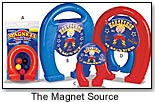 Stuck on Magnets
The Mastermagnetic is now offering their popular Horseshoe and Magnetic Marbles Set in a new clamshell packaging. This set combines the small (4 inch) Red plastic Magnetic Horseshoe and five brightly-colored Magnetic Marbles. The set encourages children 4 and up to discover the mysterious and fascinating forces of magnetism.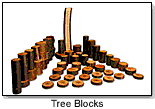 Learning Math the Block Way
Tree Block´s (ToyDirectory) latest addition is the Math Kit, which helps children learn the metric system and math concepts with a wide variety of unlabeled blocks made from hand-cut branch blocks. These simple materials allow children to grasp mathematical principals up to the level of algebra by stacking blocks next to other objects imitating Greek and Egyptian methods of measurement, and achieve a tactile understanding of the metric system.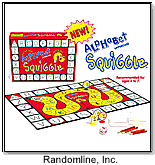 Learning Your ABC´s In A Whole New Way
RandomLine, Inc. (ToyDirectory) is debuting their latest creation, Alphabet SQUIGGLE, an educational game that introduces letters to children in a clever new way by introducing the alphabet and incorporating different activities that support early learning and development. Alphabet SQUIGGLE allows children on all levels to play and encourages them to take the next step-from writing a letter to creating a word.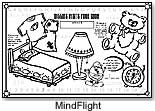 Meet Diggins!
Mind Flight (ToyDirectory) introduces their line of Diggins Munchtime Placemats, interactive placemats that entertain young children before mealtime. Each mat allows kids to color, do letter searches and count different items on the sheet for a fun and educational experience.
Say Cheese!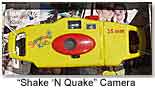 J. Lloyd International is introducing the "Shake 'N Quake" Motion & Sound 35mm camera, an easy-to-use camera for children. By pressing the motion & sound button (located on each handle) before taking a picture, the subject is caught by surprise as "Hold still for the picture," "Don't move!" and other phrases issue forth from the shaking quaking camera.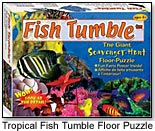 New Puzzles from Nova Design Group
Nova Design Group has two new puzzles coming out: the Magnetic Wheels at Work Puzzle and the Tropical Fish Tumble Floor Puzzle. The magnetic puzzle will entertain children's fascination with all types of vehicles, plus it's a great way for kids to learn the alphabet. Includes 26 magnets, a puzzle board and poster. Covering 24"x36", the floor puzzle is made with durable chunky pieces, easy for even the smallest hands to play with.

A Fun Way To Teach Kids Manners
Tanner's Manners (ToyDirectory, ToyShow) has recently launched the "Tanner's Manners: Be a Kool Kind Kid" CD featuring 17 original songs. Each song teaches a different social skill in an entertaining way. Using poems, songs, role-playing and other activities, Tanners Manners provides kids from ages 2 to 12 with an engaging, comprehensive grounding in good manners and ethical behavior.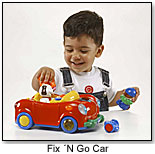 Repair You Car and Drive Away
Chicco´s (ToyDirectory) new Fix ´N Go Car has many realistic sound effects and fun melodies. Flashing lights signal the presence of mechanical "breakdowns": by inserting the appropriate tools into their corresponding shape and color slots, the child can repair the motor, tires, dashboard, or you can even fill up the tank with gasoline. A sound warns chidren each time they choose a slot that is not connected with the flashing lights. To make the car run at full speed, kids can either choose the free wheel or electronic modes.
Bilingual Learning Fun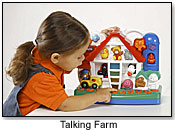 The Talking Farm, also from Chicco (ToyDirectory), is an educational interactive toy that teaches children how to recognize animal names, sounds, colors and numbers. Gradually the child learns to experiment and amuse themselves with words, thus widening their linguistic and numeric skills with the help of their farmyard friends. The Talking Farm is also bilingual (English/Spanish): the child just has to turn the sun-shaped selector to choose a second language and learn in another language the words they already know in there mother tongue.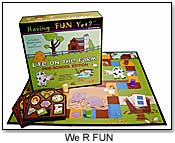 We R FUN Makes Learning Enjoyable for Kids and Parents
Preschoolers are sure to love the happy animal scenes, bright colors and soft feel of We R FUN´s (ToyDirectory) new preschool edition of Life on the Farm. Designed for children ages 3-7, the soft non-toxic foam playmat is a huge 5-piece puzzle. This game became a favorite when tested by early education specialists.
Also from We R FUN, Minus 13 is a new hexagonal pyramid math game packaged in a triangle box. This gameboard is interestingly designed from six stepped triangles. Players ages 7 to adult can put them together to form a pyramid and lock together with the locking cap. Minus 13 is a new way to hone basic addition, subtraction and multiplication skills.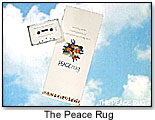 Stop Kids From Fighting!

Hurt feelings, disagreements, and arguments often escalate into physical violence. Stop it early, quickly, and easily by teaching children to use The Peace Rug® (ToyDirectory), a unique research-based proven effective program that teaches children how to resolve issues peacefully.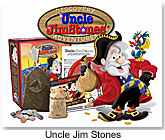 Uncle JimStones Unearths Ancient Coins
Unearth a hidden treasure with Uncle JimStones Ancient Coin Expedition. The newest kit from Uncle JimStones (ToyDirectory, ToyShow) packed with activities, a printed trading pouch, and a certificate of accomplishment.
Uncle Milton Gets A´s In Science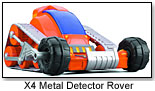 Uncle Milton is adding a host of innovative items to its award-winning science and exploration category, including the X4 Metal Detector Rover, a real, working metal detector combined with an RC vehicle; the X6 Optic Morpher, a hand-held device that lets kids bend reality by distorting the images of friends, parents and even pets; and Mini Science Adventures, working miniature science kits based around the escapades of Xtremely Little Dude, the star of a miniature science adventure comic book that is included in each kit.
A Trip to the Space Farm
Triops Inc. (ToyDirectory) has just come out with a cool science toy called the Space Farm, a space-age ecosystem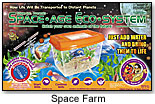 that a variety of aquatic critters in suspended animation (think of those cute Sea Monkeys), that when added to water, magically spring back to life. This unique kit actually contains relatives of the actual critters flown on the NASA Shuttle, or currently sleeping in the International Space Station. Each kit includes a 2-gallon aquarium with windowed lid, rapid grow plant bulbs, dormant brine shrimp and triops eggs, shrimp hatchery, and everything else needed to create and maintain the Space Farm.
Educational Insight´s Toys Educate and Stimulate
Educational Insights, Inc. (ToyDirectory) has launched a series of learning products, including the GeoSafari Quiz Phone ($24.95), an electronic device that teaches readiness, social studies, math, science and vocabulary. The interactive talking and teaching phone comes with a full-color game book. MagStruction features three separate colorful magnetic construction system sets. A series of multiple geometric shapes and a veritable rainbow of colors makes young builders imaginations run wild.
Over 100 other products launched include a String Along Lacing Kit, Time 2 Learn Clock, Host Your Own Jeopardy!, Heximoes, 3-D Maps, Robo-Diver, Sonic Sleuth Binoculars and LogiRobot.