Article Tools:








Toy Fair 2005: Card Games

The following product descriptions were mainly supplied by manufacturers but may have been modified by TDmonthly staff members. (The date displayed at the end of each product description is the date the description was first created.)

To see more products in this category, please click on the Toy Product Search link in the upper right hand corner and click on "Advanced Search" to search by category.



The following product summaries were mainly supplied by manufacturers, who selected their top product per product category to highlight in 2005.




INK'D The Tattoo Guessing Game by HAYWIRE GROUP


This isn't your grandma's drawing game, this is INK'D™ - the drawing game where your body is the canvas. Choose an INK card, a BODY card, and then choose the player you want to ink. That's right, you're gonna draw a tattoo on their body! Players race to guess the tattoo to earn points. In the party game where everyone gets to TATTOO and be TATTOOED, HOW WILL YOU LEAVE YOUR MARK? 3/18/2015 (Price: $14.99; Age: 17 and up) [Add to my Inquiry Basket][?]



The Hare and The Tortoise by IELLO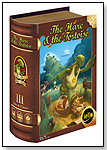 The Hare and the Tortoise is a card-driven betting game about animal racing loosely based on one of Aesop's Fables.

6/19/2014 (Age: 7 and up) [Add to my Inquiry Basket][?]



Spot it! Freeze by BLUE ORANGE GAMES


Everyone's favorite card game has gone sub-zero! Spot it! Freeze pits players against an electric timer and heats up the match fueled frenzy with three new games. Players race against the clock as they search for matches between temperature charged symbols, all while looking for their chance to freeze their opponents. Depending on the game, the clock can grant an advantage or cause a hair-pulling drawback. Beat the freeze to win! The handy timer opens up to store the playing cards. 5/14/2014 (Age: 8 to Adult) [Add to my Inquiry Basket][?]



Scheming and Skulking by GRANDPA BECK'S GAMES


Scheming and Skulking, is an exciting card game where every hand can be a winning hand... if you play your cards right! It is a "trick taking" game, which means that each turn, each player, plays one card. The highest numbered card, or the most powerful special Pirate card played will win. This is called "taking a trick." Each hand players look at their cards and then create a Scheme as to how many tricks they will win. With a "Yo Ho Ho," players simultaneously bid how many tricks they will win. Those bids are recorded on the included score pad. Players continue to Scheme to make sure they win exactly how many tricks they bid. If you get your bid you score. If you win more, or less, than you bid, you loose points. You never know which cards are skulking out there that might thwart your scheme because there are always some cards not dealt out. The five powerful PIRATE cards, the adaptable TIGRESS card, and the all powerful SKULL KING card may, or may not be Skulking in another player's hand. There may be many, or few JOLLY ROGER cards dealt, which are the valuable trump cards. Getting your bid is a dynamic challenge that makes every hand of every game dramatic and interesting. If you have and escape card, it allows you to avoid taking a trick. This is especially helpful when you bid to win zero tricks. Yes, in this game you can win by loosing! Every hand, whether you have high or low cards, can be a winner, If you play your cards right! There are many ways to score bonus points that allow you to come back from behind, or to quickly shoot ahead. You are always in the game, no matter what cards you are dealt. Scheming and Skulking will become a new family favorite for you, just as it is the all time favorite of Grandpa Beck and his family. This award winning game will never cease to entertain and challenge. It is the winner of several awards and now licensed for distribution in a Euro version now available in Europe and Russia! 4/1/2014 (Price: $12.99) [Add to my Inquiry Basket][?]



Paddy O'Shea's Golf Card Game™ by PADDY O'SHEA'S GOLF CARD GAME LLC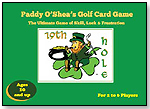 "Paddy O'Shea's Golf Card Game™," a new card game that is more fun than Uno and more challenging than Hearts! It is a great, new, unique game that golfers and card players find fun and challenging. It emulates golf in many ways; the lead goes back and forth; it is stimulating, exciting, at times frustrating and the object of the game is to score as few points as possible. The game is easy to learn, and unpredictable in its play. Strategy, skill, and luck are involved. The game consists of nine hands ("Rounds") and usually takes 40 to 50 minutes to play a game. Most players want to play more than one game! Paddy O'Shea's Golf Card Game is designed to be played by 2 to 6 players ages 10 and up. 2/12/2014 (Age: 10 and up) [Add to my Inquiry Basket][?]



Kwizniac Kidz by THE BRAND CAFE / KWIZNIAC
Challenge kids' powers of deduction and their ability to think on their feet with this giant box of brainteasers. Made to be played at home, on the road, or on a family vacation, this set-up-free game is chock-full of cards that each contain 5 tantalizing clues that lead the player to just one correct answer. The opposing team or player draws a card and reads the 5 clues one at a time (starting at the fifth one), giving the guesser just 10 seconds to answer before reading the next fact. Clues progress in order of difficulty, where each factoid is easier to decipher than the previous one read. Sure to challenge your pint-sized competitor, this fast-paced game puts the pressure on the guesser since the number of points received for a correct answer decreases as he or she progresses through the clues. The player or team with the most points wins.

12/20/2012 (Price: $12.99; Age: 7 to 12) [Add to my Inquiry Basket][?]



Build-a-Bike by EDUCATION OUTDOORS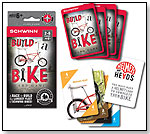 A fast and fun family card game where each player races to build the largest fleet of Schwinn bikes! Be the player that builds the most bikes with the highest point value. Must have the following cards to build a bike: One tire card, One Frame card, One Seat card, One Handle Bar card and one Helmet card. Launch date: March 2013. 12/18/2012 (Price: $5.99; Age: 6 and up) [Add to my Inquiry Basket][?]



Farkle Around™ by PATCH PRODUCTS INC.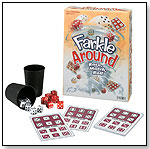 Farkle Around combines dice with cards for a new take on everyone's favorite game of skill and luck. This whirlwind game of dice and cards may leave players' heads spinning, but not before the last dice fill the card. Roll the dice and match them to what's shown on the card. If a player Farkles,they pass the dice cup to the next player and try again when either of the game's two dice cups comes back their way. The only goal: be the one to fill up one side of the card in play to win those points. Includes: 55 cards, 6 burgundy dice, 6 ivory dice and two shaker cups. Farkle Around is for 3 or more players ages 8 and up. 12/13/2012 (Age: 8 and up)



Kaijudo Evo Fury Booster Pack by WIZARDS OF THE COAST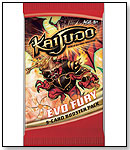 Booster Packs are blind packs that each contain 9 cards - plus a code card in each pack. Launch date: November 13, 2012. 11/15/2012 (Price: $3.99; Age: 8 and up) [Add to my Inquiry Basket][?]



No Speed Limit by PRESSMAN TOY CORP.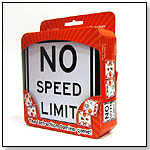 It's the fast-action domino game. Start with one tile in the middle of the play area. At the same time all players start matching their tiles to tiles that are in play as they race to be the player to get rid of all their tiles first. It's fast, frenzied family fun with 3 levels of play! For 2 to 4 players, ages 6 and up. Contents: 49 tiles, rules. Launch date: February 2012. 10/25/2012 (Price: $12.00; Age: 6 and up) [Add to my Inquiry Basket][?]



Rise or Fall by FOXMIND GAMES

They're all there! The Goths, the Geeks, the Jocks and Cheerleaders are all vying to become the top clique in school. Players must chart their own path to the top of the popularity ladder by deciphering their opponents' intentions. Each turn, players play a single card. They can either attack or choose to defend their clique. But they must watch out; if they make a mistake they'll lose their popularity. Launch date: 2012. 10/18/2012 (Price: $19.95; Age: 7 and up) [Add to my Inquiry Basket][?]



HOOYAH Navy SEALs Card Game by U.S. GAMES SYSTEMS, INC.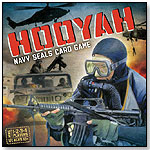 Inspired by real-life Navy SEAL Missions, HOOYAH lets players experience the intense drama of Special Ops action. In this cooperative card game, players choose their Navy SEAL roles, select a Commander, then work as a single team to complete each mission. The HOOYAH team must collect all required Skills & Equipment cards before time runs out, and face dangerous events without loss of life. 10 Navy SEALS, 5 Mission, countless challenges. Launch date: 2012. 9/25/2012 (Price: $24.95; Age: 10 and up) [Add to my Inquiry Basket][?]



The Very Hungry Caterpillar Match and Munch Game by UNIVERSITY GAMES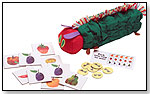 The Very Hungry Caterpillar™ Match and Munch Game uses the recognizable art from Eric Carle's illustrated tale of The Very Hungry Caterpillar™ to help kids learn to identify healthy foods by practicing association and matching skills to help the caterpillar transform into a beautiful butterfly. The 55 food cards and 10 butterfly tokens are stored in the adorable caterpillar carrying case for easy transport and safe keeping. When kids are ready to play, each player receives 5 food cards to start and the remaining cards are placed in a pile. The goal is to complete a hand of either, five oranges, a hand of four strawberries and one apple, or a hand of three blueberries and two pears.
Awards: 2012 Dr. Toy 100 Best Toys 9/11/2012 (Price: $19.98; Age: 3 to 12) [Add to my Inquiry Basket][?]



Crunch a Color Conversation Starters by TINY GREEN BEE LLC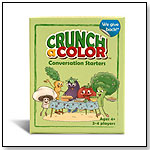 Crunch a Color Conversation Starters brings the whole family together at mealtime by inspiring creative thinking and healthy discussions. Chock-full of curious questions and delightful dilemmas, these 104 conversation starters help kids share their thoughts, grow their ideas, and make mealtime fun. Developed with teachers, parents and kids, Crunch a Color® Conversation Starters spark interesting, open-ended discussions that are engaging for kids (and adults) of all ages.
Awards: 2012 Dr. Toy 100 Best Toys
— As of 1/17/2013 this product had 5 out of 5 stars from 22 reviews on Amazon.com. 9/11/2012 (Price: $12.95; Age: 3 to 12) [Add to my Inquiry Basket][?]



STRIKERZ Soccer Card Game by STRIKERZ GAMEZ


Players pick and discard through a full deck as they try to get one of the three combinations to shoot for a goal. Each team has 11 players, 3 super-subs and a coach. Enjoy light and fun strategy as the shooter and keeper try to outsmart each other on shot attempts. There are three ways to shoot for a goal: Collect 3 positions (Striker/Midfield/Defender) or collect any 4 jerseys in your team or collect 3 jerseys that add up to 30 points or more. Kids are using simple math skills while having fun.
Awards: 2012 Dr. Toy 100 Best Toys 9/11/2012 (Price: $7.95; Age: 7 to 12) [Add to my Inquiry Basket][?]



Murder of Crows by ATLAS GAMES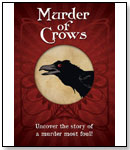 Uncover a murder most foul by revealing six story elements that together describe the deadly deed and spell the word MURDER. But take care that opponents can't do the same. Take their letters, counter their actions, or call on a waiting Crow to influence the murder before they do. At any moment a well-played card can shift the balance and seal someone's fate. Murder of Crows is a fast-paced card game for 2 to 5 players that's quick to learn and features atmopheric art by Dungeoneer illustrator Thomas Denmark. A game typically lasts 15 to 20 minutes, and is designed for ages 13 and up. Launch date: August 2012. 8/23/2012 (Price: $12.95; Age: 13 and up) [Add to my Inquiry Basket][?]



Pet Frenzied by PETSAPALOOZA LLC


Pet Frenzied™ is frantic, furry fun for the whole family, where pets hide and players seek. It's a get up and move, hide and seek, memory card game, where Seekers grab a House card and go in search of an adorable matching Pet card. Launch date: July 2012. 7/26/2012 (Price: $9.99; Age: 3 and up)



Rodeo Rummy by Square Shooters by HEARTLAND CONSUMER PRODUCTS, LLC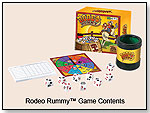 Players spin the spinner on their turn, then roll the dice. Players have 3 rolls or less to match the rummy hand on the spinner – but look out for a bonus or penalty that can help or hurt. Win the most points and win the game. When players are done, they can use the dice to play a different game. Game Contents: 9 Square Shooters® dice, spinner, dice cup, and scorepad.
Awards: 2012 Creative Child Magazine Game of the Year Award; Summer 2012 Tillywig Award Winner 7/18/2012 (Price: $17.99; Age: 8 and up) [Add to my Inquiry Basket][?]



Crappy Birthday by NORTH STAR GAMES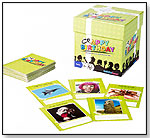 Crappy Birthday is the hilarious game of giving bad gifts. The goal is to choose the worst gift for each player. Laughing together at funny pictures and the ensuing banter make this game a winner.
— As of 07/18/2012 this product had 4.6 out of 5 stars from 17 reviews on Amazon.com.
Awards: Summer 2012 Tillywig Award Winner 7/18/2012 (Price: $14.99; Age: 12 and up)



Distraction by THINKFUN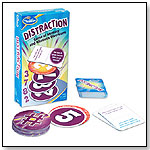 Players take turns drawing number cards and remembering a growing sequence of digits. If a player draws a Distraction card they must answer a quirky question before reciting the numbers in order. Get caught repeating the sequence incorrectly and collect the cards – the first player to run out of cards wins. 6/22/2012 (Price: $12.99; Age: 8 to Adult) [Add to my Inquiry Basket][?]



Top Trumps by TOP TRUMPS USA


Top Trumps is a card game. Each card contains a list of numerical data, and the aim of the game is to compare these values in order to try to trump and win an opponent's card. Packs available in several licenses including Star Wars, Marvel Comics, DC Comics, Hello Kitty, and many more. (

Watch Video) 6/22/2012 [Add to my Inquiry Basket][?]



Fingertips by WIGGLES 3D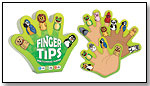 3 Matching and memory cards games in one! This colorful deck of hand-shaped cards helps children build their matching skills, memory skills and hand-eye coordination, all while having fun. Young players will love the finger-puppet inspired characters. Each deck features 15 different characters. Choose either our Animal or our People deck. For players aged 3 and up.
Model #'s
Animal Edition 80800
People Edition 80801

4/27/2012 (Price: $9.99; Age: 3 and up) [Add to my Inquiry Basket][?]



Creatures - The Card Game by CREATURES GAMES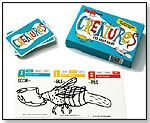 Creatures is a creative, strategic card game that blends friendly competition with a good laugh. Gameplay occurs as players mix and match 'FRONT', 'MIDDLE', and 'BACK' cards in their hand to create entirely new creatures, and stage attacks against the creatures in other players' hands. The illustrated portions of each card align to create an image of the new creature with a zany new fun fact. A creature which conquers all other players in a single turn becomes a 'Champion'. "With over 22,000 possible creature combinations, no two games are alike," Tyler Panian, owner of Creatures Games, told TDmonthly. Launch date: November 2011. 3/16/2012 (Price: $11.99; Age: 5 and up) [Add to my Inquiry Basket][?]



Bag-O-Loot Junior by BAG-O-LOOT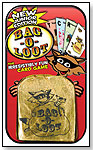 Bag-O-Loot Junior is designed for 2-6 players ages 6 and up. Players compete to make as many Bags-O-Loot (five matching cards) as they can. The problem is, other players keep stealing your cards. Of course you are doing the same thing to them so the groans and laughter never stop as sets of cards are constantly shifting from one player to another. Very easy to learn. "Bag-O-Loot Junior is the only game on the market where players take turns making and stealing sets of matching cards from each other," John Shelley, president of Bag-O-Loot, LLC, told TDmonthly. Launch date: June 2012.
Awards: 2012 Dr.Toy Best 20 for $20 (

Watch Video) 3/5/2012 (Price: $9.99; Age: 6 and up)



Monsterology NUKO by NUKOTOYS INC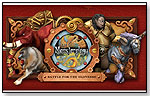 Collectible myth and monster cards can be played with on their own, but also added to an app for gameplay with 3-D figures. Each card has information about its subject, including unicorns, sea serpents and Cyclops based on the Ology book series. Tap the card to the screen of an iPad, iPod Touch or iPhone, and that monster appears in the game. Launch date: March 2012. 2/13/2012 (Price: $1.99; Age: 6 and up) [Add to my Inquiry Basket][?]



LCRŽ Left Center Right™ Card Game by GEORGE & COMPANY LLC


Featuring the same great play as The Original LCR Left Center Right Dice Game, players flip over three LCR cards that are labeled with L's, C's, R's and dots, which determine where the flipper's chips will go. The last player with chips, wins the game. It's that simple!.Fast-paced, exciting and fun, it's a great game for kids to play along with adults providing hours of entertainment for the whole family. LCR Left Center Right Card Game includes 110 Playing Cards, 24 playing chips and Instructions. For 3 or more players. 1/20/2012 (Age: 5 and up) [Add to my Inquiry Basket][?]



Angry Birds Card Game by MATTEL INC.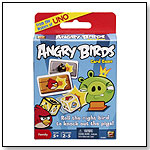 From the makers of UNO. Based on the on the best-selling phone app game, Angry Birds. The survival of the Angry Birds is at stake. Be the first person to strategically topple the structure cards by rolling the right bird on the die. Then knock out the pigs with the flick of a die to win in this quick-play game based on the popular phone app. Includes Angry Birds playing cards and Dice. For 2 to 5 players.
— As of 01/05/2012 this product had 4.4 out of 5 stars from 14 reviews on Amazon.com. 1/12/2012 (Price: $10.99; Age: 7 to 11) [Add to my Inquiry Basket][?]



Donkey - It's a Kick! by CLEVELAND KIDS LLC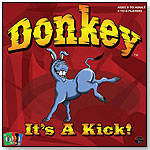 Donkey - It's a Kick! is an all-play, action-packed, process of elimination card game (with plastic components) that will have up to 8 players (ages 8 to adult) engaging in simultaneous social interaction while at the same time sharpening their hand-eye coordination skills with every round of play. In addition to the playing cards, the "Kicker Cards" present group challenges for each round of play; this not only adds diversity to each round, it creates a platform on which players feel "safe" and "eager" to show off their unique creative talents. "Donkey It's a Kick! is the only game that makes "losing" FUN!... The losers get to stay in the game and wreak havoc on the remaining players! Although the game will only produce one champion, everyone walks away feeling like a winner," Jayne Cleveland-Kolesar, secretary at Cleveland Kids, LLC., told TDmonthly. Launch date: March 2011.
Awards: 2011 The Toy Man™ Seal of Approval, 2011 The Toy Man™ Award of Excellence, 2011 The Toy Man™ Recommends Award, 2011 The Toy Man™ eChoice™ Award. 12/8/2011 (Price: $24.99; Age: 8 and up) [Add to my Inquiry Basket][?]



Wangle by JESSE JAMES GAMES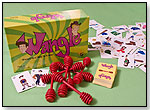 Wangle is a picture themed game where Wangle Sticks add an exciting and fun twist. Wangle is frantic play with all players in motion, at all times. Players build their hand, then try to be the first to sneak a Wangle stick. Launch date: October 2011. 12/8/2011 (Price: $29.95; Age: 10 and up) [Add to my Inquiry Basket][?]



Cosmic ConneXion by N.E.T. & COMPUTING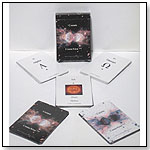 Cosmic ConneXion is an entertaining and educational word search card game created to familiarize players with the Greek alphabet and objects of the cosmos. The deck consists of 2 sets of cards, letter cards and celestial point value cards. The letter cards consist of all 24 letters of the Greek alphabet from Alpha to Omega. Each letter card displays the name, uppercase & lowercase Greek letter, along with English equivalents and variants. The letter cards are played in a diamond arrangement to create words. The celestial point value cards consist of 28 objects of the cosmos from our local solar system to the constellations of the zodiac along with wild cards of the cosmos. For each word formed, a player acquires a celestial point value card from the draw pile. The object of the game is to acquire as many celestial point value cards as possible. However, after all the letter cards have been played, the player who has acquired the sun card during regular play has a final opportunity to score additional points during the bonus round by forming a grammatically correct sentence from the words formed during regular play. The player with the highest point value wins. "The greatest benefit of playing games with these cards is to increase player's familiarity with the Greek alphabet. The Greek alphabet is widely utilized in many fields of math & science, yet not widely recognized to the general public," Joseph Bongiorno, president of N.E.T. & Computing, told TDmonthly. Launch date: October 2011. 12/8/2011 (Price: $12.95; Age: 8 and up) [Add to my Inquiry Basket][?]



Ugh! by CALLIOPE GAMES
Ugh is the life of a caveman through the eyes of John Kovalic. In Ugh! players encounter the Stone Age life by pushing their luck against the deck and trying to lock in as many sets of cards as they can before they are abruptly shocked by a natural disaster… Ugh! Each turn players can flip over up to three cards, all of which are good options for their set. Contents: 110 cards, including 4 Wild Cards, 28 Ugh! Cards, and 78 Number Cards. (

Watch Video) 12/2/2011 [Add to my Inquiry Basket][?]



MindTrap Card Game - Left Brain Right Brain by OUTSET MEDIA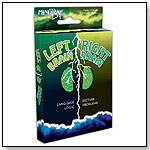 486 puzzles, mysteries, conundrums and trick questions. Includes puzzles, mysteries to solve, conundrums & trick questions. Ideal for building problem solving, visual spatial skills & creativity. 12/1/2011 (Price: $8.99; Age: 14 and up) [Add to my Inquiry Basket][?]



SOUND IT! Card Game by WOWOPOLIS LLC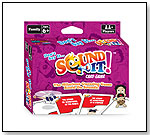 SOUND IT! is a hilarious new card game that offers two great ways to play: On one side of the card, guess the picture based on hearing the silly sounds other players make. On the other side, read the special clue and quickly identify the correct sound to make. Fun and challenging but simple to learn, a deck of 96 SOUND IT! cards offers unlimited possibilities. Launch date: February 2012. 11/29/2011 (Price: $9.99; Age: 6 and up) [Add to my Inquiry Basket][?]



Sardines by DJECO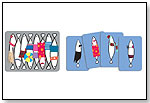 Players have a couple of seconds to observe the little sardines, memorize them and find them again in the box. For 2-4 players; game time is 15 minutes.
— Dean Smith, co-owner of Jazams in Pennington, N.J., told TDmonthly in a September 2011 survey that he sells 12-18 copies of Sardines each month. 9/15/2011 (Price: $16.99; Age: 5 and up) [Add to my Inquiry Basket][?]



Catalog Request Form
THIS BANNER IS AN AD:
---
---