This year?s Game Manufacturers? Association (GAMA) Trade Show in Las Vegas, Nev. had a new host venue, switching from The Orleans Hotel to The Riviera Hotel on the Strip. For the week of March 14-18, the convention attracted the top hobby game retailers from across the United States and foreign countries as far away as Australia and Japan. Game manufacturers unveiled their big projects for the coming year, including notable entries into the collectible games market.


City of Heroes by Alderac Entertainment Group (AEG)


AEG is partnering up with Cryptic Studios and NC Soft to give the blockbuster computer game a collectible card game identity. Coming in October, the release is timed to coincide with the City of Villains video game debut.

?The card game will interact with the computer and video games,? explains lead designer Dave Williams. ?It?s more than just players sitting down and moving cards around. There will be promo cards for finishing video game missions. You can gain powers for your characters in the computer and video games by winning certain CCG tournaments.?

The City of Heroes CCG features the same level of customization as its computer counterpart, adds Williams. Players are free to choose powers and enhance them. Every booster pack will offer a hero or villain ready to battle.

Charles May, sales representative for Blackhawk Distribution, believes the CCG adaptation will do well because of all the cross-promotions. George Vasilakos of New York?s Zombie Planet game store echoed the sentiment, citing it?s a ?hot property.?

Godzilla by Comic Images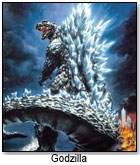 The beloved monster is celebrating its 50th anniversary this year, as well as re-invading the U.S. shore in a collectible card game.

Slated for release in October or November, the CCG and expansion sets will cover all 29 Godzilla movies from Toho Cinemas, including ?Godzilla: The Final Wars,? released just this past December in Japan.

Asked about the license?s biggest strength, Zev Shlasinger, gaming director for Comic Images, replies ?Everybody knows him?It?s iconic, it?s the fiftieth anniversary, and we have countless fans on our side.? Among them is J.D. Lees of G-Fan Magazine, providing not only coverage for the game but also consultation on the project.

Game play will revolve around the block-stomping, building-toppling, city-leveling, monster-fighting mayhem trademark of the Godzilla franchise. Aficionados of the genre can expect to duke it out with favorites such as Rodan, Mothra, Ghidrah and, of course, the King of the Monsters himself, Godzilla.

Clout Fantasy by Hidden City Games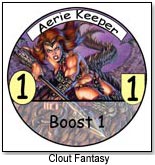 Here?s something new: Clout Fantasy is billed as ?the first collectible throwing game.?

Instead of cards, players collect poker chips, each inscribed with unique artwork and a special ability. They compete by tossing their chips onto any play surface, trying to strengthen previously thrown chips with each toss, or to knock their opponents´ chips out of play or out of the scoring range of their base chips. Each chip remaining in play scores Clout points. Players win if they have the most Clout points after all the chips have been tossed.

According to Clout?s demo coordinator, Ken Carpenter, the biggest difference in appeal is ?two kids playing cards in the corner versus the same two kids throwing chips and attracting attention with their physical actions?This is a game parents can play with kids. There is resistance to collectible games because the parents don?t understand them. Clout Fantasy is very easy and fast to play. You toss the chips and use their powers right away. There isn?t a whole lot to keep track of.?

Clout Fantasy is the first collectible game where dexterity is a factor. AEG will handle distribution in North America. There are hundreds of chips to collect in the first set, tentatively priced at $2.50 for a booster pack of two chips.

Pirates of the Crimson Coast by WizKids


WizKids has added much to this anticipated sequel to Pirates of the Spanish Main. Like the original, it is a ?constructible strategy game,? in which players build miniature ships from small cardboard cutouts and engage enemy ships in pirate-y combat.

?It has forts, terrain with sargasso seas, reefs, fog banks,? elaborates Jon Leitheusser, director of game design, on the new wrinkles in this set. ?It introduces France as a new faction,? along with new schooner ships for faster battles on the open seas.

Jason Mical, media relations representative for WizKids, chimed in to remind retailers of WizKids? advertising campaign touting the game ? one million dollars worth of television commercial time on ABC Family, the Cartoon Network, Fox Kids, and Nickelodeon, estimated to reach 65% of male children ages 8 to 11.

?We?ve done several media tests in the United States,? says Mical. ?The data shows sales increase three to six times over where there were no commercials?so stock up!?