"The product has to match the type of museum you're working with." ?Greg Zesinger, Action Products

When did museum gift shops go from corner asides to big business? In the last five years, not only have museums looked to their stores as moneymakers, but with the rise in new museum construction and revitalization, and the ebb in traditional toy sales and faltering of larger toy retailer systems, museum gift shops have become a lucrative distribution channel. TDmonthly Magazine contacted over 30 manufacturers about the whys and wherefores of museum gift shops.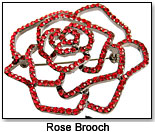 Carolyn Forsman, president and designer of Conversation Piece Jewelry, specializes in working with museums. She became aware of the market when she first sold to MoMA. She finds museum personnel civilized, intelligent, helpful and noncompetitive.
?They will talk a vendor up; they?re not out to get?cha,? she told TDmonthly. One buyer will call another to get product ideas, especially when they share traveling exhibits. ?You must think, ?How can I help them??? she said.
Museums are driven by their exhibits. Greg Zesinger, marketing director for Action Products (ToyDirectory), which has been providing for museums for nearly 30 years, explained some of the rules: ?The product has to match the type of museum you?re working with. Most museums have pretty strict guidelines for their gift shops, and they make sure the products relate directly to what they?re exhibiting.?
Steve Hart, project manager of Front Porch Classics (ToyShow), added that toys and games that are ?culturally rich are a big plus in selling to museums.? Also, ?museums buy craftsmanship.?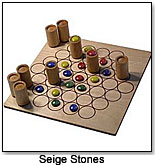 Pat Matthews, president of Live Oak Games (ToyShow), concurred. ?From what we´ve found, museum stores are always looking for high-quality games that engage the players on an intellectual level. Classy looking contemplative games, like the wood and glass SiegeStones, appeal to their audience. If the game also has a low learning curve, but is still challenging ? well, that´s a museum store home run!?

Museums, unlike retail toy stores, tend to be extremely stable buyers. They are not subject to the same ebbs, radical shifts and Chapter 11s as the rest of the toy industry because their funding is from other, more solid footings. Also, because they usually schedule their exhibits years in advance, a manufacturer can make long-term business plans.

As Jason Wells, marketing and publicity director of Abrams Books explained, ?They know well ahead of time. Because of that, we can partner with them, expert to expert, creating products that complement their mission.?

Turnover in museum stores is a constant, too. They are a repeat market, like tourism: there are new consumers every day, from out-of-town visitors to school classes (different every year). There is also the wide spectrum of museum types; and hence, the variety of products their gift shops are looking for. It?s an order of magnitude beyond that of toy stores.

Wild Planet?s Dino-mites (the next generation of their hot-selling Aquapets) are dinosaur themed, which will fit in well with natural history museums. ?Dinosaurs always appeal to museums,? explained Kim Bratcher, media relations manager.

Ann Schrage, creator of Mindfield, The Game Of U.S. Military History, has placed her game in various war museums as well as the shop of the Battleship New Jersey.

Music museums such as the Rock and Roll Hall of Fame and Museum are great for Julie Eichstaedt, vice president and creative director for Aleken Games. ?We designed the products first, and since we do music stuff, the music museums were just a logical place to go.?

Charles Knutson is the owner of MacGregor Historic Games, which makes recreations of old dice and games that have found their way into historical reenactments. Knutson said they are also ?usable as props for living history museums like the Plimoth Plantation.?

According to Kathy Cooperman, Director of Sales & Marketing for U.S. Games Systems, Inc. (ToyShow), her company develops products based on its own interests, which coincide with those of many museums. U.S. Games founder Stuart R. Kaplan has a collection of historical cards, ?and we try to translate them into new decks. Last time at the museum shows, we also bounced ideas off the buyers, who had good suggestions. In the museum world it helps to stay in strong contact with the customers.?

Shawn MacGregor, ?The Cat?s Meow? for ParlorGamez, found that sometimes the very ?design of the game itself? can lead to museum placement. ?Kit Dombrowski of the San Francisco Museum of Modern Art, saw Pounce! at a gift show, liked the contemporary design and packaging, and now it?s one of their top sellers.?

Barbara Goldman, President of Newsline Publications (ToyDirectory), found happy homes for her It?s News To Me game in various newspaper museums around the country.

Donna Sucilsky, Co-Owner of Tucker-Jones House, Inc., which makes Tavern Puzzles, said that the head of the company, Dennis Sucilsky, is a museum-trained blacksmith, who now makes historically accurate Tavern Puzzles as a true expert.

Once in the museum circuit, the benefits are formidable: Matt Brown, co-CEO of Big Boing (Right Brain) (ToyShow), said, ?Museums are a great channel. The buyers really understand their customers. When they select a product, it has a very high success rate because they know who is buying. Much better per foot of shelf space than the toy stores.?

Matt Mariani, director of marketing for Out of the Box Publishing (ToyShow) (which has a wide line of museum-placed games from Tutankhamen to 10 Days In Africa), recommends looking to the Museum Store Association. Taking a booth out at their expo or getting into their trade publication are both good ideas, he said.

The one across-the-board tip from the manufacturers TDmonthly talked to: no hard sell. As Forsman made clear: ?They all know each other, they want to do good, so it?s about taking the time and building your rep.?


The following products crafted by the manufacturers mentioned above sell well at museum stores.


Conversation piece jewelry that spins, sparkles, flips, flashes, glows & winks, snaps & slinks. Upbeat, upscale and affordable. These amazing designs enrapture kids and adults alike. Hip and sophisticated at the same time.

.

AD

This FamilyFun Magazine Toy of the Year Award Winner is now available with your favorite Major League Baseball team logos. Exquisitely detailed and crafted of high-quality wood, this retro pinball-style game allows you to bring America's favorite pastime into your family room or den. Truly an authentic tribute to the grand ol' ballparks of yesteryear and a "must have" for any baseball fan.

.

AD

Deep thinkers can really sink their chops into SiegeStones?a completely new strategy experience. It takes the concept of an abstract strategy game, mixes in zones of control with simple piece interaction for a game that´s a blast for 2-4 players. The wooden board, towers and high quality stones create a stylish ambience. Games Magazine 2005 Games 100 declared it the Runner Up for Best Abstract Strategy Game of 2005, and Creative Child Magazine gave it the Preferred Choice Award for 2004. - Aire Norell

.

AD

.

AD

Are you a military enthusiast or history buff? Play MINDFIELD, The Game of United States Military Trivia. Up to four players or teams roll a die and move their tanks around a game board that is the American flag with the Declaration of Independence in the background. Players answer questions in 8 categories: Army, Navy, Air Force, Marines, Equipment, Battles, Presidents and Miscellaneous. There are a total of 2400 questions in the game. Questions range from continental times thru the beginning of 2002. Answer one question right in each category and win the game. Beware of the BOMB!

.

AD

The "newest" portable fabric game from Macgregor Historic Games is a recreation of Fidchell, a legendary Irish game. The artwork is a re-creation based on the Ballinderry artifact. Macgregor Historic Games has made the game more portable by transforming the oridingla wooden board and printing it in a machine-washable fabric format. FIDCHELL belongs to a family of games that were the primary strategy games in Northern Europe prior to Chess. The game´s rules have 4 different variations, to keep players engaged every time they set up the board.

.

AD

Created especially for the Museum of Fine Arts, Boston, these unique playing cards are die-cut in the shape of the ancient Egyptian sarcophagus of Nes-mut-aat-neru (c. 700–675 B.C.). Hieroglyphics and motifs of gods and goddesses and rich gold ink accents adorn each of the cards. Both versions include 2 decks (55 cards per deck). They come packaged in a cardboard box adorned with hieroglyphics.

.

AD

.

AD

Tavern Puzzles evolved from reproductions of hand-forged artifacts that run from basic all the way to Complex (with intermediate and difficult between). Basic designs are often traditional and familiar and have fewer steps. They can look easy, but looking easy is not the same as being easy. The complex designs are characterized by a large number of moves in the solution. Additionally, these designs can also have many "false" moves that do not have anything to do with the solution. False moves must be undone before the correct solution can be followed. Concepts learned at other levels are combined in the complex level.

.

AD

Players follow the trail of rare artifacts to the pyramid of Tutankhamen finding golden statues, jeweled scarabs, and stunning masks along the way. The trick is to choose the best path, so as to locate the most valuable treasures before other players snatch them up first. Fun for two to six players, the game includes one pyramid, 70 artifact tiles, 90 tribute coins, six player tokens, quick play rules and an artifact reference sheet.

.

AD