Article Tools:








Hobby Products
These Products Won't Be Seen at the 2006 Toy Fair
The following products are from manufacturers you won't find at the 2006 Toy Fair.
Real tools for little hands. This compact component kit allows the child to quickly and easily build 2 variations of wood lathes, a jig saw table, sander and drill press with common connection pieces. It comes with a five year warranty and a six volt transformer.
ToyDirectory Product ID#: 6233
(added 12/29/2005)
.
For clean and safe chop and miter cuts for non-ferrous metals, plastics and wood. Ideal for miter cuts. Instead of swiveling the saw head, the table with clamped down work piece is turned. The laterally moving saw head prevents colliding of the saw blade with the vise jaws. This allows for a minimal gap between the work piece vise and the actual cut, which is vibration-free and leaves no burr. For ages 12 and up with adult supervision.
ToyDirectory Product ID#: 6244
(added 12/29/2005)
.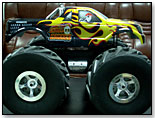 The new TOYABI, rock climbing, any terrain, 4 wheel drive monster truck has the some of the largest truck tires in the World on any toy RC product of its kind. It has 8 coil-over shocks and two powerful motors. Named The Skull Crusher, it can drive over just about any obstacle. This monster truck can do 360 degree spins and can even have its tires changed to giant oversized inflatable tires.
ToyDirectory Product ID#: 6533
(added 1/11/2006)
.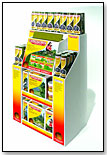 ReadyGrass Vinyl Mat is a superior grass mat product that has unique capabilities. It is great for model railroading, architectural models, collectible houses, military dioramas, arts and crafts, gaming and more. This durable, reusable, non-shedding grass mat is moldable and retains its shape. A heat gun can be used to mold hills, mounds and valleys. The turf can be scraped off to make a smooth surface for roads, sidewalks, parking lots and water areas. Other Woodland Scenics accessory kits can be used to enhance the mat: Roads, Water, Landscaping and Trees.
ToyDirectory Product ID#: 6540
(added 1/11/2006)
.
Catalog Request Form