"Parents want items that are useful beyond babyhood." — Maura Peddle, BiNK

Who doesn't like fun stuff to touch and snuggle, especially for babies? Manufacturers are banking on a soft touch, cool colors and versatility to help parents create the most comforting nursery.

Cloud b LLC's (ToyDirectory) Twilight Turtle takes soft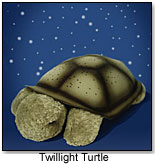 ness and turns it upside down — onto the nursery ceiling. This "plush planetarium," a plush turtle with a glowing plastic shell, shines eight accurate constellations onto the ceiling in blue, white or green.
Colors have changed lately, too. "What's popular now is not quite pastel, not quite primary," said Stephanie Taylor, owner of 5 Little Monkeys in Albany, Calif. "I would call them sherbet colors." This trend is reflected in Cloud b's blankets, which come in dusky blue, sage and salmon.
But don't think bright colors are passé. Manufacturers from Stokke to BuiltNY use brights to enhance their products. Stokke's famous wooden highchairs — which convert to chairs that are useful into adulthood — now come in a variety of cheerful colors. "Blueberry and raspberry are very popular now," said Maura Peddle, owner of BiNK baby store in Warwick, N.Y. "Parents want items that are useful beyond babyhood, and when they come in colors like this, they can coordinate them to the child's room as well."
Saturated colors highlight Built NY's neoprene bibs and its Thirsty Tote, a slim bottle holder that handily snaps onto a stroller or slips into a diaper bag. "A lot of people are looking for funky, sophisticated colors," Peddle said.
That pleased John Roscoe Swartz, one of Built NY's cofounders. "At Built NY, we like to do things differently than anybody else," Swartz said. "We pick the colors we like." He added that Built NY, which started with wine bottle coolers and lunch bags, is "a design company first and everything else second. Our unusual approach is a defining character of ours."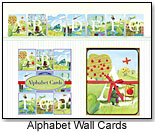 Consumers love a product more if it can be used in more than one way. eeBoo's (ToyShow) Alphabet Wall Cards, meant for wall décor, often end up as supersized flash cards due to their durability. The eeBoo TotTower is popular in the BiNK store for the same reason, Peddle said. "Anything from eeBoo does amazingly well," she said. "The artwork is beautiful, and it can be played with."
Mia Galison, founder of eeBoo, said true art was the goal of her company. "Everything we do is very carefully done," Galison said. Children's book illustrators compose the fantastic images on each eeBoo product. The force behind eeBoo's designs is "a combination of being a mother and artistic sensibility," Galison added. "I think it's wonderful that it's successful."
The Frog Pod Child Tub Toy Organizer, by Boon Inc., mixes fun with cool organization. "Parents come in looking specifically for the Frog Pod," BiNK's Peddle said. The funky wall-hanging frog combines a shampoo shelf, toy storage, hanging pegs and a toy-rinsing scoop into something both kids and parents can appreciate.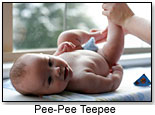 Then there are the things that have one indispensable use. Consider the Pee-pee Teepee by Beba Bean Inc., tiny cloth or terry cones that make diaper changes much drier for parents. The urine shields come in a slew of baby-happy prints and colors, including a Santa Hat for the holidays.
Babies appreciate sitting up, no matter how young they are. Parents and physical therapists praise the Bumbo Seat for building the muscles needed to sit. The soft foam seat lets infants as young as 8 weeks sit up comfortably and securely.
By doubling as art, incorporating contemporary colors or having multiple uses, manufacturers' latest releases make parenting hip.

These urine shields come in an array of fun colors and prints, and help ensure a drier changing time for mommy and daddy. No more sprinkles when using these tiny cloth or terry cones!
.
For ages 6 months and up, the KinderZeat grows with the child, from infancy through school age to adult. The attractive, sturdy wooden construction comes in several colors.
.
The Frog Pod hangs on the tub wall, complete with a concealed shelf for shampoo and baby wash (no more baby tipping over an open bottle). The frog's toes easily hold a bath puff or hanging toys. The best part: Lift off the perforated scoop by its handle, and it becomes a handy tool for picking up and rinsing off bath toys. And the Frog Pod can store them until the next bathtime! No more dangerous mildew and bath residue on toys.
.
.
The Tidy Bib, for bigger babies and toddlers, attaches easily around the neck. A wide-open pocket at the bottom catches messes. When meal- or snack-time is over, the soft, neoprene bib easily washes clean.
.
This sleek, insulated tote simplifies the chore of carrying baby's bottles and keeping them cool. Their slim design slips easily into a diaper bag; a snap handle enables the tote to hook onto a stroller for grab-and-go ease.
.
.
The new Supreme Snuggle Nest with Incline offers great new features and design improvements to provide even more comfort and safety for co-sleeping infants in the adult bed. The sturdy support walls are now vented for increased air-flow. Also, the quilted cover includes breathable mesh on both interior and exterior walls. For parents' convenience, the product includes a new built-in nightlight that is easily removable and freestanding for use on a nightstand as well. In addition to the secured back-sleeping positioners, the new Supreme Snuggle Nest includes a foam wedge that can be used for inclining the mattress pad for improved breathing and digestion when infants are ill. For added value, an extra sheet is included with each product.
.
Table Topper All-in-One Meal Kits cleverly combine all the essentials for feeding baby, age 6 to 36 months, while away from home into one convenient, easy to carry assortment. Each kit includes a Table Topper disposable stick-in-place placemat, a Tummy Topper disposable bib with crumb catcher and a disposable fork and spoon all enclosed within a disposable sippy cup with no-drip spout. The cup contains the bib, placemat and utensils and is wrapped in protective plastic to keep the kit sanitary and incredibly simple to transport. Parents just toss a cup into their diaper bags and go. Everything mom needs for a germ-free meal is neatly contained and ready for use. The product has won the iParenting Award of Excellence and the Juvenile Product Manufacturers Association "Most Innovative Product" Award. At retail a 4-count pack costs $ 4.99 and a 6-count pack costs $8.99.
.
Parents can turn these hip Wee Gallery flash cards into a cool urban mobile with this stainless steel Kikkerland mobile kit. When baby is older, the kit can be used to display favorite photos or drawings. Animal Flash Cards are included with the mobile to turn baby's nursery into a sophisticated baby art gallery, worthy of plenty of wide-eyed concentration and certainly a lot of well-deserved baby drool.
.