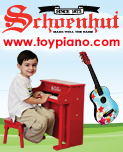 Article Tools:








Boys Get Moody With Booty
Pirates and Rings Shiver Their Timbers
"The trend for right now seems to be the 7 Deadly Sins wristbands from Accoutrements." — Clifford Jackson, The Wizard's Chest
With additional reporting by regional correspondents Krista Lebednik, Bonnie Priever and Donna Sacks
What's New



Crack open the treasure chest and pull out … mood rings? Boys are pirate-crazy, everyone knows, but mood rings have also caught on with guys who adorn, retailers told

TD

monthly Magazine.

"Young children like the Schylling (ToyDirectory) Mood Rings," stated Powell Phillips, owner of the 60-year-old Phillips Toy Mart.

Mood rings are big with boys, agreed Michelle Deutschmann, owner of Kaleidoscope Toys in Falmouth, Mass. She also noted that "some like the acrylic rings." One other retailer of the 24 surveyed said aye-aye, but more than half didn't carry jewelry-type items for boys at all.

What's Selling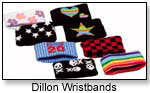 Those that do stock boy-gems report that pirate-type booty, such as eye patches, bandanas and bandages, are still raging.

"The pirate stuff is always popular around Halloween," noted Jerome Crawford, owner for four years of Crawdaddy's Toys in Lafayette, Colo.

"Anything pirate or skulls," sells well, seconded Jackson. "And wristbands from Dillon Importing."

"Rubber bracelets," agreed Deutschmann, "as long as they're camo prints. They're not into ones with sayings."

What's Coming

"The trend for right now seems to be the 7 Deadly Sins Wristbands from Accoutrements," commented Jackson.

What to Make of It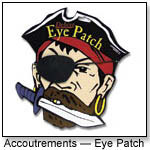 All in all, though, retailers agreed that boys were not big on pretty, shiny things.

Summed up Andy Cannon, 10-year toy vet and owner of Discovery Depot in Cookeville, Tenn.: "Boys like the pirate stuff, like eye patches and bandanas, but they still prefer toys over jewelry and accessory items."

Here's what the boys buy:
When kids slip on one of these classic, adjustable mood rings, the high-quality stones shift colors, depending on the wearer's state of mind. The metal rings are U.S.-made.
.
.
It started with yellow wristbands before it moved on to every color of the rainbow and every cause under the sun. That's great for positive, constructive people, but what about the cynics and smart alecks? Where are their wristbands? Each of these Seven Deadly Sins Wristbands celebrates a human weakness. Whether the wearer is a glutton, greedy or plain old lusty, one of these rubber wristbands will show off his or her favorite fatal flaw. Launch date: 2005.
.
Kids with an eye for greenbacks can wear one of these rubber bands on their wrists to broadcast their desire for cash. Or just to look cool. The other six Deadly Sins are also available. Launch date: 2005.
.
This Jolly Roger is ready to adorn a wrist of almost any size, thanks to the adjustable clasp.
.
Black is the most popular color for these unisex armbands. They're twice as thick as the original.
.
Boys and girls can make their marks as pirates with these removable tattoos. Each comes in a poly bag. A display box holds one gross.
.
This one-size-fits-most-skulls skullcap bandana comes in red or black. An EVA foam liner floats or holds water.
.
Arrr, matey! This 3" patch is attached to an elastic band to fit most pirates' heads. Each comes in a poly bag, with 12 dozen to a display box.
.
Ouch! That smarts! Kids can treat their minor cuts, scrapes and scratches with the incredible healing power of a designer bandage. And if a fancy bandage isn't enough to dry up the tears, how about a free toy? Each 3-3/4" (9.5 cm) -tall metal pocket tin contains 25 3" x 3/4" (7.6 cm x 1.9 cm) adhesive bandages and a small plastic trinket to help make even the ouchiest owies feel all-better in no time. Launch date: 2004.
.
This highly detailed sculpt of the Pirates Skull with Crossed Swords in Pewter features an embossed image of a skull with bandana and beads and hoop earrings. The Pirates of the Caribbean logo festoons the backside. The ring can be used to hold keys or hook on a backpack, computer bag or wallet chain.
.
This is a highly detailed sculpt of the Pirates Key – the same one Captain Jack Sparrow uses to open the chest containing the still-beating heart of Davey Jones in Pirates of the Caribbean. This "antique" key is embossed with the Pirates of the Caribbean Logo on the front. It can be used to hold more humdrum keys, or can be hooked on a backpack, computer bag or chain wallet to show the world you own the "Pirate's Key." Launch date: July 9, 2006.
.
Catalog Request Form


Advertisement: