Article Tools:








New and Notable Toys: Kits
Check out these noteworthy toys.
4-M Make Your Own Garden Stepping Stone by TOYSMITH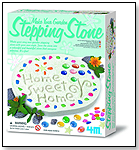 This 4m make your own garden stepping stone includes a 5.5" x 7.5" x 2-1/4" stepping stone and everything you need to create your own stone. create your own keepsake.
— Casey Sartain, co-owner of Tutoring Toy in Salt Lake City, Uah, told TDmonthly in a May 2015 survey that this was one of their best-selling activity kits. 5/28/2015 (Price: $10.99) [Add to my Inquiry Basket][?]



Kinetic Sand Dino Dig! by WABA FUN LLC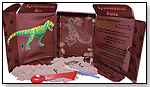 For all the paleontologists in training or for those just fascinated by prehistoric life, we bring you Dino Dig! WABA Fun is always looking for additional ways to make learning fun and what better way than to combine Kinetic Sand with ancient beasts! Bury your Tyrannosaurus Rex or Triceratops bones in the sand and use the provided tools to excavate right in your living room! Become the next Dr. Alan Gran and start your own Jurassic Park! (Dino DNA not included). Each Kit contains 1 kg of award-winning Kinetic San, one 3D Dino puzzle skeleton and tools for excavating. The box has fun facts about your dinosaur and serves as a containment site as well!

2/27/2014 (Price: $24.99; Age: 3 and up) [Add to my Inquiry Basket][?]



Mojito R-Evolution by MOLECULE-R Flavors Inc.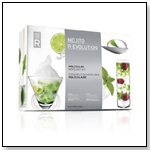 Experience the unexpected with three easy molecular recipes that bring cutting-edge mixology into your home bar. Deconstruct your mojito into floating mint caviar and spectacular foams or encapsulate your favorite cocktail into a sphere that will explode in your mouth. Includes 10 pre-measured food additive sachets, specialized utensils and Recipe & Instructions booklet. 1/23/2014 () [Add to my Inquiry Basket][?]



Toolbox Jewelry by KLUTZ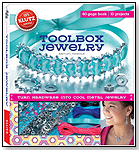 Toolbox jewelry is the first ever hardware jewelry kit that teaches kids how to make amazing industrial jewelry from the provided shiny nuts, star washers, fasteners with cord, satin ribbon, beads, and earring wires. Simple instructions transform these practical thingamajigs into super chic ­- and surprisingly pretty - jewelry. It's the perfect combination of functional and fabulous. Comes with 60 page book of instructions, over 200 nuts, washers and fasteners, three colors of cord, earring wires, beads, two colors of ribbon, resealable storage trays, slide-out work surface. Launch date: August 2013. 4/29/2013 (Price: $21.99; Age: 8 and up)



Pantone Color Cards: 18 Oversized Flash Cards by ABRAMS BOOKS

These flash cards are an engaging invitation for children and parents to explore color together in a whole new way. This 18-card set focuses on 2 tones of each of the 9 basic colors. When you flip the card over, additional colors in the same color family are introduced in the context of an illustrated pattern, and the child is prompted to pick out the right color. These innovative flash cards are both practical and stunning, making them an irresistible addition to any child's toy box, bookshelf, or wall. "Pantone is the world's most powerful and influential brand in color, trusted by artists and designers for decades. These flash cards will bring the colors to a younger generation," Jason Wells from Abrams told TDmonthly. Launch date: March 2013. 1/8/2013 (Price: $14.95; Age: 0 to 3) [Add to my Inquiry Basket][?]



Sticky Mosaics Singles Train by THE ORB FACTORY LIMITED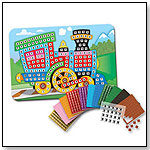 These Sticky Mosaics Singles are the party-sized answer for a rainy afternoon or long car ride. With no mess, these small, portable kits are simple and fun for both boys and girls. Each includes 1 project, 1 wall hanger and over 400 sparkling tiles and jewels. Follow a simple numbered legend and create a beautiful mosaic with Sticky Mosaics singles. "Perfect for travel, stocking stuffers and party favors, Sticky Mosaics Singles are the perfect size for a quick craft on a rainy day or surprise gift for a special little girl or boy," Stephanie Carver from The Orb Factory told TDmonthly. Launch date: March 2011. 3/4/2011 (Price: $5.00; Age: 4 to 11) [Add to my Inquiry Basket][?]



Dr. Carey's Baby Care Kit by DR. CAREY'S NEW BABY KIT

This kit was developed by a pediatrician to assist parents in getting through their child's first year. The kit comes in a pastel colored gift box and contains a Fussy Baby Soother blanket, diaper rash ointment and skin protectant, a Gumdrop pacifier, a bottle for homemade saline solution, a digital thermometer and a nose suction bulb. Also included is a Baby Care guide, covering topics such as developmental milestones, health care, rashes and common questions new parents ask. (

Watch Video) 10/6/2010 (Price: $49.95) [Add to my Inquiry Basket][?]



CSI Jr. Investigator Kit by BOWEN HILL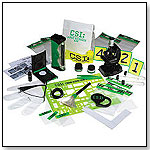 Little sleuths can fingerprint suspects, collect evidence and record findings with this "CSI"-themed kit. The set includes a field case, mini microscope, stamp pad, replacement ink, fingerprinting powders, fingerprinting brush, fingerprint lifters, plastic gloves, tweezers, magnifying glass, crime scene tape, goggles, string, L-shaped ruler, evidence bags and tags, slides, evidence markers, alternative light source, evidence logs, test tubes, stencil, plaster frame, crime scene journals, activity book, evidence, book of charts, fingerprint cards and situation cards. 9/23/2010 (Price: $34.99; Age: 10 and up) [Add to my Inquiry Basket][?]



Friends 4 Ever Bracelet Making Kit by ALEX BRANDS

This kit contains materials for making up to 22 friendship bracelets. It includes four looms for two styles and eight patterns, along with 22 colors of floss, beads, a beading needle and a convenient storage case.
— As of 05/12/2012 this product has 3.9 out of 5 stars from 54 reviews on Amazon.com. Cons: Instructions are not helpful enough; not enough designs included.
— Kim Myers, co-owner of Hobbytown USA in Murfreesboro, Tenn., told TDmonthly in late Spring 2011 that ALEX arts and crafts were best-sellers in their category, especially among older girls.
― As of 9.21.2010, this product had 4 out of 5 stars from 24 reviews on Amazon.com and was No. 33 on the top 100 best-selling toys and games. 9/21/2010 (Price: $27.00; Age: 8 and up) [Add to my Inquiry Basket][?]



Partners for Safety Infant and Child CPR Training by PULSE CPR DIRECT LLC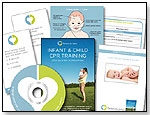 This step-by-step CPR training program for parents contains a 20-minute DVD and a care kit. The DVD includes training modules, chapter summary reviews and an on-screen quiz. The kit includes a practice guide, diagrams, flash review cards and a babysitter information sheet.
Awards: Mom's Best Award 2010 9/16/2010 (Price: $23.99) [Add to my Inquiry Basket][?]



Magician's Apprentice: Card Tricks Unshuffled by MELISSA & DOUG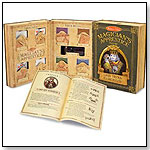 This magic set is full of professional-quality magic devices and gimmicks. It includes step-by-step instruction booklets with detailed illustrations for performing over 30 mystifying tricks. Additional sets include rope tricks, thumb tricks and coin tricks. (

Watch Video) 8/25/2010



Sustainable Earth Lab by THAMES & KOSMOS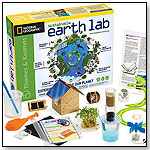 The Sustainable Earth Lab science kit gives children the tools and information to learn first-hand about the environmental problems burdening the planet and how we can overcome these challenges through sustainable practices. The full-color, 48-page manual explains over 40 different experiments and energy conservation activities. Awards: Dr. Toy Best Green Toy Award 2010
— In late summer 2010, five percent of 43 retailers named Thames & Kosmos a top selling science and nature brand.
— "Thames & Kosmos — we sold out of all their items," Carly Gerhardstein, manager of The Durango Kid in Durango, Colo., told TDmonthly in August 2010. 8/13/2010 (Price: $54.95; Age: 8 to 12) [Add to my Inquiry Basket][?]



My Pop Soda Shoppe by MY POP SODA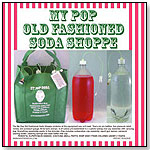 The My Pop Old Fashioned Soda Shoppe is an environmentally friendly product that can make up to ten liters of soda or seltzer a week. Children can reuse glass seltzer and plastic soda bottles many times. The ingredients can be all natural because users make the soda with ingredients from their own kitchen. Awards: Dr. Toy Best Green Toy Award 2010 8/4/2010 (Price: $65.00; Age: 10 to 12) [Add to my Inquiry Basket][?]



Tee Juice Fabric Art Markers Class Packs PEN1KIT by JACQUARD PRODUCTS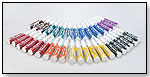 Recommended for up to 30 individuals, Tee Juice Fabric Art Marker Class Packs are designed to bring students and teachers all of the fun and unlimited creativity of Tee Juice Fabric Art Markers in affordably-priced quantities suitable for group projects. These versatile markers can be used to create designs on clothing, shoes, linens, canvas bags and more. Simply draw, let dry and heat set with an iron. The PEN1KIT contains broad tip fabric art markers in yellow, red, blue, black, purple, green and brown. 7/2/2010 (Price: $58.99; Age: 8 and up) [Add to my Inquiry Basket][?]



Shrinky Dinks Nature Doodles Charm Bracelet Kit by JOOBLI STUDIO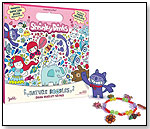 This craft activity kit enables kids and adults to create handmade bag tags, key chains and more. Shrinky Dinks is a shrinking plastic that users can draw on, color in, cut out, and bake in an oven to create all kinds of crafty items such as jewelry, bag tags, charms, magnets and ornaments. (

Watch Video) 6/29/2010 [Add to my Inquiry Basket][?]



Cake Designer Kit by JAKKS PACIFIC INC.


The Girl Gourmet Cake Designer Kit lets kids create and design custom cake patterns. This kit includes a square shape mold, a lacing wheel cutter, two wheel cutters, a plastic display box, six shaped fondant cutters and an instruction sheet. 6/23/2010 (Price: $9.99; Age: 8 and up)



Make-Your-Own Mask Kit by MINDWARE


This kit comes with over 200 pieces, including 10 sturdy mask forms with elastic cords, double-stick tape, pompoms, jewels and fringed paper, plus ready-to-decorate cutouts of hats, glasses, funny lips and more. 5/14/2010 (Price: $19.00)



27 Piece Foundation Set by CURIOUS CHEF INC.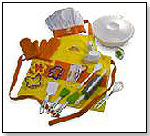 This extra-large kit is designed to give kids everything they need to start cooking. Once they don their chef's had and apron, kids can use the included measuring cups, bowls, whisk and other utensils to create their own meals. With a little adult guidance and supervision, the BPA-free nylon, silicone and plastic items in the kit can foster a lifelong love of food and cooking.
— Katie of Time 2 Eat Yall praised Curious Chef's products for being durable and dishwasher safe. Katie explained, "With Curious Chef's products, young ones can experience and learn a 'hands on' approach about kitchen basics and safety with Mom assisting headache free."
— A mom reviewer at Brimful Curiosities tried some Curious Chefs utensils with her daughter, who "proudly arranged them on the counter, excited to have her very own kitchen tools just like Mommy." The utensils proved safe enough for a child yet effective enough for an adult as the mother-daughter team prepared an apple crisp together. 4/27/2010 (Price: $59.99; Age: 3 and up) [Add to my Inquiry Basket][?]



Galactic Spaceships Kit - Quick Sticker Project by PEACEABLE KINGDOM

This solo activity kit doesn't require reading and comes with 13 interchangeable parts for three spaceships, plus 60 decorative stickers. Awards: Parent's Choice Award 2010 (

Watch Video) 4/13/2010 (Price: $4.99; Age: 5 and up) [Add to my Inquiry Basket][?]



Independence Day Kit by DECORATIVE KITS FOR CARS

This set includes a pair of 17" red, white and blue stars to place on either side of the car, plus a 6" top hot with wiring to attach to the grille. 3/22/2010 (Price: $19.95) [Add to my Inquiry Basket][?]



I Dig Curse of Pirate Island Excavation Adventure by BSW TOY INC.


The Curse of Pirate Island is designed to encourage young adventurers to dig up buried treasure. Will they find jewels? Gold? Something else? Variations in buried items and creepy surprises will keep young treasure hunters coming back for more. The Excavation Set features a sand-based island with buried treasure box. Children dig using a stainless steel hammer and chisel to uncover treasure. The excavation glasses add to the "archeological experience." "Most of our competitors use plaster digging blocks. Plaster is extremely messy and gets everywhere! Our Sandblocks are made of a course sand that is dust free and easy to clean up," Andrew Tober, Director of Creative Development, BSW Toy Inc., told TDmonthly. 3/15/2010 (Price: $24.99; Age: 6 and up) [Add to my Inquiry Basket][?]



VentureView Science Kits by PERISPHERE & TRYLON INC.


These science construction kits are designed to allow young minds to build and understand Solar, Water, Elastic, Dynamo and Wind power sources while building kinetic models and vehicles. They are "well-conceived and comprehensive kits with many variations and high value," a representative of Perisphere & Trylon, Inc., told TDmonthly. Launch date: May 2010.
— John MacDougall, owner of Golden Apple Learning Store in Pleasanton, Calif., was impressed with the Wind Energy kit with giant turbine blades at Toy Fair 2010. "We love renewable energy education kits," he said.
— ''Science kits do well overall,'' Cheryl Richmond owner Punkin Doodles Havre, Mont., shared with TDmonthly. 2/4/2010 (Price: $39; Age: 6 to 12)



Secrets of the Master Spy by BARRON'S EDUCATIONAL SERIES


This spy kit in a book-shaped box includes spy glasses, a decoder, ID cards, a listening device and more items a kid will need to be a double agent whose job it is to track down some top-secret files. 12/2/2009 (Price: $19.99; Age: 8 to 11)



Children's Picture Atlas Kid Kit by EDC


Kids may use this product to discover the continents, countries and captials of the world utilizing dry erase cards. Each card comes with an answer overlay for easy reference. The United States and its state captials are included. "It is a fun kid kit with an educational bonus. Great for students who are trying to memorize states and capitals," Carolyn Pickup, marketing assistant at EDC Publishing, told TDmonthly. Launch date: June 2009.
— EDC Books were on the top-10 best-seller list at the Toy Shop of Concord in Concord, Mass., according to Owner David Hesel in late 2009. 4/28/2009 (Price: $19.99; Age: 8 to 12) [Add to my Inquiry Basket][?]



Tea Party Kit by PAPER POSIE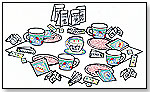 Designed as a fun activity for children at a birthday party or just for play at home, this kit includes tea party supplies for four: invitations to color and mail, plates, tea cups, favor bags, sets of teatime stickers, teatime fortune tellers, teacup temporary tattoos, fans to color and make, a tea party recipe book, five napkins (one to use as a tablecloth), and five sets of non-toxic crayons. (

Watch Video) 1/21/2009 (Price: $16.95)



Wai Lana's Little Yogis™ Fun Exercise Kit by WAI LANA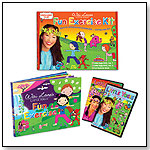 A bundle of playful exercise to set kids on the path to health and happiness! Kit includes the Fun Exercise Book, which is a colorful, imaginative, and richly detailed book that entertains kids with animals, games, jokes, and illustrations. Also included is the Little Yogis DVD volumes 1 and 2, where Wai Lana makes yoga a treat with two fun-filled workouts, which include all kinds of fun exercises for strong bodies and sound minds, colorful cartoons, catchy songs, cute animals, and fun learning games. 12/1/2008 (Price: $39.95) [Add to my Inquiry Basket][?]



Iron-on Leather Craft kits by TANDY LEATHER FACTORY INC.
Tandy Leather Factory has developed a line of kits especially made to be used with iron-on products. The Pixie Pouch is just one of over 20 age appropriate kits that include items like a video game guitar strap, IPOD holders, and a even a complete belt buckle kit which are all iron on products and will be featured in three different colors. The kits have a modern appeal as well as the appeal of being an actual craft item that children can assemble easily. Launch date: February 2009. 11/21/2008 [Add to my Inquiry Basket][?]



Rainy Day Garden by NOTED CO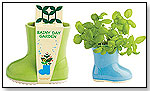 This ceramic boot planter comes with herb or flower seed packets and is available in red, yellow, blue and green. 11/21/2008



Make Your Own Gummies Kit by VERVE INC.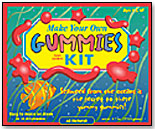 Make your own gummies out of seaweed! Everything you need is included in this kit and it's easy! You can make your own gummi bears, gummi worms, gummi fish or any other shape. Make gummies on the stove or with a microwave. Great for class room activities, scout troops, birthday parties, home school, or after school groups. Adult supervision is recommended. Makes a great gift for kids! 10/8/2008 (Price: $13; Age: 8 and up) [Add to my Inquiry Basket][?]



Fold-Up Fine Motor Kit by FUN AND FUNCTION LLC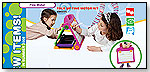 Writing on the easel encourages the child to sit with good posture while writing, assisting the child visually and supporting a good wrist and hand position. The kit comes with a chalk board, a "Cloud to Garden" Dry Erase board, a Fine Motor Funbook, 12 E-Z grip crayons whose triangular promotes proper grasp, kid scissors, three mini pencils, a dry erase marker, an easy-to-grip chalk in a sturdy holder and a sponge eraser. "The kit and contents fold up easily to become a travel case," Fun and Function LLC President Aviva Weiss told TDmonthly. Launch date: September 2008. 6/16/2008 (Price: $34.99; Age: 3 to 10)



Made With Love for Dad by INNOVATIVEKIDS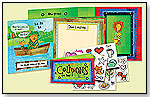 Kids can let dad know how great he is with this customizable kit. Perfect for Father's Day, dad's birthday or any day. Kids can create the perfect gift for dad by customizing and decorating this keepsake book with stickers, stories, photos, drawings, coupons and more. Launch date: May 2008. 6/4/2008 (Price: $7.99; Age: 6 and up) [Add to my Inquiry Basket][?]



GO Art Flip Book Animation by MAGNETIC POETRY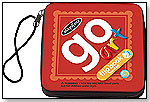 The kit comes in its own handy travel case, along with blank flipbooks, instructions and four stencils containing eight images of a character in motion. When drawn in sequence and "flipped," the character appears to move. The kit is great for any child with an interest in animation. Launch date: Spring 2008. 5/22/2008 (Price: $9.95; Age: 6 and up) [Add to my Inquiry Basket][?]



Mugwaz Teez?Funky Diva by MUGWAZ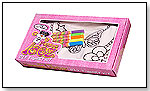 Girls can personalize the t-shirt using six neon fabric markets. Each machine washable, tagless t-shirt is made from 100 percent cotton and comes boxed in a bright pink gift box. Launch date: May/June 2008. 5/21/2008 (Price: $18.00; Age: 6 to 12)



All-in-One Art Set: Dora the Explorer by ELMER'S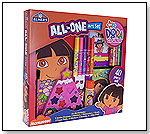 The 40-piece Dora-themed art set includes five jumbo crayons, five markers, seven watercolors, one brush, two paper pads, 16 stickers, three stencils and one glue stick. The set will keep creative kids engaged and entertained for hours. Launch date: September 2007. 5/21/2008 (Price: $12.99; Age: 4 and up) [Add to my Inquiry Basket][?]



Deluxe 14 pc. Ice Cream Making Set by SASSAFRAS ENTERPRISES INC.


Kids can make their own ice cream and ice cream sundaes with this kit. The kit includes an ice cream maker, two sundae cups, two sundae spoons, a recipe and instruction booklet, sprinkles, an ice cream scoop, two soda jerk hats and crayons. All items are packaged attractively inside a window box. Launch date: May 2008. 5/21/2008 (Price: $44.95; Age: 4 and up) [Add to my Inquiry Basket][?]



DYO Real Hockey Puck Kit by DESIGN YOUR OWN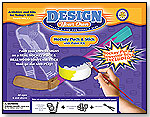 The kit allows kids to decorate their own, real hockey puck and stick. Kids will be able to express themselves while staying active and can easily spot their puck on the ice. Launch date: June 2008. 5/21/2008 (Price: $19.99; Age: 6 and up) [Add to my Inquiry Basket][?]



Kitchen Littles Deluxe Appliance Set with Accessories by INTERNATIONAL PLAYTHINGS LLC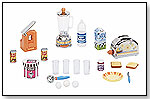 The toaster pops out toast, the heavy duty die-cast blender blades spin at the push of a button and the can opener opens cans. The set includes two cans fruit, a can opener, a jar of jam, two pieces of toast, a die-cast metal toaster, a lunch plate, a knife, an ice cream carton, three scoops of ice cream, an ice cream scoop, a die-cast metal blender, a carton or milk, a bottle of soda and four glasses. Launch date: Summer 2008. 5/19/2008 (Price: $20.00; Age: 4 and up)



Sparky Travel Backpack Kit - Little Passenger by UNIVERSAL MAP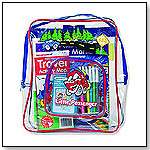 The travel activity backpack includes a 64-page maze book of all 50 states, crossword puzzles chocked full of words and information related to each state, a 64-page word search, a laminated folding map, state geography playing cards and coloring markers. All items are packaged in a clear vinyl, zippered backpack. This item is a 2004 Creative Child Magazine Preferred Choice Award winner. 5/19/2008 (Price: $21.95) [Add to my Inquiry Basket][?]



Volcano Kit by SCHYLLING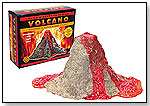 The kit lets kids build and erupt their own volcano using Paper Mache. All necessary materials are included inside the kit, including an educational booklet filled with information about real volcanoes. Launch date: July 2004. 5/19/2008 (Price: $14.99; Age: 8 and up)



Sweet Shoppe Birthday Party Fabric Creativity Kit by STORYBOOK STUDIO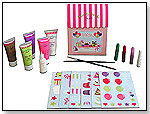 The kit comes with unique peel-and-stick stencils, fabric paint, glitter and fabric glue, allowing children to easily personalize fabric items such as sneakers, clothes, totes and accessories. "The party-sized kit is packaged in our kid-pleasing hot pink cake box and includes invitations, thank you cards, totes to decorate and enough art materials for a party of twelve," Storybook Studio Founder Melissa Yamello told TDmonthly. Launch date: April 2008. 4/28/2008 (Price: $29.95; Age: 4 and up)



Stonehenge: Build Your Own Ancient Wonder by RUNNING PRESS BOOK PUBLISHERS

The kit includes 16 Stonehenge rocks, a landscaped mat and a 32-page guide about the ancient wonder. Launch date: March 2008. (

Watch Video) 4/28/2008 (Price: $12.95; Age: 6 and up)



Hydraulic Mini Scissor Lift by AG INDUSTRIES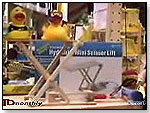 The kit takes approximately 30 minutes to build and will allow kids to observe and learn all about how the lift is powered by water. Everything needed is included in the kit except for scissors, a ruler and water. Launch date: April 2008. (

Watch Video) 4/24/2008 [Add to my Inquiry Basket][?]



Pretend & PlayŽ Explorer Set by LEARNING RESOURCES INC.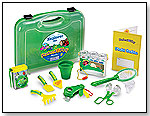 The set invites kids to discover and observe bugs and plants, using a magnifying observation box, a viewer with tweezers, a butterfly net and more. The set also includes a write-and-wipe matching activity and fact page. All pieces in the set are durable, and come packaged in a convenient 14"L x 12"W x 3-1/2"H storage and carrying case. Launch date: January 2008. 4/17/2008 (Price: $32.95; Age: 3 to 6) [Add to my Inquiry Basket][?]



Dino Dig ? Tyrannosaurus Skeleton by KRISTAL EDUCATIONAL INC.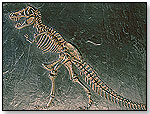 This kit allows kids to excavate, restore and display a 12" replica of a Tyrannosaurus skeleton. The kit comes with a skeleton replica embedded in a 12" x 9" slate-like slab of rock, an excavation tool, two brushes, two paint tablets and instructions. Launch date: February 2008. (

Watch Video) 4/11/2008 (Price: $24.99; Age: 7 and up) [Add to my Inquiry Basket][?]



Robotic Arm Edge by OWI INC.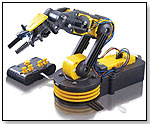 The robotic arm can be told to grip and un-grip. It features a wrist motion of 120 degrees, an extensive elbow range of 300 degrees, a base rotation of 270 degrees, a base motion of 180 degrees, a vertical reach of 15", a horizontal reach of 12-3/5" and a lifting capacity of 100 grams. Additional features include a search light design on the gripper and a safety gear audible indicator on all five gear boxes to prevent any potential injury or gear breakage during operation. A five-switch wired controller, five motors and five joints control the robotic arm. The arm measures 9" x 6-3/10" x 15" when assembled. 4/4/2008 (Price: $53.95) [Add to my Inquiry Basket][?]



Li'l Engineer Kits by BROOKLYN PEDDLER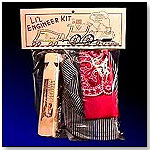 This U.S.-made kit contains everything a young or old "engineer" needs — it even comes with a hat and a bandana. The kit is bagged and headed, ready for any pegboard display or shelf. 1/29/2008 [Add to my Inquiry Basket][?]



Catalog Request Form
THIS BANNER IS AN AD:
---
---