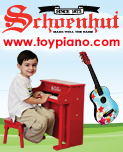 Article Tools:








TDmonthly's October Staff Picks
A Look at New and Notable Toys
Every kid knows: Gross is Good. But so are pint-sized houses and pop-culture fashion dolls. The TDmonthly staff kept their eyeballs peeled for ghoulish, girlish and other delights this Halloween season. Here are some of the creepy, cool and just plain adorable toys that we think kids'd trade their caramel apples for:
Kids can strategically place a few of these sticky adhesive bandages with their tasty treats hidden underneath, and easily gross out a loathed schoolmarm. The candy scab is simply molded, pressed sugar like a SweeTart or pressed Pixy Stix, but the top is "scab red" and molded to look like a real scab. CAP Candy is a division of Hasbro.
.
Marie Osmond makes dolls. Celine Dion wants to make dolls. Who's next? Gwen Stefani... No Doubt about it. Due to be released by Huckleberry Toys, according to Alfonso Lovelace, one of Stefani's PR people with PMK/HBH Public Relations, the limited-edition "Love. Angel. Music. Baby." line will be costumed in outfits worn by Stefani and her Harajuku Girl dancers in her recent tour. According to Lovelace, "It's a great market to express her creativity — very playful and colorful and light. But it's not to be confused with Gwen's designer L.A.M.B. label: Two totally different companies. These dolls are for everyone who's a fan of the album and dolls in general." Launch date: Fall 2006.
.
In the tradition of Folkmanis' award-winning wildlife puppets, comes this gracefully detailed Gray Squirrel Puppet. Featuring rich plush, a movable mouth and thread whiskers, this inquisitive squirrel comes with his own acorn so he won't need to raid the nut bowl! With his big bushy tail, this squirrel puppet stands a delightful 12" tall.
.
These delightful little resin Water Babies float on water lily leaves and cuddle in the lily's flower when placed in a bowl of water. Each baby would be a bit less than 3" tall if they "stood up"; the water lily leaves are approximately 5.75" in diameter. A set of four unique babies ($80) make wonderful centerpieces, gifts and additions to a collection.
.
The premier designer of children's play homes is proud to introduce the Gold Kit Series, a fun and economical way to own a Lilliput Play Home. The Tattletale Tudor is a Cotswold-inspired playhouse that features brick- and stone-look walls, criss-cross trim and an eye-catching cedar roof. The always-popular Dutch door is the crowning accent to this picturesque 8' L x 6' D x 9' H play home. Features include an interior loft, operable aluminum windows, no-rot polyurethane trim, window boxes, cedar roofing and Dutch door. It's easy to assemble with pre-cut, pre-painted panels.
.
From the specimen jar in which the kit is packaged to the secret formulas for making realistic-looking snot, vomit and body parts, this kit screams fun. Kids will be able to grow their own bacteria right at home. This nasty fun kit includes Slime Goo, Worm Goo, Slime Activator, True Color tablets, Growing Body Parts, Petri dish and lid, nutrient agar, cotton swab, clear cup, mixing cups, super-absorbent crystals and instructions. The jar is 18" high and 9" deep. Launch date: March 2006.
.
BC exclusively distributes a full range of FURUTA (Japan) 3" prepainted airplane model kits. There's no messy painting and no glue: Kids just snap in the absolutely perfect precision parts. It's instant gratification for the video-game and fast-food generation. By eliminating 80 percent of the time it takes to assemble and paint a model, these prepainted snap-together models have attracted millions of new modelers, created a new category and new industry. These airplanes are priced super low and the quality's super high. BC gets many calls from consumers complaining their local stores are not getting airplanes in fast enough, and retailers report shoppers coming back daily to check if new stock is in.
.
"My Little Yellow Taxi" is an interactive hardcover novelty book that invites kids to take a spin in a shiny yellow cab. The book includes 16 interactive features that show eager young drivers what it takes to get a taxi ready to roll: The mirror needs to be adjusted, the oil needs to be checked, the engine needs to be started, and there's more to do. For instance, a cut-out puzzle piece of a gas pump can be removed from the book, then inserted into the gas tank — once the cap's been opened. A clock on each page counts down the minutes, introducing the concept of telling time. Once the taxi has been readied by the various activities, a little cardboard taxi in the back of the book can be removed for play. With its sturdy construction, the taxi is built to be "driven" again and again. "My Little Yellow Taxi" is an Oppenheim Toy Portfolio Platinum Award Winner, and is the third in a series by Stephen T. Johnson, which includes "My Little Blue Robot" and the best-selling "My Little Red Toolbox." Launch date: October 2006.
.
TanArt™ the Cool 2-in-1 Body Art stickers are simply applied to the body. These cool looking stickers are fun and trendy and are exactly what the kids want to wear. Marketing has proven that kids love to wear stickers on their bodies and Tan-Art has developed a safe and fun way for them to do this. Wearing the sticker is the first cool part of TanArt™ the Cool 2-in-1 Body Art experience. Leave the TanArt™ sticker on the body for several hours or longer and then remove. After removal of the TanArt™ the Cool 2-in-1 Body Art sticker the kids initially will only notice a faint tanned image where the sticker was applied. However, over the period of several hours the kids will magically watch as the sunless tanned image gets darker and darker. The next day the kids will now have a dark sunless tanned image of the shape of the sticker they had applied to their skin. Getting this excellent image is the second part of TanArt™ the Cool 2-in-1 Body Art experience. This extremely cool tanned image cannot be washed off but will fade away in 6 or 7 days.
.
Catalog Request Form


Advertisement: