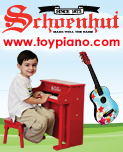 Article Tools:








Homeschoolers: Tween Girls Will Be Girls
Make-up, Design and Décor Set Homeschooled Hearts Aflutter
"Tween girls are naturally becoming more interested in clothing and this kit gives them an outlet to encourage their creativity." — Susan Ledford

You can take the girl out of the schoolroom, but you can't take the girl out of the girl. Despite exposure to chemistry, physics, Latin, piano, violin, theater, filmmaking and almost every cultural activity imaginable, these homeschooled girls still want to luxuriate on satiny pillows while wearing pearlescent eye shadow. So this month,

TD

monthly Magazine's homeschoolers indulged themselves with tween-heaven products from Fashion Angels, Kidz by Dezign and Beacon Street Girls. The reviews were raves. Read for yourself!

Participants were former art teacher Lynn Costine with Sarah (13 years), Anna (11), Emily (9) and Will (7); Julie Petoia, RN, with Cabot Lee (12), Talia (10), Malynne (8) and Jeremiah, Jacob and Gabriel (5); Susan Ledford, editor of the "Homeschoolers Resources Directory," with Victoria (11) and Joe (7); Alison Shanahan with Elizabeth (12), Emily (10) and Katie (6); and Teresa Wilson with Timothy (13), Andrew (11), Elise (7) and Steven (6). CLICK HERE to view the full results of the survey.

Make-Up Artist Sketchbook by FASHION ANGELS (Gift Guide)

What It Is: A make-up design kit that lets girls experiment with new looks on paper "face models" … and themselves.

What the Moms Thought
The moms unequivocally loved the Fashion Angels make-up set, especially since everything was included in one neat package.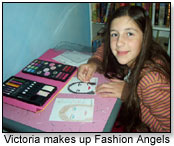 "Learning to apply make-up is a rite of passage for every girl," pointed out Ledford.

Some moms were uncertain as to whether the make-up could actually be worn, owing to an overly cautious disclaimer. Not to worry, Fashion Angels co-founder Goldi Miller told

TD

monthly: "It is real make-up that's been fully tested and is safe for everyone."

What the Kids Said
"The Guide Book for this kit is very helpful," according to Victoria, 12. "I really like playing around with the eye shadow and using the different techniques for applying it."

How to Improve It
Most moms suggested including more paper face models, because they were quickly used up, though, as Costine pointed out, it just means that "you'll always have to buy more."

Would You Want Another Toy Like This?
"I am extremely impressed with the comprehensive scope that this toy offers," raved Wilson. " I enjoy it as much as my daughter!"

"The Fashion Angels Make-up set was much loved in our house," summed up Petoia, and all agreed.


---

Fashion Angels Design Studio Set by FASHION ANGELS (Gift Guide)

What It Is: A kit full of design ideas, sketchpads and pencils for creating new and ingenious wardrobes.

What the Moms Thought

"Tween girls are naturally becoming more interested in clothing and this kit gives them an outlet to encourage their creativity," said Ledford.

What the Kids Said
"They enjoyed being able to texture the clothing, as it made the results far more interesting," noted Shanahan. "They developed a fun game of taking turns with it and then comparing fashion results."

The Costines liked the range of design possibilities: "You could make an entire outfit and put the same one on a whole bunch of different girls and make a group of girls with all different styles."

How to Improve It
"Hold a contest where participants send in their finished designs and the winning design is then made into real clothing for the designer," suggested Ledford.

Would You Want Another Toy Like This?
"Yes!" was the unanimous answer … and the homeschoolers are getting them, said their moms.


---

Slumber Girls Purse Pillows by KIDZ BY DEZIGN (ToyShow)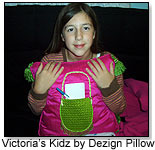 What It Is: A satiny pillow with bejeweled tassels and a purse-pocket for holding books, diaries and other secrets.

What the Moms Thought
As an artist, Costine appreciated the pillow's unique design, pointing out that it would be a great item to take to a sleepover.

"It certainly brightens a room!" pointed out Ledford.

What the Kids Said
Costine's two youngest girls fought over who would get to keep the pillow. Emily, 9, won.

Victoria also appreciated the fun design, and used the pocket to hold her 'dream journal.' "I really like the tassels," she added.

"Oooo a secret compartment!" cooed Elise, 7, who also loved the glittery tassels.

How to Improve It
Ledford suggested a softer fabric might make the pillow cuddlier and a wider color selection would broaden its appeal.

Would You Want Another Toy Like This?
The little girls loved the pillows and would appreciate more of them. Costine pointed out that the cute pocket and tassels make the pillow a nice choice for a birthday present, as pillows are a popular gift choice for tweens.


---

"O So Soft" Throws by KIDZ BY DEZIGN (ToyShow)

What It Is: A soft fleecy blanket in hot tweeny colors.

What the Moms Thought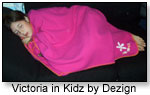 "The material was very soft, which is a highly desirable quality for a blanket," said Ledford.

The blanket was made of quality fabric and a "perfect size" for her 7 year old, noted Wilson.

What the Kids Said
"Feel it, Mom, it's so soft! And warm too!" encouraged Victoria.
"The hot pink color won Elise over instantly. She reports that it is 'perfect to take to a sleepover,' said Wilson. She wanted to take it to camp, too.

How to Improve It
Ledford said that a wider color range and personalization would be a plus. A larger size for growing girls or even to cover a bed would be appreciated, too.

Costine recommended adding some of the special design qualities that the pillow had, such as pockets or tassels.

Would You Want Another Toy Like This?
Four out of five moms said that they and their little girls would be perfectly happy to snuggle up in another blanket like this one.


---

BSG Book Series for Girls by BEACON STREET GIRLS (ToyDirectory)

What It Is: A series of books about a group of tween girlfriends and their various adventures.

What the Moms Thought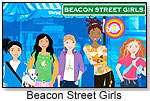 "I totally love these books!" raved Wilson. " I most like the 'tips' included throughout the books, such as recipes, business savvy and — most appreciated — safety reminders."

"The characters are really strong and it's very easy for a girl of that age to say, 'Oh, I know someone like that,'" pointed out Costine.

What the Kids Said
"I wish these girls lived on my street!" exclaimed Elise, 7.

The online chat was also a big hit with her, said her mom. Elise is interested in starting a book club using this series.

How to Improve It
The tweens' only suggestion was that the cartoon illustration on the cover be replaced with more sophisticated drawings or photographs, so that it would appeal more to readers in their age group.

Would You Want Another Toy Like This?
Wilson said she was looking forward to more books in the series. Moms reported that their girls aged 7 to 11 enjoyed the books a lot and wanted to read more about the Beacon Street Girls.


---

Here are the girly-girl products that made these homeschooled tweens extra happy this month, plus a couple more by each manufacturer:
Have you ever wanted to explore the realm of make-up artistry? The Fashion Angels Make-Up Artist Sketchbook contains more than enough make-up accessories to satisfy that urge. Includes a 22-color make-up artist palette, 16 make-up brushes and applicators, 8 colored pencils and sharpener, make-up artist sketch pad, color chart and preview wheel, and a full-color make-up artist guide. Refills are available with 25 more croques pages.
.
.
These beautiful silk Purse Pillows are the perfect accessory for any girl's room! All of these exquisite pillows have a secret pocket behind the flower or purse for treasures or keepsakes. The dolls fit neatly inside, too. Pillows are decorated with appliqué embroidery, crystal and rhinestone accents.
.
The O So Soft poly-chenille throws are soft as a rose petal. They come accented with matching ribbon trim, and are the perfect partner for a Slumber Girls novel.
.
Beacon Street Girls Books Series is a friendship-adventure series that engages girls 9 to 13 with real-girl characters, contemporary themes and age-appropriate storylines. Upbeat messages and positive role models help to foster reader self-esteem. Five main characters — Avery, Charlotte, Katani, Maeve and Isabel — and a host of lively secondary characters, form a vibrant community of middle-school kids, teachers, families, friends and neighbors. The series is based in Brookline, a multicultural town adjacent to Boston.
.
In this latest installment of the Beacon Street Girls' Adventures, Charlotte goes on a trip to Paris. Her friend Sophie has spotted her long-lost cat and now Charlotte is on a mission to recover her kitty and visit her friend. The book contains plenty of extras like a French dictionary, Paris trivia, travel tips, fashion tips and areas for girls to write in their own comments or thoughts.
.
The purple corduroy bag is just like the one Charlotte uses in the "Charlotte in Paris" book series. Complete with Eiffel Tower patch and plenty of room for cell phone, wallet and even missing priceless works of art (you have to read the book to understand…) it is trimmed in green with an adjustable shoulder strap and button snaps, and measures 11-1/5" x 2-1/5" x 8".
.
These dolls come in their fun and colorful pajamas. Prisi has a shimmering white organza nightgown complete with fuzzy slippers. Maya has yellow and raspberry floral Capri jammies. A mandarin set of green and white pajamas is the look for Skye, and MaiTae is both cozy and comfortable in her black-and-white raspberry-trimmed pajamas. All dolls come with matching slippers and white chenille logo-embroidered robes.
.
The Slumber Girls Sassy Sack backpacks are designed for the tween on the go. It includes a cell phone pocket, two large front pockets and one interior pocket. Coordinating sequin trim hides a secret pocket. Comes complete with a matching water bottle that fits neatly in its specially designed side pocket.
.
.
Catalog Request Form


Advertisement: