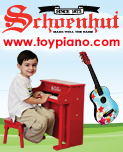 Article Tools:








TDmonthly's Top-10 Surprise Hits
Webkinz Chihuahua Takes a Big Bite
With additional reporting by regional correspondents Virginia Davis, Elizabeth Greenspan, Terri Hughes-Lazzell, Krista Lebednik and Brenda Ruggiero

When

TD

monthly Magazine asked 57 specialty toy retailers about some of their surprise sellers of 2006, Webkinz and PlayFoam were the most impressive, while Playmaker's Flying Monkey and Toysmith's Noise Putty offered surprises in more ways than one. That plush sales continue to surprise may be a surprise in itself. Here are some of the unanticipated hits of 2006:
.
.
.
.
.
.
.
.
.
.
Catalog Request Form


Advertisement: