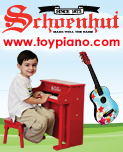 Article Tools:








Top-10 Hot New Holiday Toys in Specialty Stores
These Toys'll Blow XBox Away (But in a Good Way!)

After kids tire of tickling Elmo, they'll need some real toys for real fun. These new toys either got retailers hot at Toy Fair — dreaming of a super 4th quarter ― or have been selling like mad in 2006. Brainpower and aesthetics both score high; even the plush requires kids to answer trivia questions for maximum play.

(And to see the top-10 sizzlers from 2005 — which are expected to still be hot this year — please CLICK HERE.)
.
.
.
.
.
.
.
.
.
Catalog Request Form


Advertisement: