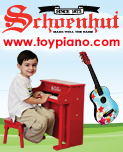 Article Tools:








Where to Find the Great Gifts You've Heard About...
These Toys and Games Are a Cut Above the Rest
If you've heard someone from TDmonthly.com talking about toys on the radio or TV, you might wonder where to find all these cool new gifts for kids.

Well, here they are!

Just follow the instructions to find a store near you.

And if you need even more toys, please click here for TDmonthly's Holiday Gift Guide.

Webkinz by Ganz
www.webkinz.com
Click on "Store Locator"

CooCoo the Rocking Clown and Ringgz by Blue Orange
www.blueorangegames.com
Click on "Store Locator"

PlayFoam by Educational Insights
www.educationalinsights.com
Click on "Find a Dealer" and then "Educational Toy Dealers" to search by your State

PlasmaCar by PlaSmart
www.plasmacar.com
Click on "Retailers" to search by your State

Monster Under My Bed by Fundex Games
www.fundexgames.com
Growing Tree Toys
Call Us 800.486.9787

Khet by Innovention
www.khet.com/storelisting.html

OgoSport by OgoSport
www.ogosport.com/buy_now.html#
And go to: "To find OgoSport at a store near you, click here."

Zoomorphs by River Dolphin
www.zoomorphs.com/stores.php
And search by your State

Pentago by Mindtwister USA
www.mindtwisterusa.com

Ugly Dolls by Pretty Ugly LLC
www.uglydolls.com
Click on "Where Can U Find Ugly Dolls?"

Dragonology by Sababa Toys
www.sababatoys.com/m_where.html

Papo Knights by Hotaling Imports
Please go to a specialty toy store near you.

Calin by Corolle Dolls
www.corolledolls.com/retailers/
And search by your State

And here's more info on the products, including a couple of videos:
.
Coocoo the Rocking Clown just loves to juggle, but his big curved green shoes make him wobble and keep throwing him off balance. The kid who can help him juggle the most balls without making any of them fall, wins. For 1 to 6 players, this all-wooden game takes approximately 10 minutes to play. It includes one wooden rocking clown, 24 wooden balls and instructions. The game was launched in February 2006.
.
.
.
.
.
.
.
.
.
.
.
Catalog Request Form


Advertisement: