Tools:








Stand-out Booths Attract Crowds at Toy Fair
Exhibitors Enliven Floor with Foaming Geysers and Revolutionary Game Play
"Do we need an umbrella?" — Bystander, Be Amazing! Booth

Toy Fair is fun, lively and entertaining, and this year, a few booths made it even more so with special product demonstrations and competitions. Others thrived because of their customer service and good reputation with retailers, maintaining a steady traffic flow for several days.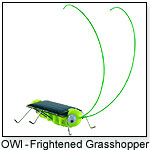 How Fast Can You Play?

Every 15 to 20 minutes, visitors to the Techno Source exhibit were challenged to a game of Light Speed for the opportunity to win a "Join the Revolution" T-shirt in honor of the new Rubik's Revolution. On Sunday, Feb. 11, high-school speed cuber Andy Camann put everyone's attempts to shame with lightning-fast game skills.

The electronic sequel to Rubik's Cube, Revolution challenges players to six built-in games with voice, lights and sound effects. According to Executive Vice President Eric Levin of Techno Source, Revolution is an example of updating traditional play patterns with electronics. "It's different," he said, "but I think it's uniquely Rubik's."

Service and Celebrity

Imagination Entertainment heightened product excitement with celebrity appeal. Howie Mandel, host of "Deal or No Deal," and John O' Hurley of "Seinfeld" and "Dancing With the Stars" were on hand Sunday to introduce new DVD games.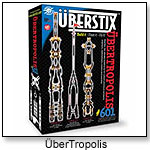 The Uberstix (ToyShow) booth remained crowded as representatives were engaged with buyers, one

TD

monthly staff member noted, and OWI (ToyShow) attracted attention with its new line of solar-powered toys.

Michael Fehsal, owner of Toy Towne in Flanders, N.J., was impressed with the turnout at exhibits for Spin Master Toys, Toysmith and Play Visions (ToyDirectory), and said the company representatives are friendly and offer good products.

He was also struck by the Mentos and Coke experiment demos at Be Amazing!

Great Geysers

Be Amazing! wowed retailers and other show attendees with demonstrations every five to 10 minutes.

The booth featured three large, enclosed clear tubes (one 18'-tall tube) that allowed the carbonated beverage to shoot upward from 2-liter bottles when Mentos tablets were dropped in using Steve Spangler's Geyser Tube. "Do we need an umbrella?" one bystander asked.

Specialty retailers were most interested in the Great Geysers: The Science of Soda kit with 15 fun activities, according to Marc Greenberg, vice president of product development. And Insta-Snow powder, also on demo at the booth, was the company's best-selling item at the show, he said.

The Booth With the Most Buzz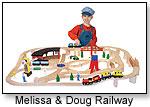 Numerous retailers told

TD

monthly how impressed they are with Melissa & Doug, and Marketing Director Rick Davis confirmed the excitement, calling his booth "the place to be for Toy Fair." Indeed it was, with locations on both show floors and greeters at each entrance of the larger exhibit.

"We want to give our customers a little home away from home," he said, which they accomplished through food-and-beverage service and a coat check.

Product interest at Toy Fair primarily leaned toward the First Play line for babies 6 to 18 months, as well as the growing plush line, which is "constantly fantastic," he said.

Here are some of the products that drew attention at popular booths:





MSRP: $19.99

Age Range: 5 and upLaunch Date: July 2007Gender: Boys And Girls





The Rubik's® Cube is an icon recognized around the world, selling over 350 million units. Now there's an all new spin on the world's #1 Cube—the Rubik's Revolution™. Packed with speed games and brainteasers everyone can play, the award-winning Rubik's Revolution is an all new spin on the world's #1 Cube. Six addictive, fast paced electronic games are easy to learn, but will push your skills to the limit with multiple challenging levels to unlock. Fun for ages 5 or 105, play by yourself or compete against your friends in both single and multiplayer games to become master of the Cube. "Rubik's Revolution was designed as the electronic sequel to one of the best-selling toys in history ... It provides a whole new take on cubing. It is about speed. It is about smarts," said Eric Levin, executive vice president of Techno Source. "Techno Source is also offering a Professor Rubik's Signature Edition for the specialty market." Winner of 10 Awards including the TIA 2008 T.O.T.Y. Game of the Year, Rubik's Revolution won a 2008 iParenting Media Award, a 2007 National Parenting Center Seal of Approval Award, a Dr. Toy Summer 2007 Best Products Award and a 2007 NAPPA Gold Award. Launch date: Summer 2007.
― "I think it will do very well," Debbie Wurzburger, owner of Toy Chest in Pikesville, Md., told TDmonthly.
— Four out of 58 retailers who spoke with TDmonthly cited Rubik's Revolution as their most popular "big-kid" item.
— When asked what he would most recommend for older kids and adults, Bill DeFusco, owner of Toyz Toy Store in Chesire, Conn., told TDmonthly, "The first one that comes to my mind [is] Rubik's Revolution."

ToyDirectory Product ID#: 11558

(added 2/21/2007)

.

AD
---






Let's meet OWI's new Mini Solar Robot and science kits. These frolicking fancies are easy to assemble and demonstrate alternative energy principles. They are simple and friendly, and will put a smile on any child 8 years and up. Happy Hopping Frog, Super Solar Racing Car, Frightened Grasshopper, Walking King Crab, and Attacking Inch Worm fit nicely into OWI's JR Science Series. Besides having jovial names, they have become our premiere entry level product. Because of their entry-level price points, retailers will grow fond of their movements; both off the shelf and after assembly. If a make-it-and-take-it type product is what you are looking for, these hands-on terrestrial tantalizers will make you the local hero. Our research team has found this product to be a distinct liking in educational programs such as after-school, summer and vacation programs. How about science workshops? You betcha! How about one-hour projects? Perfect! Let's show the kids how truly engaging science can be with OWI's new Mini Solar Robot and science kits.

ToyDirectory Product ID#: 11247

(added 1/25/2007)

.

AD
---






Over a million viewers tune in each week to see what cool science experiment Steve Spangler has up his sleeve. He shoots potatoes, makes toilet paper fly and turns two-liter bottles of soda into giant geysers all in the name of getting people of all ages turned onto science. The now-famous Mentos and Diet Coke experiment turned into one of the most viral marketing campaigns in the history of the Internet. Just drop an unwrapped roll of Mentos into a freshly opened two-liter bottle of soda and the pop becomes a geyser of foam guaranteed to make onlookers cheer wildly and run away. Spangler designed a Mentos-releasing tube so that kids of all ages can make their own Great Geysers without getting soaked. Just load up the tube, stand back and pull out the pin with a string. This set includes more than 15 activities and allows kids to set up their own geyser lab.

ToyDirectory Product ID#: 11646

(added 2/26/2007)

.

AD
---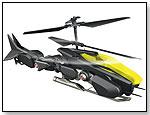 MSRP: $110.00

Age Range: 10 to 99Launch Date: September 2007Gender: Boys And Girls





Kids who've dreamed of turning their robots into helicopters can now do it with the touch of a button. The Robo Copter can be driven on the ground or flown in the big blue yonder with the aid of a remote-control. Launch date: Fall 2007.

ToyDirectory Product ID#: 11433

(added 2/9/2007)

.

AD
---






This puzzle is a fantastic find for fossil fiends. The three-dimensional dino is made from premium-quality birch wood. It's easy to assemble without tools or glue using the unique interlocking pieces. This premium line puzzle measures 23" long by 48" wide when complete. The puzzle kit includes sandpaper, a Pteranodon fact file and puzzle instructions in case you get stuck.

ToyDirectory Product ID#: 11642

(added 2/26/2007)

.

AD
---






The Überfrog is made of a combination of Uberstix and K'NEX materials. It features realistic movement and lots of personality. The project is rated an 8 on a difficulty scale of 1 to 10, and requires the following: 40 Quarks, eight CubStix, two LocHubs, two yellow K'NEX, five green K'NEX and two yellow K'NEX rods.
— "All the children were delighted with how the projects looked upon completion," reported Teresa Wilson, a TDmonthly Homeschooling Roundtable mom who evaluated the Uberfrog. "This toy is a winner." She awarded it five out of five stars.

ToyDirectory Product ID#: 11683

(added 2/27/2007)

.

AD
---
Catalog Request Form

Writer's Bio:
Julie L. Jones has written articles for both newspapers and magazines. Before joining the staff of TDmonthly Magazine, she worked as a communications writer and provided editorial support for a market research company.
Read more articles by this author
THIS BANNER IS AN AD:
---
---


Advertisement: