Article Tools:








Specialty Source Top-10 List
Toy Fair Finds Include Edible Seeds and Other-Worldly Beanstalks
Deep in the heart of Toy Fair were a couple of aisles dedicated exclusively to unique, high-quality product lines. The American Specialty Toy Retailing Association supported these exhibits, and

TD

monthly Magazine selected a few favorites: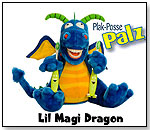 MSRP: $24.95

Age Range: 3 to 7Launch Date: December 2006Gender: Boys And Girls





Used for years in dental offices, Magi is a plush dragon designed to assist parents and children with the demonstration and practice of proper brushing and flossing techniques. The dragon features a mouthful of lifelike teeth and comes with a three-minute sand timer and four children's toothbrushes that can be held by his bendable arms. "There is not another product on the market that addresses the childhood challenge of tooth brushing and proper care for a child's teeth in a fun way! The Surgeon General reports that the number one chronic childhood disease is tooth decay," Kathi James of Paragon International told TDmonthly. The product has won various awards: a 2007 iParenting Media Award, a 2007 iParenting Media "Hot" Award, a 2007 Teachers' Choice Award, and The National Parent Center Award in fall 2006. Launch date: December 2006.

ToyDirectory Product ID#: 11602

(added 2/23/2007)

.

AD
---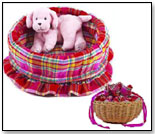 Just like the dolls that come in the adorable Peapod basket purses, now plush dogs have a comfy place to sleep and call home. The plaid fabric of each purse opens and folds down, transforming the basket space into a cozy dog bed. Peanut is also available.

ToyDirectory Product ID#: 11714

(added 2/28/2007)

.

AD
---




MSRP: $25.00

Age Range: All AgesSKU or Item #: 95DOLLaunch Date: January 2007Gender: Boys And Girls





The Yoyo Doll, an update on the quilter's classic, is hand sewn according to fair trade guidelines by artisans in Bolivia. The small doll measures about 9" and the large is 18" tall.
— "These dolls are special because they're both vintage and contemporary. The body structure was invented by quilters over 100 years ago, but Kinderware has updated them to be adorable in today's market. They used to be long and skinny with clown heads but we improved their proportions and make elephant, puppy, bear, bunny, baby and kitten versions," Jenny Krauss of Kinderware told TDmonthly. Launch date: January 2007.

ToyDirectory Product ID#: 11554

(added 2/21/2007)

.

AD
---




MSRP: $160.00

Age Range: 8 and upLaunch Date: November 2006Gender: Boys And Girls





Designed by architect Steven W. Hurd, these blocks are the first in a series of architecturally themed building blocks created for all ages. Each set is designed around a particular building type, but the unique pieces allow for creativity and imaginative construction. The blocks are carved from imported hardwood, and the set includes 145 pieces, 15 different shapes, a printed plan and instructions. Castle Blocks are also available. "The Cathedral shape offers a dramatic initial building project and the unique shapes allow for a different level of imaginative play than most sets of building blocks," Hurd told TDmonthly. Launch date: November 2006.

ToyDirectory Product ID#: 11539

(added 2/21/2007)

.

AD
---




MSRP: $14.95

Age Range: 3 to 12SKU or Item #: PDGMLaunch Date: March 2007Gender: Girls





This new game puts a fun "spin" on paper-doll play, as girls use a spinner that tells them how to dress their dolls. The game includes five dolls of different nationalities that are characterized by distinctive outfits and individual hobbies. "This product is different because not only do children get to pick-out different outfits for their girls, but they also are encouraged to think about a hobby or work they want to do one day," Devo Ihonde, director of sales at eeBoo corp., told TDmonthly. Launch date: March 2007.

ToyDirectory Product ID#: 11609

(added 2/23/2007)

.

AD
---




MSRP: $19.99

Age Range: 3 and upLaunch Date: February 2007Gender: Boys And Girls





These dolls are somewhat other-worldly, with an appearance that can appeal to children, teens and adults. These friendly creatures are simple, minus facial features or other embellishments, and have weighted feet that provide necessary balance for their height. "Beanstalks are unique because not only are they unusually artistic creations, but they are also tall (a whopping 26") and can stand up on their own. Ideally suited to the specialty market, Beanstalks are innovative, attractive and eye catching," Monique Haas of Daydream Toys told TDmonthly. Launch date: February 2007.

ToyDirectory Product ID#: 11715

(added 2/28/2007)

.

AD
---
Catalog Request Form

Writer's Bio:
Julie L. Jones has written articles for both newspapers and magazines. Before joining the staff of TDmonthly Magazine, she worked as a communications writer and provided editorial support for a market research company.
Read more articles by this author
THIS BANNER IS AN AD:
---
---