Article Tools:








That Towering Feeling
Construction Toys Create the World
Any kid unsatisfied with the status quo can build a new world to order. These blocks, bubbles and building sticks take construction toys to new heights:
MEGABLOKS® Halo Phaeton Gunship by MEGA BRANDS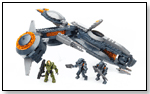 The UNSC will be diving for cover with the arrival of the Phaeton Gunship by Mega Bloks Halo! Used by the Forerunner Prometheans in their long war against the virulent Flood, the Phaeton once again takes to the skies. Build the Phaeton and support the two Promethean Soldiers as they try to prevent a brave Spartan from getting a lock on the Phaeton with her rocket launcher! Ideal for ages 8 and up Features: Buildable Forerunner Phaeton, featuring front turret and two heavy beam cannon arrays Includes a highly detailed, super-poseable, UNSC Spartan and two Promethean Soldier micro action figures Spartan micro action figure features detachable Orbital armor and authentic Pilum Rocket Launcher weapon accessory Promethean Soldiers can be armed with a Boltshot and Binary Rifle weapon accessories Collect and combine with other Mega Bloks Halo sets to build your own authentic Halo universe! 11/6/2015 (Price: $44.99; Age: 8 and up)



Mighty Makers - Home Designer Building Set by K'NEX BRANDS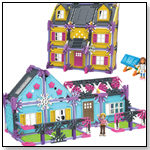 Build your dream house from the ground up with Brianna and Sophia in the Home Designer™ Building Set. Sophia loves building, while Brianna helps with the finishing touches of the interior. These best friends are a dynamic duo when it comes to building and decorating houses. Help them build different styles of houses - a colonial, a brownstone, and a ranch. Decorate the houses using the included accessories and make their home, your home with the Home Designer™ Building Set from Mighty Makers®. Most models can be built one at a time. Includes 433 K'NEX parts and pieces. 11/3/2015 (Price: $49.99; Age: 7 and up) [Add to my Inquiry Basket][?]



LEGO Mixels Series 6 by LEGO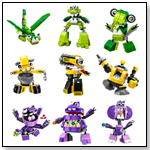 Kramm is the Weldos' energetic leader and foreman. With a jackhammer arm and a strong hand with huge fingers, Kramm expects everyone on the team to work hard. Really hard. Dribbal is a know-it-all Mixel who actually knows very little! With horn-rimmed glasses and a superior manner, this goopy Glorp Corp member can talk and talk and dribble some serious snot. Snax is a big, wide-eyed kid with a serious appetite! Like all the Mixels Munchos tribe, Snax just loves to eat and is great fun to hang out with. 11/3/2015 (Price: $5.99)



Kids First Level 1 - Automobile Engineer by THAMES & KOSMOS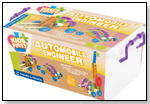 Read the funny story of two inquisitive kids and build simple models of the vehicles they encounter on their comical trip to the supermarket with their dad. Along this roundabout journey, the kids build various vehicles to help the people in their town solve problems and complete tasks. As you follow the story, you can build models of the 10 vehicles in the story. Large, colorful plastic building pieces make it easy for small hands to put the models together. 9/30/2015 (Price: $45.00) [Add to my Inquiry Basket][?]



Wonderworld Trix Track - Cat & Mouse Track by SMART GEAR LLC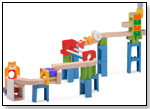 The Trix Track Cat & Mouse Track is more than a classic wooden ball run with fun and exciting eye-catching tricks and an easy locking system that keeps your creations stable while you build your maze. With your imagination there are endless configuration possibilities! The Trix Track Cat & Mouse Track includes exciting new blocks that add an entirely new dimension to Trix Tracks which allow you to build faster and higher than ever before. Watch the mouse chase after the cheese thru many obstacles and the challenge of big cat waiting at the end of the track! Trix Tracks help understand the cause and effect relationship. Specially designed bricks are made from a combination of eco friendly recycled saw dust and food grade plastic so it is safe, durable and good for the environment. Combine with other Trix Track sets to create even larger tracks, more trix and endless fun! 9/30/2015 [Add to my Inquiry Basket][?]



Laser Pegs Tinted Space Fighter Sci-Fi Set by Laser Pegs Ventures, LLC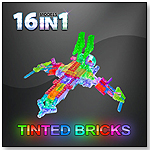 Laser Pegs® Sci-Fi Kit. Build the light up Transatmospheric Fighter and 15 more light up models like the All Terrain Racer, Alien Rover Droid, and the Automaton. 7/20/2015 (Price: $44.99) [Add to my Inquiry Basket][?]



Gears! Gears! Gears!® Sweet Shop by LEARNING RESOURCES INC.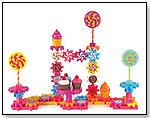 Get creative and build with the Sweet Shop Building Set! Mix, match and create your own beautiful, spinning sweet shop! Set includes: colorful gears, cupcakes, lollipops, ice cream cones, gum drops, and more! Parts are all interchangeable, allowing for endless combinations and designs. Let your imagination grow!

7/2/2015 [Add to my Inquiry Basket][?]



Builderific by WOW TOYS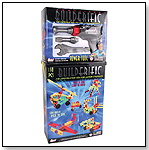 118 piece Builderific with 4-pc toolset including power drill. Durable plastic.
— Gregory Faith, owner of Inside Out Hobbies in Nashua, N.H., told TDmonthly in a May 2015 survey that this was a best-selling construction toy at their store. 5/28/2015



Light Stax by LIGHT STAX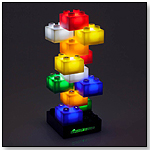 Light Stax is a new award winning toy startup that launched in 2014 in Europe and the USA. Light Stax are beautifully illuminated construction blocks that use LED technology, but are still 100% compatible with existing traditional building blocks. Using our patented system, each Stax will magically light up as it is connected to a power base or any lit Stax. No special connectors or wires are needed. Just stack them and they light up!
— David Stelzer, owner of Shananigans in Baltimore, Md., told TDmonthly in a May 2015 survey that this was a best-selling construction toy at their store. 5/28/2015



Super Blocks Track Set 2 by MINILAND EDUCATIONAL CORP

Part of Miniland's best-selling construction sets, our super blocks contain versatile parts that can be assembled in different ways. They surprise the little ones and the infants, and amuse them with their multiple possibilities, as with the same set different results can be obtained. This particular set is a great track of Super Blocks with 2 characters, 2 cars and 57 pieces. Large, tough and durable blocks. Include activity cards and made for children aged 18-36 months.
Awards: 2015 TDmonthly Top Toy Award 4/28/2015 (Age: 1 to 3) [Add to my Inquiry Basket][?]



The ZOOB(R) Z-Strux(TM) Lift Sky Crane by ALEX BRANDS


Each Z-Strux set can make four possible builds. This set includes 395 pieces, including two construction-worker figurines. When completed, the build is 26 inches tall.

2/15/2015 [Add to my Inquiry Basket][?]



The Master Builder Set by BRACKITZ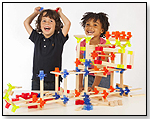 The largest Brackitz set, The Master Builder Set, contains 200 pieces ((120) wooden planks, (20) blue 90° connectors, (20) orange 90° connectors, (20) yellow 120° connectors and (20) red 120° connectors). The Master Builder Set retails at $99.95. This set is designed for kids who want a no-limits building kit and educational toy. Ideal for building, balancing and active early-math learning. Perfect for family fun!
Awards: 2014 TDmonthly Magazine Top Toy Seal of Approval 11/24/2014 (Price: $99.95) [Add to my Inquiry Basket][?]



BRIO Builder Creative Set by SCHYLLING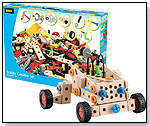 Build, create and build again! This large set features 270 pieces including a hammer, screwdriver, pliers and wrench! A fun way to practice hand/eye coordination. Package measures 22" x 16" x 3.75". 11/14/2014 (Price: $80.00)



OGOBILD with AnimateIt! - Studio Kit (with camera) by OGOSPORT, LLC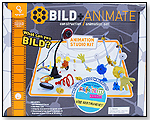 Build, Create and Animate! OGOBILD is a line of creative construction toys created to promote open-ended play and stimulate a child's imagination. This kit contains Animate It! Express software, which was developed with the Aardman Animations studio (the creators of Wallace & Gromit and Chicken Run) and is the premier UK education stop-motion animation software. Teaches the basics of stop motion animation. Allows kids to make their own animated movies with Animate It! Express. Takes advantage of the OGOBILD System's Versatility. Share finished films with family, friends, and the world!
Awards: 2014 TDmonthly Magazine Top Toy Award 7/31/2014 (Price: $70.00)



MAGFORMERS Gear - Magnets in Motion 20 Pc Accessory Set by MAGFORMERS LLC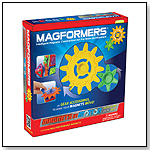 Add motion to your current Magformers set with 20 gear accessories. Easy to use, endless fun.

6/23/2014 (Price: $17.00) [Add to my Inquiry Basket][?]



Pipsquigz by FAT BRAIN TOY CO.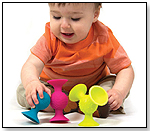 Meet pipSquigz, a set of three Fun Little Suckers for ages 6 months and up. Adored by baby and parents alike, pipSquigz are perfect for the stroller, highchair, bathtub, and anywhere-travel. Simply push pipSquigz down on any smooth surface and watch baby interact with this high-quality silicone suction toy. With super-suction, each shape can be tugged, pushed, shaken and pulled. Or, push and stick the shapes together for new play experiences. Babies delight in the versatile movement, sound and texture.
— Heather Rounds, buyer for Smart Kids Company in Greenwich, Conn., told TDmonthly in an April 2015 survey that Pipsquigz was their store's best-selling infant & toddler toy. 5/29/2014 (Price: $19.95)



Tinkerbots by KINEMATICS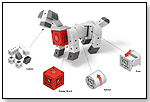 Kinematics is a modular robotic construction kit, consisting of kinetic modules and adaptor blocks, which can be connected freely and without the use of cables. Kinematics is suitable for children from the age of 5 years and upwards, and with no computer skills being necessary, they may build interactive robots which have the ability to move. Exploring and playing with the Kinematic Blocks introduces children to the world of mechanics, sensors and renewable energy. The construction kit is a highly entertaining and useful teaching tool with an intuitive interface. The adaptor blocks enable Kinematics to be connected to other leading construction kits.

4/10/2014 [Add to my Inquiry Basket][?]



Ocho by KNUCKLE STRUTZ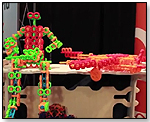 This new construction toy functions off of 8 sided geometry. Pieces connect at 90 and 45 degree angles, and can be combined with a 6 sided part that can connect at 33 degree angles. Hinges, axels, and other components help kids create moving structures.

3/4/2014 [Add to my Inquiry Basket][?]



LED Work Light & Tool Set by WOWTOYZ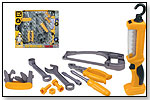 This deluxe set is loaded with lots of great tools to keep little builders busy. Each tool is made of rugged hi-impact plastic; set includes a working LED light with hook for hanging, multi-tool, saw, nuts and bolts, pliers and wrenches. 9/26/2013 (Price: $24.95; Age: 4 and up) [Add to my Inquiry Basket][?]



Texo - 100 pc by GUIDECRAFT INC.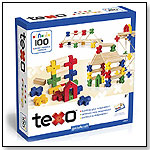 Texo is the award-winning 3 dimensional design and construction system by architect, author and designer Lester Walker. The beauty of Texo is the variety of building systems found within one toy: simple puzzles, shape sorting and color matching at its most basic level, the system allows for a gradual progression to stacking the interconnected shapes and on to advanced architectural models such as bridges, houses, skyscrapers and more! Solid wood rods and planks coupled with the geometric precision of molded plastic connectors enhance the design and construction potential. Also included is a deluxe Activity Guide with how-to's, commentary and step-by-step instructions on maximizing the potential of Texo. 9/26/2013 (Price: $39.95; Age: 3 and up) [Add to my Inquiry Basket][?]



Geomag KOR - Aki by REEVES INTL. INC.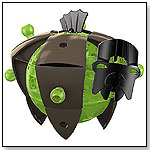 53 pieces include: 1 non-magnetic steel sphere, 8 triangular magnetic components,18 square magnetic components, 4 triangular covers, 8 medium square covers, 1 mask, 10 ball joints, 1 hand/head, and 2 crests. Aki is a Proteon. Geomag KOR Proteon are five characters with differing rocky, swampy and volcanic native environments. These characters are differentiated by the color of their covers and masks. There are three developmental stages that give life to different characters: from Aki, in the more simple stage, to Taurex, intermediate stage and Blatta, Vulkrum and Swomp who have evolved to the more advanced stage. 9/26/2013 (Price: $30.00; Age: 5 and up) [Add to my Inquiry Basket][?]



Game Creator Set 120 by ARTEC EDUCATIONAL
Foster your children's imagination and creative expression with our revolutionary new block design! A cube with square holes on each face, and a single, connecting stud located off-center. Unlike traditional building blocks which can only be stacked, an Artec Block can be connected in all directions. Horizontal, vertical, and even diagonal connections are possible for unparalleled ease and freedom. The possibilities are endless in the structures, animals, and shapes you can make! 6/10/2013 (Price: $20.99; Age: 3 and up) [Add to my Inquiry Basket][?]



The Hänz Backpack by HANZ TOYS


Keep your Hänz kit in this super cool and durable backpack. Use it to take your kit to workshops and competitions or just as an everyday fun backpack to show your Hänz spirit. 6/6/2013 [Add to my Inquiry Basket][?]



SmartMax Build & Light by SMART TOYS AND GAMES INC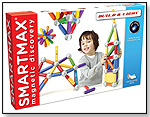 Includes two LED-lit bars for building houses, towers, and other structures that light up and blink. The accompanying instruction guides help model construction ideas so children can learn how to create designs of varying shapes and heights.
— Lisa Shinn, manager and buyer for Dancing Bear Toys in Frederick, Md., told TDmonthly in a May 2015 survey that this was a best-selling construction toy at their store.

Where to buy:
NORTH EAST 5/30/2013 (Price: $99.99) [Add to my Inquiry Basket][?]



Snapo "Build & Go" ? 35 Big Blocks by SNAPO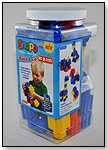 These high quality Snapo building blocks are made in the USA. They SNAP together in all directions for fun, fast, creative building. Snapo blocks stimulate development of spatial and fine motor skills, connecting sideways, and you can slide and rotate them too for extra fun. 5/29/2013 (Price: $23.98; Age: 1 and up) [Add to my Inquiry Basket][?]



Creature Blocks by CITIBLOCS LLC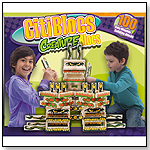 Fangs and Tentacles and Eyeballs Oh My! Create your own Creature Feature with these playfully designed blocks. Let your imagination run wild with blocks featuring wings, eyeballs, teeth and more. 100 pc set available Summer 2013. 4/30/2013 [Add to my Inquiry Basket][?]



Modular Dream Palace Construction Kit by MODULAR TOYS USA


The Modular™ Dream Palace Construction Kit takes a unique approach, allowing true three-dimensional architecture to be constructed. The game develops abstract thinking, three dimensional perception, and creativity. Compatible with other "Modular™ Toy Construction kits". Watch and participate with your children while they're thinking, planning, and building in all three dimensions. Age 5 and up. 4/19/2013 (Price: $69.99; Age: 5 and up) [Add to my Inquiry Basket][?]



Soft Blocks by SOFT BLOCKS LLC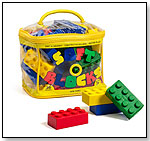 Soft Blocks are soft, interlocking blocks that are safe for kids to use. It doesn't hurt to step on them, and kids won't pinch their fingers or have trouble pulling the blocks apart.

2/21/2013



Fairy Tale Blocks by PLANTOYS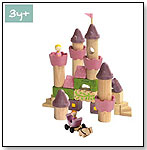 Create your own version of happily ever after with this fairly tale block set. (Includes a prince too!) 2/21/2013 (Age: 3 and up)



Engenius by BLUE ORANGE GAMES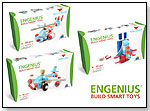 Blue Orange Games is releasing their first line of toys called Engenius, a collection of three wooden construction sets. With interchangeable parts, kids can design and build their own toy. The pieces are easy to screw, push and bolt together into dozens of models. Everything stays in place for hours of play until they're ready to disassemble and build again. Available in Airplane, Helicopter and Spaceship sets. Blue Orange plants two trees for each tree used to create their wooden products. 2/20/2013 [Add to my Inquiry Basket][?]



Lauri Tall-Stacker Smart Shapes by PATCH PRODUCTS INC.

What do you get with basic geomentric shapes made of Lauri crepe rubber and 21 tall-stacker Pegs? You get toy that entertains preschoolers for hours in convenient travel case for kids on the go. They'll fill all the holes, sort the pegs by color, and see how high the pegs will stack. With to holes per shape, it's also counting toy that lays good foundation for early math skills. When finished playing, kids will have fun putting the shapes back in the puzzle frame.
— In a November 2013 survey, Richard Gibson, owner of Learning Express of Newton in Newton, Mass., told TDmonthly that they make $5,000 a year on Tall Stackers alone. 1/15/2013 (Price: $14.99; Age: 2 to 5)



Catalog Request Form
THIS BANNER IS AN AD:
---
---