Article Tools:








The Doll Next Door
New Faces for Play
Now any little girl can find a doll that (almost) looks like her ... and her friends. With these multiethnic and multiracial choices, the doll next door finally resembles the girl who lives there, too.
Groovy Girls Noelle with Celessence by MANHATTAN TOY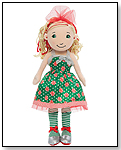 Noelle has a fresh peppermint scent. From our award winning Groovy Girls collection. Soft 13" doll features embroidered facial features and hands. Outfit is removable and attaches with a Velcro-like closure on back. Scent Technology by Celessence - an innovative micro-encapsulation delivery system. Gently hug doll to release scent. 9/30/2015 (Price: $22.00; Age: 3 and up) [Add to my Inquiry Basket][?]



Roominate Chateau by MAYKAH INC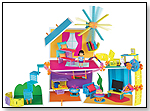 Girls can build their very own unique structures with the Roominate Chateau! Using the included building pieces that easily snap together, girls can tap into their imaginations to design two-level structures, bunk beds, balconies, a house on wheels, and other endless possibilities. Teaches important STEM skills: hands-on problem solving, spatial and fine motor skills, self-confidence, and creativity. Electrical circuits enhance designs so girls can watch their creations come to life with real movement, including spinning windmills, carousels, lamps, and more. Included in this 131-piece set are 8 wall/floor panels, 52 furniture building pieces, 32 connectors, 4 arches, 4 wheels, 2 axles, a motor, string of 4 lights, 2 switches, 2 battery packs, a screwdriver, doll, pet, and 20 sheets of craft paper. Requires 4 AAA batteries, not included. 9/30/2015 (Price: $49.99) [Add to my Inquiry Basket][?]



Mon Premier Bébé Bath Baby Doll & Accessories by COROLLE DOLLS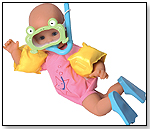 Specially designed for bathtime play, Corolle's Mon Premier Bébé Bath Baby Doll & Accessories is soft, poseable and so light it floats in water. In this boxed set, the doll comes complete with 8 accessories, including a snorkel mask with two different frames, floaties and flippers, too, for enhanced water play fun. Filled with polystyrene beads that dry quickly, this Bébé Bath Baby Doll will be your child's favorite playmate out of the tub, too. When bathtime is over, simply air-dry the doll by hanging it from the tab on the back of its neck. Bébé Bath Baby Doll features quality materials and careful attention to detail. Her face and limbs are made of soft, supple vinyl that is delicately scented vanilla -- a Corolle signature, and her blue eyes close when you put her down for a nap or at bedtime, just like a real baby. From waking to sleep, Bébé Bath Baby Doll will be your child's favorite companion. 7/20/2015 [Add to my Inquiry Basket][?]



La Newborn - Pretty in Pink Knit by JC TOYS GROUP INC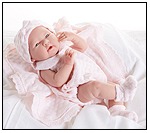 The La Newborn Collection of Real Life Baby dolls introduces its newest addition. Dressed in a beautiful pink knit set, our La Newborn is as sweet as can be. This precious La Newborn features a new delightful expression and striking baby blue eyes that are sure to melt your heart! She is a 15" all-vinyl Anatomically Correct "Real Girl" with moveable arms, legs and head. She is made completely out of vinyl for easy care. This sweet little girl is all dolled up in a cute pink knit romper, matching chic cloche hat and booties. This amazing set also includes a matching knit blanket, so your child can swaddle her to keep her cozy and safe. JC Toys is the leading online source for lifelike baby doll girls and accessories, and you're going to love the incredible value that we offer for this adorable newborn baby doll set! She is made in Spain and perfect for children ages 2+. 5/21/2015 (Price: $59.99; Age: 2 and up) [Add to my Inquiry Basket][?]



Kitty Hooded bathrobe & Slippers by DREAM BIG WHOLESALE DOLL CLOTHES LLC


Adorable white Kitty hooded Bathrobe, embroidered whimsical kitty face and ears on hood and slippers. 4/3/2015 [Add to my Inquiry Basket][?]



BabbleBaby Newborn Nursery Sweet Baby by MADAME ALEXANDER

Your Babblebaby™ doesn't talk yet...but it does have a language of its own! When you talk to your baby it will talk back! Babblebabies™ uniquely responds to your voice with over 80 different real baby sound combinations including babbles,coos,cries, and giggles! It's designed to be the perfect baby doll for little parents.This baby has light skin, blonde hair baby and blue eyes.It looks, feels, and sounds like a real baby.

2/15/2015 (Price: $119.95; Age: 3 and up) [Add to my Inquiry Basket][?]



My Friend Cayla by VIVID IMAGINATIONS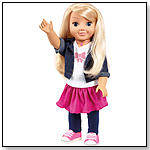 My Friend Cayla is a one of a kind interactive doll. She uses wifi to connect to Google, giving her the ability to answer kids questions. She can also talk to them conversationally. 2/10/2015 [Add to my Inquiry Basket][?]



Vi and Va Dolls by MGA ENTERTAINMENT
Viviana™ and Valentina™ are Vi and Va™! Two sisters and best friends with their cousins, Felicia™ and Roxxi™. Every day is an adventure and a reason to celebrate the bond of family and friendship.

1/28/2015 (Price: $16.99; Age: 3 and up) [Add to my Inquiry Basket][?]



Sequin Sneakers by AMERICAN FASHION WORLD


Cute low-cut sequin sneakers available in 9 colors! 1/26/2015 [Add to my Inquiry Basket][?]



Disney Frozen Sparkle Anna of Arendelle Doll by MATTEL INC.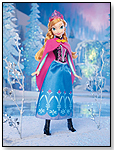 In Disney's Frozen, Anna is a spirited daydreamer who ends a wintry spell with the help of her sister Elsa, Kristoff, Olaf the snowman, and her own determination. Kids will love re-creating Anna's magical adventures in Arendelle with this delightful doll. Featuring true-to-movie details, Anna wears her signature outfit that fans of the film will instantly recognize. 11/14/2014 (Price: $16.99) [Add to my Inquiry Basket][?]



Lennja & Elin Doll Sisters by HABA USA/HABERMAASS CORP.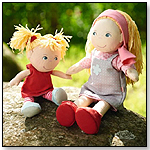 Lennja is a big sister! Her Elin don't always get along but they are the best of friends and they love to play. They will play and help teach your little one what being as sister means. Lennja and Elin have soft bodies and are 12" and 8" respectively. 11/14/2014 (Price: $52.99) [Add to my Inquiry Basket][?]



GoldieBlox and the Zip Line by GOLDIEBLOX INC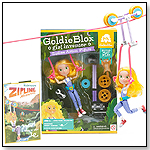 For the first time ever, Goldie comes to life as an action figure! More than just a doll, her articulated shoulders, hips, knees and joints along with specially designed hands and feet are designed for action. With the included construction kit, kids learn how to build Goldie a 13' zipline and send her soaring! Encourages spatial skills, basic engineering principles (suspension), and confidence in problem solving. Kids can now bring Goldie along and place her in the middle of the action with specially designed feet that fit on axles and hands that grip. New pieces! The GoldieBlox action figure comes with newly designed pieces that are compatible with all existing GoldieBlox construction sets. Includes: 1 action figure with articulated shoulders, elbows, hips and knees, 1 action figure tool belt, 1 action figure wrench, 4 wheel ends, 4 elbow joints, 4 T joints, 6 mini axles, 2 short axles, 2 spacers, 4 washers, 1 4-meter long zipline. 11/13/2014 (Price: $24.99; Age: 4 to 10) [Add to my Inquiry Basket][?]



Disney Princess Palace Pets Magic Dance Pumpkin - Cinderella's Puppy by BLIP LLC

I'm Cinderella's Puppy and I love to get dressed up and go dancing at the ball. Place a tiara on my head and I magically come alive and begin to speak. Using your magic wand, we can practice our dance moves together. I will respond to your commands - watch me bow, swish my tail and twirl and whirl on the dance floor. When Cinderella found Pumpkin on the palace balcony, she was very surprised to discover that she was actually an anniversary present from the Prince. This glamorous puppy loves to attend royal balls and she twirls and dances with the elegance of a princess. Enter the magical realm of the Palace Pets, a world of loveable animals who adore spending time with their favorite Disney Princesses. These sweet pets are all different, but each one loves to be pampered, cuddled and cared for and can't wait to experience fantastic new adventures with you. Style their hair with bows and ribbons, feed them a tasty treat and take them on a royal walk. they'll be as happy as can be. With the Palace Pets, every day is full of magic. Remote controlled. Interactive with dozens of phrases. 2 Pre-programmed dances. Dimensions: 9" x 7.5" x 12". Recommended ages: 4 years and up. Batteries: Puppy 4 "AA" Not Included. Wand 2 "AAA" Included 11/13/2014 (Price: $59.99; Age: 3 and up) [Add to my Inquiry Basket][?]



Snow Glow Elsa by JAKKS PACIFIC INC.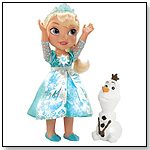 The Snow Glow Elsa will light up your children's face with its special brand of interactive magic. With just the touch of her necklace she can produce 15 different familiar sounds and phrases. Your children can work on memory skills as they sing along with the songs this Disney Frozen Elsa Doll sings. Raising her arms will light up her dress and necklace. One of the highlights of this Disney Frozen Doll is listening to the hit song "Let It Go" from the movie. Your kids can build their creativity and imagination talking and singing along with Elsa as they reenact scenes or invent new ones while they play. Enjoy listening and watching your children role-play with one of their favorite dolls. This Snow Glow Elsa will be a treasured companion for many years to come. 11/13/2014 (Price: $29.99; Age: 3 and up)



75th Anniversary Wizard of Oz Dorothy by Adora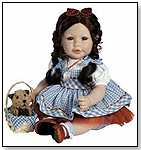 20" Dk. Brown hair/Brown eyes. Dorothy, from Adora's 75th Anniversary THE WIZARD OF OZ toddler collection is definitely not in Kansas anymore. This gorgeous version of Dorothy Gale and her trusty companion, Toto are ready to follow the yellow brick road. Dorothy is costumed in her unmistakable gingham checked dress with a ruby red sparkling tulle underskirt over a soft cotton blouse, pantaloons, satin ribbon hair bows and her trademark glittering red ruby slippers and headband. She comes with a special commemorative 75th Anniversary antiqued pewter tone medallion necklace. Click your heels and say, "There's no place like home". For 75 years nothing has compared to the wonder and charm of the WIZARD OF OZ. With its beloved characters, unforgettable music and inspiring message of hope, friendship and home, the original film remains the gold standard for a timeless classic. Product Features: Beautiful hand set brown eyes, hand painted details and hand applied eyelashes Gorgeous brown hair set off beautifully with satin ribbon hair bows. Baby powder scented, high quality vinyl toddler doll for hours of playtime fun. 20" from head to toe with a weighted body to feel like real baby, complete with diaper. Special 75th Anniversary Edition.
— Bebe Feimster from Big Smile Toys in Paoli, Pa., told TDmonthly in a June 2015 survey that Wizard of Oz from Madame Alexander are their best-selling dolls. 8/28/2014 (Price: $139.99; Age: 6 and up) [Add to my Inquiry Basket][?]



My First Dolls by GUND INC.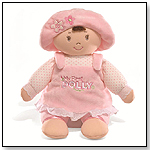 This huggably soft 13" dolly is the perfect take-everywhere companion for baby! With embroidered brown eyes, the sweetest face and just a tuft of brunette hair, My First Dolly is extra lightweight? making her easy to take everywhere!
— Helen Ulrich, sales clerk at Hardware Toys in Paoli, Pa., told TDmonthly in a June 2014 survey that My First Doll from Gund is one of their store's best-selling plush items. 6/29/2014 (Price: $19.99) [Add to my Inquiry Basket][?]



Kidoozie Cozy Cutie On-The-Go-Baby by INTERNATIONAL PLAYTHINGS LLC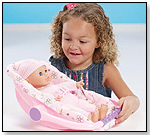 An ideal baby doll for busy little girls, the Cozy Cute On-The-Go-Baby is a fun friend she can take everywhere she goes. The adorable carrier makes it extra-convenient to keep the doll in tow no matter where the day takes her.
— Teresa Ford, owner of Kids Ketch in Lewes, Del., told TDmonthly in a June 2014 survey that the Kidoozie Cozy Cutie On-The-Go-Baby is one of their best-selling dolls.
— In a June 2015 survey, two out of 10 retailers told TDmonthly that Cozy Cutie was their best-selling doll. 6/29/2014 (Age: 2 and up)



Stackhouse Home by TOIDELOI LLC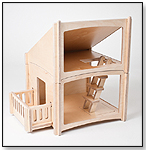 The Stackhouse Home comes with a room and a slanted roof. The room has two walls with large openings, one wall with a door opening and one closed wall. The balcony is detachable. The room has a stair case opening with a cover. Every room comes with a ladder. The solid wall can have different illustrations. The slanted roof has an opening on two sides. The roof has a staircase opening with cover. Product dimensions (room): 14"x14"x19", 12 pounds. Material: Birch Plywood. 5/29/2014 (Price: $130.00; Age: 3 and up)



A Girl for All Time® Collectible Dolls by A GIRL FOR ALL TIME


A Girl for All Time® is the award winning series of British collectible dolls, novels and keepsake books that bring the past to life with exquisite fashions, exciting stories and original activities.

Three-time winner Oppenheim Toy Portfolio 'Platinum' award, nominated ' Play doll of the Year 2013' by Dolls Magazine, and winner of Creative Child's Gold Seal, the range now adds The National Parenting Center's Seal of Approval to its cache of awards.

A Girl for All Time® is the premier doll range in the UK and one of the most sought after play-doll and collectible brands in Europe. Now available in the USA, the brand is growing steadily in popularity with an ever expanding fan base of collectors young and old on both sides of the pond.

You can view our range here

5/6/2014 [Add to my Inquiry Basket][?]



Los Bebitos by PAOLA REINA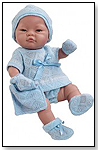 These realistic newborn baby dolls have bright, sparkling eyes and subtle hand painted facial features. All Los Bebitos baby dolls have articulating arms, legs, and heads and can be placed in a seated position. Los Bebitos vinyl baby dolls are soft to the touch yet durable, feature Paola Reina's light vanilla scent and are phthalate free. Los Bebitos dolls stand 17.5inch (45cm) in height. 4/29/2014 (Price: $64.99) [Add to my Inquiry Basket][?]



18" Becca Plush Doll by BECCA & BAS THE KNOWLEDGE TRACKERS

Plush 18" African American Doll with a wavy, interchangeable plaitnap of synthetic hair. This doll is soft, plush and cuddly and comes without the internal framework. A favorite doll to enjoy for years to come. Protectors of Knowledge. Time Traveler. 4/28/2014 (Price: $44.95) [Add to my Inquiry Basket][?]



Caillou Learning Doll by IMPORTS DRAGON


Caillou 36cm Learning Doll. Caillou is dressed and ready for a fun day of learning at school.

3/5/2014 (Price: $34.99) [Add to my Inquiry Basket][?]



Nici Wonderland Minilotta Doll by NEAT-OH! INTERNATIONAL LLC

Welcome to Wonderland. A beautiful place where children can be themselves. Minilotta will inspire any child with the world of imagination. Everyone needs that special friend and share their dreams and secrets with. Each of these soft plush 30cm dolls is cuddly soft and will make every little person want to give them a snuggle. In case of a bit of extra loving, each Nici Wonderland doll is machine washable. Minilotta can even be taken into the bath. Nici Wonderland dolls are made of high quality materials and follow very strict safety guidelines.

2/25/2014 (Age: 2 and up) [Add to my Inquiry Basket][?]



Zeenie Dollz Yana™ Doll by ZEENIE DOLLS LLC
Yana™ is the protector of the oceans and all its marine inhabitants along with her dolphin friend Serena; together they work hard to protect the oceans from pollution and its species from over fishing. Yana™ herself is made of recyclable materials and comes with a fashionable brush to style her hair, a luggage tag, a colorful bracelet, her dolphin friend Serena and a doll stand is included as well. 2/11/2014 [Add to my Inquiry Basket][?]



Silver Star Friend by THE FIAMMETTA TOY COMPANY

This doll is part of the Silver Star Friend collection of dolls. These are birthday wishing dolls. Silver wishing stars are located at the bottom of one of the dolls feet.

2/6/2014 [Add to my Inquiry Basket][?]



My Activity Doll by AURORA WORLD INC.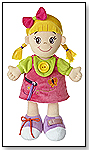 Aurora's two new activity dolls feature enough buttons, zippers, knots and Velcro to keep any child happy and busy for hours. The dolls are squeezable soft and their open arms and warm smiles beg for a child's attention. The precious girl doll has a pretty pink dress with embroidered butterfly while the boy's yellow shirt features a red car with buttons as tires. (size: 15 inches). 5/29/2013 (Price: $20.00) [Add to my Inquiry Basket][?]



La Dee Da Sweet Party by SPIN MASTER TOYS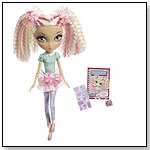 Cyanne is wearing sweet candy fashions to celebrate Dee's 16th birthday. She got super inspired by Peppermints and designed candy-striped leggings and a crinkly candy wrapper skirt to match her crimped pigtails. This whole look is minty-fresh. Each Peppermint inspired Cyanne Doll comes with a fashion activity book with a Dee-licious craft idea. 11/9/2012 (Price: $19.99; Age: 5 to 10) [Add to my Inquiry Basket][?]



Humerus the Funny Bone by THE DREW OLIVER COMPANY LLC

Activated by clapping, Humerus the joke-telling Funny Bone tells dozens of hysterical knee-slappers that will have everyone falling down from his hilarious stand-up. Packaged in a Comedy Stage gift box, Humerus the Funny Bone makes the perfect gift for kids, adults, teachers, doctors (know any orthopedists?), and anyone with a funny bone. Launch date: November 2012. 10/19/2012 (Price: $29.95; Age: 3 and up) [Add to my Inquiry Basket][?]



Triple Bunk Bed Linen Set-Pink Stripe by LAURENT DOLL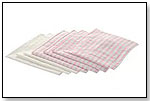 18 inch doll bed linens feature pink and white stripe cotton and white accents. Triple Bunk Bed Pink Stripe Linens Features: (3) mattress covers, (3) pillow cases, (3) coverlets. 100 % cotton. Quality crafted. 10/4/2012 (Price: $29.95) [Add to my Inquiry Basket][?]



One Direction Doll by HASBRO INC.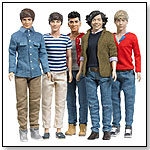 One Direction are a British-Irish boy band consisting of members Niall Horan, Zayn Malik, Liam Payne, Harry Styles and Louis Tomlinson. One Direction became the first British band to debut on top of the Billboard 200 list when Up All Night sold over 176,000 copies during its first week of release in America. Launch date: 2012. 9/19/2012 (Price: $19.99) [Add to my Inquiry Basket][?]



Doc McStuffins Time for Your Check Up Doll by JUST PLAY LLC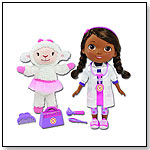 It's time for a checkup with everyone's favorite doctor. With the Disney Doc McStuffins Time For Your Check Up Doll kids can use Doc McStuffins magical check up tools to make Lambie talk. Check Lambie's heart, ears and temperature. Doc also talks and sings the "time for Your Check-Up" song. Doc McStuffins is an American animated television series produced by Brown Bag Films, which premiered on March 23, 2012 on Disney Channel and Disney Junior. The series is about a six-year-old girl, Dottie "Doc" McStuffins, who can "fix" toys, with a little help from her stuffed animal friends, Stuffy, Hallie, Lambie and Chilly. During ending credits, Doc gives advice to viewers about staying healthy. Launch date: 2012. 9/19/2012 (Price: $39.99) [Add to my Inquiry Basket][?]



Diva Abrielle by WORLD OF EPI


The World of Entertainment, Publishing and Inspiration (World of EPI) was formed by Dr. Lisa Williams, a dynamic mom/former professor whose mission is expressing joy by providing children access to dolls that encourage dreams, promote intelligence, challenge perceptions, and open their hearts to all types of beauty. Abrielle is modeling her satiny lavender princess dress with a matching headband, slippers, and silvery studded earrings. Her high ponytail with long luxurious tresses perfectly complements her regal attire. She has beautifully bronzed skin and golden brown eyes.
Awards: 2012 Dr. Toy 100 Best Toys 9/11/2012 (Price: $20.00; Age: 6 to 8)



MIM Doll & Accessories by MAKE IT MINE LLC


Make It Mine is now offering a revolutionary new line of dolls that are a first-of-its-kind line of high-quality, fun, fully customizable, poseable, play dolls and accessories. This innovative combination of features make the dolls stand alone. They are 16-inch premium ball-jointed play dolls, with changeable wigs, changeable eyes and 15 articulated joints that separate to allow for changeable parts. From the dolls' faces to their eyes, wigs, torsos, hands, feet and clothing, These dolls' parts and accessories are interchangeable, so a girl can make her doll a black-haired, brown-eyed soccer player one minute and a pink-haired, purple-eyed mermaid the next.
Awards: 2012 Dr. Toy 100 Best Toys 9/11/2012 (Price: $89.00; Age: 9 to 12) [Add to my Inquiry Basket][?]



Cutie Pops by JADA TOYS INC.

Cutie Pops are trendy fashion dolls who love to decorate and accessorize everything in their world. They're inspired by everything girls love from hearts, neon colors, rainbows, sweets, parties, surprises and more.
Awards: 2012 Dr. Toy 100 Best Toys 9/11/2012 (Price: $19.99; Age: 3 to 7) [Add to my Inquiry Basket][?]



Baby Loves Playtime by LOVEE DOLL & TOY CO. INC

21" Baby Loves Playtime doll. Soft baby doll comes with soft building blocks and soft stacking rings. Launch date: February 2011.
Awards: 2012 Creative Child Magazine Toy of the Year Award 7/26/2012 (Age: 2 to 6) [Add to my Inquiry Basket][?]



Follow Me Fairies Activity Packs by FOLLOW ME FAIRIES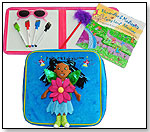 A Fairy Doll & Backpack that is Six Gifts in One. A gift that develops imagination & creativity for girls 3-8. The Follow Me Fairies ® Activity Pack is a plush child-sized backpack complete with an adorable removable fairy and a variety of fun play items. On-the-go playtime has never been easier for busy parents. Place the fairy right in the holder on the backpack, and children will be instantly ready to leave the house for a happy travel playtime experience. Launch date: November 2011.
Awards: 2013 TDmonthly Seal of Approval, 2012 Parent's Choice Classic Fun Stuff Award; 2012 Tillywig Sterling Fun Toy Award; 2012 Creative Play of the Year Award - Creative Child Magazine; 2012 Travel Fun of the Year Award - Creative Child Magazine. 7/10/2012 (Price: $34.95; Age: 3 to 8) [Add to my Inquiry Basket][?]



My First Dollhouse by PLANTOYS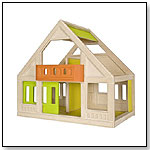 This dollhouse features a balcony, sliding doors, and space to create four roooms. Made of eco-friendly PlanWood and solid rubber wood. Launch date: August 2012. 6/27/2012



Stroller by HAPE

This classic stroller lets children take "dolly" for a walk around the block…or all through the house. Stroller is from the Happy Doll Furniture range of the Hape Collection. Measuring 17.52"L x 12.80"W x 20.24"H, Stroller is age graded for children 6 Years +. The toy is beautifully crafted of FSC certified wood from sustainable forests and colored with safe water based paint. Launch date: July 2012. 6/18/2012 (Age: 6 and up) [Add to my Inquiry Basket][?]



Savannah Dollhouse by KIDKRAFT

The Savannah Dollhouse is an elegant, large six-room mansion designed for children ages three and up. The dollhouse is decorated like a true southern mansion and is fully furnished, with beautiful, handcrafted wood furniture. With four levels and six rooms of open space, the Savannah Dollhouse is decorated in a southern style, and includes wide-open windows for easy visibility into the rooms from outside the house. The Savannah Dollhouse fits any 12-inch fashion doll. There are 14 pieces of handcrafted, hand-assembled, and hand-painted wood furniture included with the house to furnish the six rooms. The beds have actual linens, while the couch and love seat come complete with cushions.
— In a May 2012 survey, Mary Horne, owner of J. Christopher Toys in Jonesboro, Ark., told TDmonthly about the Savannah that she sells "upwards of 20 during the holiday season, but it's only a holiday item." 6/7/2012 (Price: $149.99; Age: 3 to 6) [Add to my Inquiry Basket][?]



My Friend Huggles by GREAT DIVIDE CORP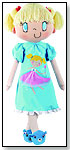 The first collection of 6 dolls is an edu-fun tool for parents to teach and bond with their child. Each doll has a unique virtue for the child to adopt. The interactive website compliments the doll, encourages learning and presents the child with challenges. "There is no other product on the market that has coupled play with character building in a life size doll," Brenda Katz, President of Great Divide Corp., told TDmonthly. Launch date: February 2012.

4/24/2012 (Price: $40.00; Age: 3 and up) [Add to my Inquiry Basket][?]



Paper Dolls - Baker & Painter " A Day in Paris" by eeBoo corp.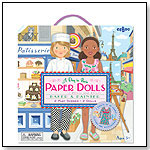 "A Day in Paris" is the latest in eeBoo's award-winning Paper Dolls' series. The set comes two 8 1/4" tall dolls - one is a baker, the other a painter - and a colorful 2-sided stand-up scene featuring a bake shop on one side and a Parisian street on the other. Two sheets of re-usable electro-static sticker clothes and accessories suit up the dolls to bake, paint, or stroll cobble-stoned city. Launch date: January 2012. 12/29/2011 (Price: $15.00; Age: 5 and up) [Add to my Inquiry Basket][?]



Dance With Me by LINDA RICK, THE DOLL MAKER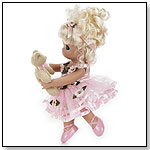 A full, tulle skirt and delicate flowers sweetly accent this dancing doll's ensemble. She shows off her grace while holding a favorite teddy bear. An ideal recital gift. Includes doll stand. Launch date: July 2011. 10/24/2011 (Price: $30.00; Age: 14 and up) [Add to my Inquiry Basket][?]



The House that Jack Built Cassie Dollhouse Kit by MELISSA & DOUG

The Cassie brings plenty of charm to a doll's neighborhood. The second floor has two dormers with gable windows, while the first floor features a transom-lit door and three-over-four windows for well-lit living spaces. An open back makes designing and decorating easy. This superior-quality dollhouse comes as natural, unpainted wood, and is ready to be assembled, shingled and decorated by its owner. Shingles and paint not included in kit. 1:12 scale. Dimensions: 18" x 20.5" x 24" Assembled
— In an October 2011 survey, Robert Lightburn from Cville's Hobbies, Games and Toys in Charlottesville, Va., told TDmonthly that "Collectible doll houses, like Melissa and Doug's House that Jack Built," are their best selling keepsake items. 10/20/2011 (Price: $149.99; Age: 8 and up)



Catalog Request Form
THIS BANNER IS AN AD:
---
---